 
Wheelchair rental for dogs
Monthly rental of the self-adjusting wheelchair.
It is necessary to order by phone and have a credit card (or debit).
You just need to know the approximate weight and the ground to groin distance Of the dog.
Pay one bail that will be returned at the end of the rental.
Ratings and comments from our customers
Monthly dog wheelchair rental
It is usually convenient when the forecast of use is short because it is a treatment of canine rehabilitation , or a postoperative process.
Available for any dog between 0.5 and 70 kg.
The order of this product can only be made by phone. Make sure you know the conditions and bases of the chair rental.
Only available the rear wheels in rental mode, if you also need front wheels these are available only in purchase mode.
As soon as the rental is completed and we receive the chair back, the amount of the deposit is returned.
It is only necessary to know the distance from the ground to the groin:
IMPORTANT: Rental only possible for residents of the European Union.
* Orders placed before 5:00 p.m. from Monday to Friday leave the same day and arrive in the Iberian Peninsula the next business day.
Nieves Gon..
-
(Madrid, Spain)
Le ha venido muy bien a mi perro, un pastor alemán con problemas en las patas traseras
Federico M..
-
(Terragona, Spain)
La verdad es que por fin nuestra perra volvió a sentirse normal, pudo volver a caminar y correr como hacía antes. Muy satisfechos.
Javier Mar..
-
(Barcelona, Spain)
de momento todo genial, a ver si se adapta rapido.
Sandra Rod..
-
(Cunit, Spain)
Gracias a la silla Sam puede disfrutar de sus paseos por la playa y tener más independencia
Valérie Do..
-
(OLIVET, France)
Un montage puis un réglage pas si simple mais cela en vaut la peine. quel confort de vie gagné pour le chien et ses maitres.
Alzira Mig..
-
(Manresa, Spain)
Estamos encantados con la silla de ruedas. Lleva pocos días usándola, pero ya hace pipí con ella. Aún se tiene que acostumbrar y adelgazar.
Lira Lopez..
-
(Aviles, Spain)
Hola, tuve la silla alquilada durante 6 meses, excelente ayuda técnica. Seriedad y buen trato. Totalmente recomendados. Gracias
Flori Viud..
-
(Castillonroy, Spain)
Trato y asesoramiento inmejorable. La Silla es tal y como dicen que es. Gracias a ellos mi mascota puede salir a pasear.
Soledad de..
-
(San Josep, Spain)
Me sorprendió gratamente que llegase al día siguiente. Mi perrito aún está acostumbrándose, se cansa mucho pero va contento.
Anaïs GALLET
-
(DOUVRES-LA-DELIVRANDE, France)
Parfait! Très bon produit, équipe à l'écoute, facile d'utilisation, je recommande vivement Ortocanis
Desirée Ga..
-
(Villanueva de Gállego, Spain)
Angelas Ri..
-
(Boadilla del monte, Spain)
ME HA PARECIDO ESTOENDO Y DE GRAN AYUDA
Juan Garci..
-
(Terrassa, Spain)
María Blan..
-
(Bilbao, Spain)
Como nuestro perro en mayor, vamos poniéndole poco a poco. La silla se ve muy bien acabada y fuerte.
Francisca ..
-
(Barcelona, Spain)
Producto muy bien concebido y resistente para su cometido
Fernanda C..
-
(Valldemossa, Spain)
Muy contenta con el producto, la calidad y el servicio!
Jorge Gonz..
-
(Algeciras, Spain)
Producto genial, estamos encantados, sobre todo el perrito que está feliz de pasear.
LAIA BIGORDA
-
(ENCAMP, Spain)
Genial producto y perfecta atencion
Sacramento..
-
(Sevilla, Spain)
El pedido vino perfecto y la entrega rápida.creo que las ruedas de la silla son muy grandes y las explicaciones del montaje solo en ingles
Cristina R..
-
(Leon, Spain)
Atencion y entrega geniales!! Esperando a que mi chico se adapte a la silla!! La silla lleģó el dia acordado y en perfectas condiciones.
Izaskun R.
-
(Ansoain, Spain)
Es una gozada como se ajusta al tamaño del perro y lo rápido que llega a casa.
Laure Milot
-
(Nézignan-l'Évêque, France)
très bonne idée de louer le chariot pour un prix adéquate. Excellent chariot, je dirai le meilleur sur le marché et très bons conseils .
Daniel Jim..
-
(Piera, Spain)
La tramitación del alquiler y el adecuamiento de la silla fueron muy rápidos y sencillos de hacer.
Annie Cham..
-
(Bonnac-la-Côte, France)
Super réactivité de votre part. De plus, on m'a rappelé d'Espagne pour m'aider à finaliser ma commande. Merci
Elisa Dabau
-
(Lloret de Mar, Spain)
La alquilamos primero para una mastina que estaba muy mal y desgraciadamente ya no está con nosotros. Para otra perrita que tenemos le va muy bien, tanto que la vamos a comprar. Ya no podíamos salir a pasear(tiene hernia discal que nos aconsejaron no operar) Sin silla puede caminar despacito pero a veces se arrastra, y ahora corre feliz y puede seguir el ritmo de sus compis. Muchas gracias! :-)
Elisa Dabau
-
(Lloret de Mar, Spain)
La silla está muy bien construída. Es pronto para decir si nuestra mastina se acostumbrará, sólo la tenemos desde hace tres días y ella es muy viejita y de momento se asusta. A la fisioterapeuta le pareció muy bien y vamos probando cada día diez minutitos, Ojalá logre acostumbrarse y pueda volver a pasear sin caerse a cada dos pasos.Es fantástica la opción del alquiler para los que no estamos se
Marta Sala..
-
(Castriciones de Losa, Spain)
Buenísima solución para quienes no sabemos cuánto se necesitará la silla o si nuestro perro se adaptará bien. Por el momento, vemos que el poder ir al parque, oler rastros y relacionarse con otros perros le está ayudando a animarse, a no perder el resto de musculatura y creemos que está impactando positivamente en su recuperación. 100% recomendable
Ruben Rein..
-
(Espartinas, Spain)
Efectividad en el trabajo d gestión y transporte. En cuanto al producto muy útil pero recomendable para perros no muy mayores, ya que requiere de esfuerzo y confianza en sí mismo para moverla por ellos solos. Hay que tener cuidado cuando el perro quiere sentarse puesto que, evidentemente, no puede hacerlo con la sill
Ástur Hugo..
-
(Oviedo, Spain)
El trato de Ortocanis genial. Al día siguiente por la mañana teníamos la silla en casa. La monté siguiendo el vídeo de Youtube y muy bien. La perra se adaptó el primer día ya genial. Le cambió la cara, es más independiente, nos busca por la calle, olfatea... es como volver a hace más de un año cuando podía caminar mejor. La pata se le deshinchó mucho, y hasta cuando va sin la silla camina mucho me
Montse Jor..
-
(Barcelona, Spain)
n\'estic molt contenta; al gos li ha canviat la vida en anar pel carrer.
Valle Mora..
-
(Grijota, Spain)
Tuve un pequeño problema con el paquete recibido ya que faltaban en el mismo cosas indispensables para su uso. Lo puse en su conocimiento y al día siguiente recibí lo que faltaba. Ha sido rápido pero ese fallo ha bajado mi puntuación.
cristina p..
-
(san cosme de barreiros, Spain)
Todo genial!! El pedido lo tenía en casa al día siguiente y Romeo parece que se encuentra cómodo
Rafael Gon..
-
(Oviedo, Spain)
Una silla genial!! Mi compañero peludo está encantado de muy buena calidad y muy contentos la verdad, muchas gracias a ortocanis!!
David Huer..
-
(aranjuez, Spain)
Super atención y rapidez en sus soluciones
Carolina L..
-
(Madrid, Spain)
Ante todo felicitarles, por el fantástico servicio prestado. El envío llegó a las 24H en perfectas condiciones y sin incidentes. En cuanto a las dudas que me surgieron referente a mi pedido (alquiler de una silla de ruedas para perros), fueron atendidas y resueltas con amabilidad y diligencia. Gracias al equipo de Ortocanis por hacernos más fácil la vida con nuestros peques, en todos los sentidos.
Juan ignac..
-
(San Sebastián de los Reyes, Spain)
Envío muy rápido de la silla de ruedas. Desearía no tener que volver a solicitar a Ortocanis, ayuda respecto a mi perro, Hidalgo (Bearded Collie). Eso significaría que se encuentra en perfecto estado de salud. Pero si no tuviera esa suerte, sin duda alguna, volveríamos a contar con vuestros productos. La silla de ruedas le ha dado una independencia prácticamente total durante su convalecencia.
Patricia G..
-
(Martorell, Spain)
Hace dos semanas alquile, para probar, la silla de ruedas para mi perro Scotty Nur y sinceramente tengo que decir que di en el clavo!!! Pienso que ahora es más perro.. puede jugar, caminar y correr y ser lo que debería ser... un perro feliz!!!! Gracias Ortocanis
Carlota Ru..
-
(Pozuelo de Alarcón, Spain)
Buenos días, Hace poco más de una semana encargué una silla de ruedas de alquiler en Ortocanis. El servicio, la silla y la información recibida han sido estupendos y ojalá escribiese pidiéndoles prorrogar el alquiler. No obstante, me gustaría devolver la silla ya que, tristemente, mi perra falleció ayer por la tarde. No obstante, me gustaría agradecerles el servicio prestado y la rapidez p
Bárbara Má..
-
(Aranjuez, Spain)
A mi perro le esta costando adaptarse a ella pero poco a poco la va usando y le ayuda mucho, muy recomendable para perros con las patitas traseras mal ya que le ayuda mucho para andar.
Cristina E..
-
(Murcia, Spain)
Oskar Fern..
-
(Vitoria, Spain)
Olga Cance..
-
(Sarria, Spain)
La silla ha cambiado la vida de mi perrita. Es muy fácil de colocar y puedes ajustarla cómodamente a las medidas del perro. Además, la adaptación ha sido rapidísima, en dos días se sentía totalmente cómoda y tranquila, disfrutando de los paseos de nuevo. Amdara y yo estamos encantadas, ¡muchas gracias!
Silvia Dom..
-
(Torrelavega, Spain)
La silla es muy cómoda y ligera. Muy contentos con la adaptación que está teniendo nuestra perra. Gracias
JOSE ANTON..
-
(MADRID , Spain)
Gracias Mil gracias, Elsa, por tu empatía con nosotros, en el sufrimiento por nuestro perro; en las facilidades que nos procuraste para que pudiéramos ir a recoger la silla lo antes posible, incluso a deshoras para vosotros. Mil gracias por haber gestionado tan rápido, en coordinación con Grego, el reenvío de la silla a Ortocanis y la devolución de la fianza. Sobre todo en los momentos difíciles,
MARI ANGEL..
-
(MADRID, Spain)
Totalmente satisfecha Totalmente satisfecha con la compra ,mi perrito vuelve a correr y a jugar con su silla de ruedas .La atención por parte de Ortocanis ha sido excelente y quiero destacar la extrema amabilidad de la srta. Elsa .Muchas gracias
MARI ANGEL..
-
(MADRID, Spain)
Totalmente satisfecha Totalmente satisfecha con la compra ,mi perrito vuelve a correr y a jugar con su silla de ruedas .La atención por parte de Ortocanis ha sido excelente y quiero destacar la extrema amabilidad de la srta. Elsa .Muchas gracias
Maria Luis..
-
(Fuenlabrada, Spain)
Entrega Buenas tardes,mi opinión sobre ustedes es ,la atención fabulosa ,la señorita que me atendió super agradable ,aconsejado muy bien,pero el servicio de entrega no me gustó ,dije que me lo trajeran por la tarde y lo recibí dos días después y por la mañana ,el error no se si fue donde hice el pedido o por el reparto,pero por la silla es fabulosa,gracias
Ilonka Dek..
-
(Altea, Spain)
Gracias Buena atención al cliente. Pedí silla de ruedas en alquiler y aunque al final no pude utilizarla por el fallecimiento de mi perro, Ortocanis me ha ayudado mucho.
You might also like
Customers who bought this product also bought: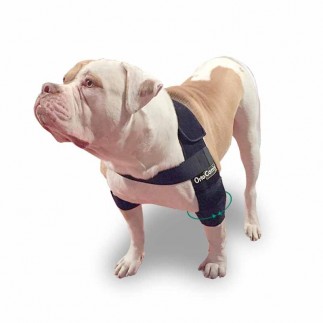 Regular price
€45.41
-€5.00
Price
€40.41