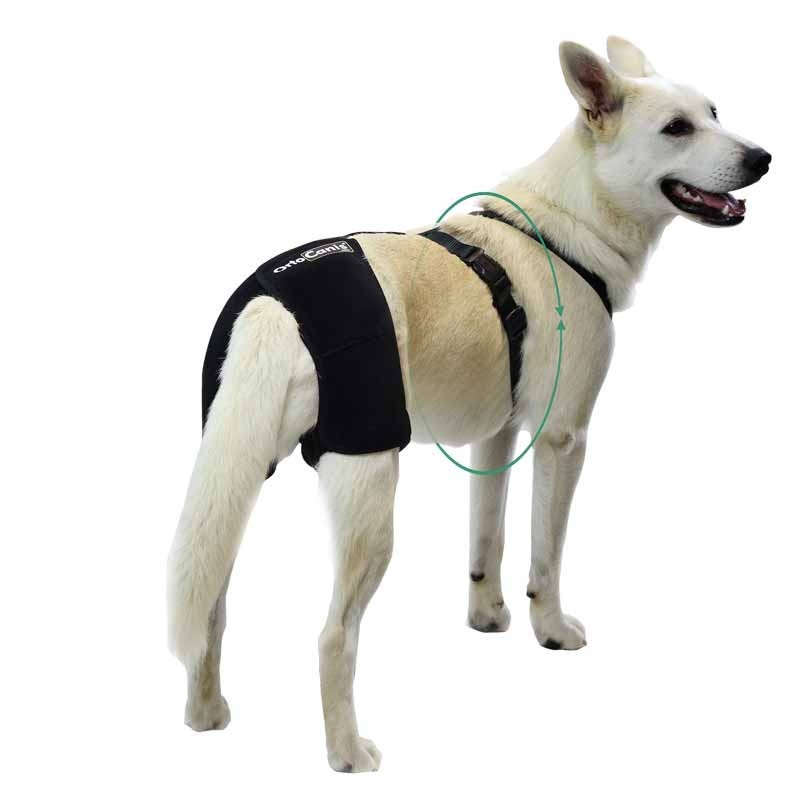  
Suporte de anca canino
Este suporte ajuda cães com dores ou instabilidade na anca.
É apropriado para cães ativos de todas as idades que sofrem de displasia da anca ou osteoartrite. A estabilidade e suporte que este produto oferece reduz a dor e a inflamação durante a atividade.
Desça na descrição para ver como seleccionar o tamanho e visite a nossa secção FAQ para quaisquer outras questões sobre as suas utilizações, instruções, envio, métodos de pagamento, devoluções ou trocas.
Ratings and comments from our customers
Suporte de anca canino
O suporte de anca para cães proporciona apoio e uma leve compressão das articulações e dos músculos das ancas e da zona lombar que reduz a dor e a inflamação durante a atividade. É apropriado para cães de todas as idades que sofrem de artrite, displasia leve a moderada da anca, uma diminuição da resistência durante a atividade ou dor na anca. O suporte de anca é também o reforço adequado para cães que se estão a recuperar de uma cirurgia ou lesão e para cães jovens ou mais velhos que têm dificuldades em mover-se.
Pode utilizar-se durante todo o dia e deve retirar-se pela noite.
Importante: Para que o suporte funcione adequadamente, o cão deve ser capaz de suportar o peso por igual em ambas patas traseiras.
Indicações de uso:
Displasia do quadril leve a moderada

Artrite

Diminuição da resistência durante a atividade

Dor no quadril

Dor lombar / fraqueza

Costela ou fadiga na perna traseira

Suporte pós-operatório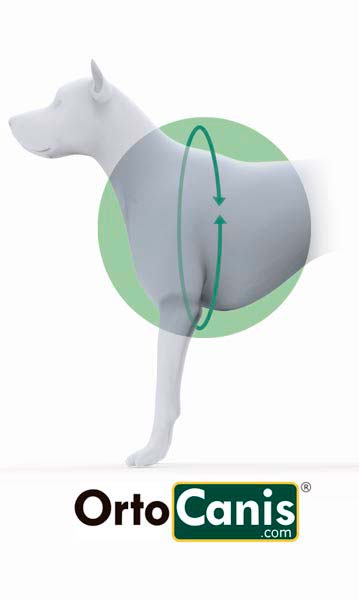 Tamanhos:
Siga estas instruções para selecionar o tamanho:
1. Pegue uma fita de costura ou uma fita métrica e um barbante.
2. Meça o contorno do tórax logo atrás das pernas dianteiras (em caso de dúvida, verifique as instruções nas imagens do produto).
3. Observe a tabela de tamanhos para ver o tamanho que corresponde à medida feita.
| | | |
| --- | --- | --- |
| Tamanho | Contorno de peito | Peso |
| S | 48 - 63 cm | 4,5 - 11 kg |
| M | 55 - 68 cm | 11 - 31 kg |
| L | 69 - 96 cm | 31 - 46 kg |
Nota: Como acontece com todos os produtos de cuidado do cão - Consulte o seu veterinário ou fisioterapeuta de animais. Este produto não é recomendado para mielopatia degenerativa.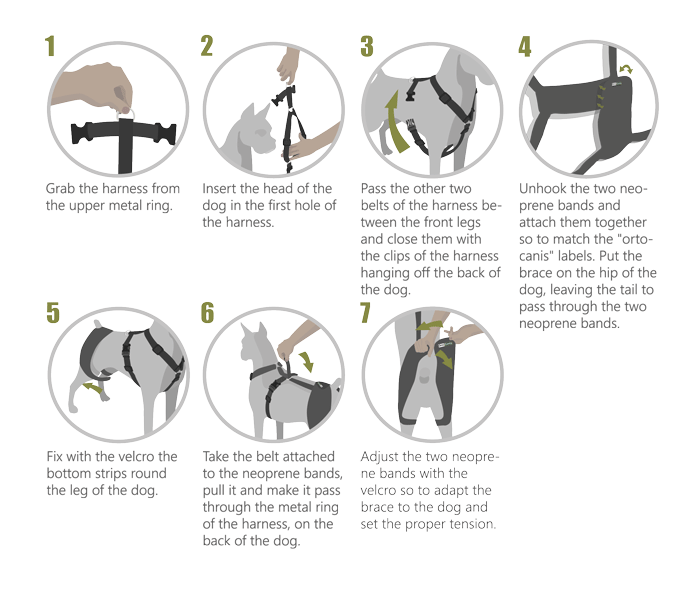 Sílvia Soler
-
(Santa Eulàlia de Ronçana, Espanha)
FERNANDO G..
-
(ARES, Espanha)
Muy bien....el Pastor Alemán espera con paciencia a que se lo coloque.Creo que le hace bien
Yves AIMARD
-
(Saint-Victoret, França)
Ne convient pas pour mon chien mais produit de qualité.
Marta Vill..
-
(Ibague, Colômbia)
Hoy recibi la felula en horas de la manana imediatamente se la coloque a mi perrito, me parecio estupenda, le quedo de maravilla.gracias.
Rafi Gonza..
-
(Olesa de Bonesvalls, Espanha)
Este es el modelo correcto para labrador 33kl
Miguel Áng..
-
(Móstoles, Espanha)
Es pronto para poder valorar el resultado del producto. En cuanto al servicio, perfecto. Rápido, cómodo y en perfecto estado
JOSE MANUE..
-
(oleiros, Espanha)
Muy buen producto. Le está ayudando mucho.
Carolina L..
-
(Caldes de Malavella, Espanha)
parece que le va bien,lo he visto correr,genero muy bueno
Marco Rami..
-
(Lisboa, Portugal)
Mi perro tiene una semana usando la pieza de la cadera y es maravillosa. Lo está ayudando mucho y estoy muy feliz de haber comprado para él.
Marina Paul
-
(Ahorallee 14, Germany)
Guten Tag es ist super Produkt komprimiert und stabilisiert die Hüften unseren Hund akzeptiert die Ortese ich empfehle dieses Produkt weite
CARLO CAPR..
-
(Bari, Itália)
Al momento sembra un buon prodotto perché aiuta nel movimento il mio pastore tedesco di 14 anni e 6 mesi.
Jelena Mar..
-
(Poreč, Croatia)
We were hoping that this will help our Rea with her walkin, she has spine and hips problems, but....or it's a placebo effect or...Amazing!
Barbara Ho..
-
(Land O Lakes Fl, USA)
Outstanding Brace . people in Spain went out of their way to get the brace to me, Came in 3 days!!! Can't find anything better, Vet liked
GABRIEL PA..
-
(torrefarrera, Espanha)
Eli Santan..
-
(La Linea, Espanha)
Muy buen producto aunque es pronto para opinions. Muy buen servicio de entrga Un saludo
Julia Supi..
-
(Cabrils, Espanha)
Jose Manue..
-
(Madrid, Espanha)
El modelo actual ha cambiado y no se parece en nada al anterior. Anillas de peor calidad, no hay enganche para correa de paseo, etc...
Sentimos y entendemos tu enfado. La función del arnés delantero es sólo sujetar la cinta lumbar pero es cierto que tenemos un modelo que lleva anilla extra superior. Este modelo en ocasiones se agota puesto que también se vende por separado y cuando sucede el soporte de cadera se envía con el estándar. De todos modos, si me confirmas la talla que compraste podemos mirar si hay talla o por lo menos informarte de cuándo volverá a estar disponible este arnés delantero.
Lorena Per..
-
(Alcalá de henares, Espanha)
La talla genial.y sombra se está empezando a acostumbrar bastante pronto.muchas gracias por ayudarme con sombra
Aida Espar..
-
(Sant Pol de Mar, Espanha)
Buen producto que llego rápido