 
Protector de Joelho Canino
O protector de joelho compensa a perda da funcionalidade da articulação e reduz a dor em casos de artrites/osteoatrites, lesão de ligamentos cruzados, lesão do menisco, problemas na rótula ou tendinites. 
Novo modelo 2021!
Ratings and comments from our customers
Protector de Joelho Canino
Este produto reduz a dor e a inflamação, melhorando o equilíbrio entre os músculos envolvidos. A melhoria de flexibilidade nos músculos tensos permite ao cão recuperar um movimento natural da pata. A leve pressão que exerce esta órtese superficial desconcentra a carga de trabalho da articulação, aumentando a sua estabilidade e prevenindo a evolução da lesão.
Nos casos de lesões nos ligamentos cruzados, o cão pode utilizar o protector de joelho antes da intervenção cirúrgica (a par do tratamento prescrito) para evitar a perda de massa muscular. Depois da operação, poderá voltar a usar o protector passados 5 dias, uma vez que a inflamação tenha diminuído. Nesses primeiros 5 dias recomendamos a aplicação de frio.
Instruções:
O protector de joelho deve ser colocado correctamente na perna do cão, esticando-o para cima.
Coloque a cinta de fixação debaixo do abdómen e por cima das costas e feche o velcro.
Tenha cuidado para não magoar o cão durante a colocação. Exerça força sobre o protector, mas respeite a posição natural do joelho.
Tamanhos:
Siga estas instruções para selecionar o tamanho:
1. Pegue uma fita de costura ou uma fita métrica e um barbante
2. Meça o contorno da perna ao nível da virilha (em caso de dúvida verifique as indicações nas imagens dos produtos).
3. Observe a tabela de tamanhos para ver o tamanho que corresponde à medida feita.
4. Em caso de dúvida entre dois tamanhos, escolha o menor.
5. Para saber se é o lado direito ou esquerdo, fique atrás do cão e olhe na mesma direção.
6. Se o seu cão tem o quadril caído (por exemplo, raça pastor alemão), a tira superior pode deslizar para trás e cair. Para evitar isso, você pode comprar a fita de suporte lombar Tensor lumbar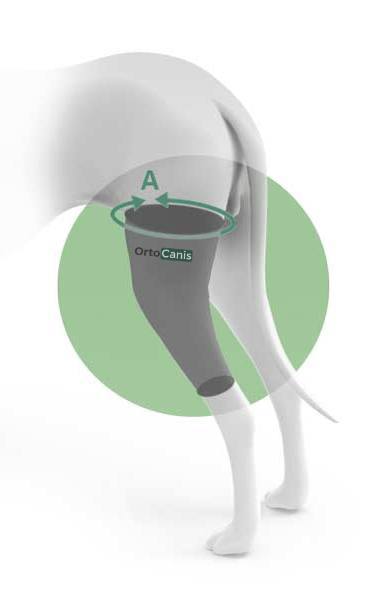 | | | |
| --- | --- | --- |
| Tamanho | Raça aprox. | Coxa Contorno  (A) |
| Mini | Pinscher | de 15 a 16 cm |
| XXXS | Chihuahua | de 17 a 18 cm |
| XXS | Jack Russell | de 19 a 21 cm |
| XS | Sheltie, Cocker Spaniel, Fox Terrier | de 22 a 24 cm |
| S | Kelpie, Galgo, Beagle | de 25 a 28 cm |
| M | B Collie, Springer Spaniel, Labrador pequenho | de 29 a 31 cm |
| L | Pastor alemao, Rottweiler pequenho, Boxer, Labrador grande | de 32 a 36 cm |
| XL | Rottweiler | de 37 a 41 cm |
| XXL | Boyero de Berna | de 42 a 47 cm |
Se as medidas que necessita não se encontram na tabela, ou prefere uma melhor adaptação, pode solicitar um protector de joelho à medida.
Necessita de mais estabilidade? Veja a nova órtese de joelho articulada.
Se tiver qualquer dúvida, não hesite em contactar-nos.
Silvia Grotto
-
(Zugliano, Itália)
Buon prodotto, leggero non infastidisce il cane. Immediato il miglioramento della zoppia causata dal crociato lesionato.
DOLORS PAZ
-
(CASTELLAR DEL VALLÈS, Espanha)
El envío ha sido perfecto. Ha llegado en buenas condiciones y la medida le va perfecta. Muy buen servicio.
M.Carmen Ortega de la Torre
-
(Madrid, Espanha)
Funciona muy bien. Me equivoqué en la pata al pedir y lo rectifique y me mandaron el correcto. Las medidas muy bien explicadas.
Deyssa Sánchez
-
(Palma de Mallorca, Espanha)
El producto es de muy alta calidad,la atención al cliente y la rapidez del envío y el servicio por parte de Ortocanis ha sido de un 10.
Heike Weller
-
(Immendingen, Germany)
Brenda Arenas Duran
-
(Ciudad de México, Mexico)
Excelente producto, ha ayudado a que mi perrito camine muho mejor
Elena Lochekhina
-
(Mojacar, Espanha)
Lo compré para mi golden. Acerté con la talla, calidad es excelente y sujeta bien la pata. El perro se mueve mas seguro. Muy recomendable!
Irene González López de Arroyabe
-
(Madrigalejo del Monte, Espanha)
Muy recomendado! Se lo puse a mi American Staffordshire tras la operación de rotura de ligamentos y ha recuperado muy bien.
marina ucha valenzuela
-
(jerez de la frontera, Espanha)
Le ha permitido a mi perro tener un poco de más calidad de vida. Ya que no es viable para su salud una intervención. Mil gracias
Aida Bufanu
-
(Giroc, Romania)
The product is ok. It s perfect for what we needed. It is very helpfully. I recommend these products.
Meritxell Espelt Rodrigo
-
(Igualada, Espanha)
La rodillera va muy bien, le da apoyo, aunque para hacer subidas en la montanya o subir escaleras quizà le cuesta al no ser flexible (..normal).
Soraya Llopis Sainz
-
(Zaragoza, Espanha)
Todo bien llego en muy pocos días estoy muy satisfecha
Victoria Shelley
-
(Wisbech, Cambridgeshire, United Kingdom)
Excellent - fits very well
Anne Miranda
-
(Cascais, Portugal)
Die Kniebandage ist äusserst nützlich und hilft unserem Hund sehr. Durch diese hat sich bereits die eine Seite normalisiert, so dass er schon seit geraumer Zeit keine Bandage mehr tragen muss.
Anne Miranda
-
(Cascais, Portugal)
Die Kniebandage ist äusserst nützlich und hilft unserem Hund sehr. Durch diese hat sich bereits die eine Seite normalisiert, so dass er schon seit geraumer Zeit keine Bandage mehr tragen muss.
Montse Viguer Juve
-
(Maquefa, Espanha)
Todo genial si tu perro tuene problemas en la espalda i va un poco curvado hacia bajo es mejot que conpres el arnés tambien
Maria Angeles Mora Olalla
-
(Estacion de Cartama, Espanha)
Le ha venido genial para cuando sale a pasear, lleva su patita mucho más segura con la rodillera, estoy súper contenta con ella no descarto pedir más cosas, ya que son de buena calidad y el envío fue rápido muchas gracias
Jose Diaz Marreto
-
(Arucas, Espanha)
Satisfecho drl ptoducto y la celeridad en la entrega. Gracias
Bethemont Isabelle
-
(DIEULEFIT, França)
Too small. Altough I respected the sizes chart.
Sabine Burtin
-
(LA CELLE SAINT CLOUD, França)
Good product, even if at long term you have to find an alternative for the scratch I used an " épingle à nourrice"
Nuria Fernandez
-
(Oviedo, Espanha)
Olga Motta
-
(Monforte del Cid, Espanha)
Es fantástico! Mi perrita puede di nuevo correr!
Rafael Gil Solis
-
(colmenar de oreja, Espanha)
El protector de rodilla ideal para su tamaño
Nardy Armas
-
(Agaete, Espanha)
Gracias x el servicio prestado. Estamos esperando el pedido ya q nos encontramos en las Islas Canarias pero no es la primera ves q compramos este producto y estamos muy satisfechos. Gracias, un saludo
Carmen Barrigon Gomez
-
(Valladolid, Espanha)
Buena adaptación y buen resultado.
Guest
-
(Osimo (AN), Itália)
Genouillère taille M pour chienne de 25 kg , très bien adapté à la morphologie du chien , mais elle ne l'a garde pas , je doit la coincer dans son harnais de promenade pour qu'elle la garde à la journée .
Nadia Lebel
-
(Nelson, BC, Canada)
I like the brace for my dog. However there is one issue: I bought it for use on her left leg. The strap that goes under her stomach, by the right leg, and over her back caused rubbing and open sore in the crease of her right thigh. I had to sew a cushion along this strap in order to prevent the rubbing that caused the sore. Perhaps the brace should have a cushioned under-body strap to prevent rub
The under strap has a zone especifically to avoid rubbing. It might be too short for your case. Please can you send us a picture to understand better the problem with your dog?
ELENA VIANA MAZ
-
(VALENCIA, Espanha)
Muy útil para mi perro. Me lo recomendó mi veterinario y tanto las medidas como el plazo de entrega son muy buenos.
ariane lachaert
-
(bruxelles, Belgium)
Very good quality. I will use it when my dog has recover completely in order to protect his leg when running.
Paz Alonso
-
(Vigo, Espanha)
el envío perfecto, pero el protector no sirvió de mucho, no se adapta bien y es incómodo la forma de ponerlo con el velcro
Margarita Martinez Pazos
-
(Marín, Espanha)
Producto fantástico.La rotula volvió a su sitio y Laika puede hacer lo que más le gusta,saltar y correr.
Susana Casas riera
-
(Sant Fruitos de bages, Espanha)
Todo perfecto,medida correcta,fácil colocación,mi perro contento y cómodo con ella.
Denise Olson
-
(Twin Valley, USA)
I am I love with your product. Our Newt was looking at surgery for both back knees for torn cruciate. He is over 10 years old and opted out of surgery. The braces make it easier for him to walk and even run through the yard. Thank you for all you do for our fur babies.
Daniela Macher
-
(Ebenhausen, Germany)
Ich bin sehr zufrieden mit dem von mir bestellten Produkt .
Cristina Polanco
-
(Santander, Espanha)
Ha sido de gran utilidad, cómodo para mi pequeño y totalmente eficaz. Estoy muy agradecida. Totalmente recomendable
lucile favereaux
-
(tergnier, França)
Parfait! Mon labrador utilise l\'attelle gauche et là, il a une petite faiblesse au niveau des ligaments droit et hop la genouillère, très souple et très bonne qualité!
Tamera Selhaver
-
(Amissville, USA)
Our dog tore his knee ligaments. Bought this brace in large but was a little bit big so ordered a medium which is perfect for his 70 lbs, slim body. We had him wear this every day except at night, for about a year. Vet couldn\'t believe how well he did! He hasn\'t needed surgery thanks to this brace! Came back today to order one for a senior goat and a hind brace for another senior dog.
Imma Alguacil Sanchez
-
(Cubelles, Espanha)
Muy fácil de poner y un gran resultado
Wolfgang Spengler
-
(Riedstadt, Germany)
Einfache Orthese, leicht zu handhaben. Hund begeistert.
Linea Powell
-
(Monteagle, USA)
My dog doesn't have a complete ligament tear but the beginnings of one and this brace has helped her so much! She is much happier even!
Laura Packwood
-
(Worth, USA)
Love it! I have friends who now want me to order for their dogs as well. Great product thank you!
MARIA JOSE MATESANZ SANCHEZ
-
(San Cristobal de Segovia, Espanha)
Muy bien, evita más lesión.
Thorsten Kappler
-
(ETTLINGEN, Germany)
Erste war zu klein zweite ging für Dauereinsatz bedingt geeignet Qualität gut
Cornelia Holz
-
(Hamburg, Germany)
Xaqueline Silva
-
(Marbella, Espanha)
Muy contenta con este pedido, mi perrita está feliz y veo que le está ayudando y puede caminar un poco mejor. Muy eficaces con la rapidez del envío!
maria arana Ibarrola
-
(Pamplona, Espanha)
calidad excelente precio excelente servicio excelente nada más ponérselo anda súper cómodo la cinta de sujeción perfecta también sin duda lo recomiendo 100% para un beagle la talla S y de la cinta de sujeción talla L
Reme Puig
-
(valencia, Espanha)
Todo perfecto. Volvere a comprar con vosotros
Purificación Molina López
-
(Lucena, Espanha)
Muy buen producto. Muy cómodo. No le molesta nada y camina más segura. El detalle de la golosina para mi perrita, de diez! Gracias!!!
Raquel Melero Guerrero
-
(Navalafuente, Espanha)
el producto está perfecto y de muy buena calidad. aunque no sé si el perro está más cómodo con el protector o sin él.
Angelo Adamo
-
(VIGGIU', Itália)
Rapidez en el envio! El producto es fabuloso y nuestra perrita más segura
Gian Luigi Marsana
-
(Riva del Garda, Itália)
Susana del carmen
-
(Collado Fuentemil Siero, Espanha)
Muy comodo!!! La perra me pide que se lo ponga
Guillermo Pereira Cancino
-
(Los Angeles, Chile)
En cuanto al producto, excelente. Le otorgó desde el primer momento mayor seguridad y confianza para afirmar la patita. De seguro, que cada día podrá caminar mejor. En cuanto a la atención, muy bien: el envío llego antes de lo esperado y en excelentes condiciones. Desde Chile, agradecemos a la Empresa por ayudarnos! Bimba les envía muchos saludos!
Isabel Del saz
-
(A Coruña, Espanha)
Fenomenal todo!Desde el principio del pedido hasta la entrega.Bravo!
Veronica RodriguezPatron
-
(Madrid, Espanha)
Me llegó una rodillera antes de lo que esperaba. Ahora tengo que probarla en mi perra que tiene una lesión en la rodilla. De momento muy contenta con el servicio prestado. Gracias.
Erwin Pirthauer
-
(Mähring, Germany)
Bandage ist perfekt. Die Fäden müssen besser vernäht werden.
Marco Massone
-
(VARINELLA, Itália)
Juan Antonio Galán Pascual
-
(Cáceres, Espanha)
bastante facil de colocar y buena sujeción, parece que mi perrita se adapta bien a ella, ahora a esperar a que se recupere y no le haga falta
Sophie RULLIER
-
(MONTCHEVRIER, França)
Sophie RULLIER
-
(MONTCHEVRIER, França)
aide bien ma chienne pour son arthrose
isabel CLAVO ESCRIBANO
-
(MADRID, Espanha)
David Ortega Gil
-
(Premià de Mar, Espanha)
El protectot de rodilla perfecto, se nota mucho la mejoria en el caminar de mi mascota. Muy satisfecho con la atencion de las trabajadoras en la tienda, puesto que teoricamente estaba cerrado al publico, y nos atendieron muy amablemente sin problemas solucionandonos el problema.
Ache' Saint
-
(North Bay Village, USA)
Quality construction, seems to help our dog walk better by giving her confidence there is support for the leg and to place more weight on it when we take her on walks. She has broken into a small trot for about 20 feet at a time, but no running just yet. Actually I think it may be a tad too big for her or she may need more support for her situation which was an ACL tear. I am going to order a siz
Mariola Serrano Fuente
-
(Burgos, Espanha)
Se adapta perfectamente a la anatomía de mi beagle .
Francisco Villanueva Esteban
-
(Reus, Espanha)
La atención correcta. El protector bien, el problema es que no acaba de sujetarse la rodilla y se cae. Gracias por todo. Son muy eficaces y la atención correcta.
Mónica Rodríguez Luengo
-
(Valdemoro, Espanha)
Muy rápido en servir el producto al día siguiente de pedirlo ,muy eficaz. El problema es mi pequeño que lucha todos los días con la riñonera para quitarse la y no estira la pata no la planta la lleva encogida. Pero vuestro servicio simplemente sensacional. Gracias.
Johanna Kittenbaumer
-
(Frankenmarkt, Austria)
Francesco Sgambato
-
(Milano, Itália)
Jose Garcia nieto
-
(Don Benito, Espanha)
Muy rapidos y efectivos, producto perfecto calidad precio.
María Gallego
-
(Zaragoza, Espanha)
Le verdad ,va muy bien le da sujeción a la articulación.
Carmen Benedicto
-
(FUENLABRADA, Espanha)
Me ha parecido de buena calidad y muy util
Rosa Maria Díaz Quiros
-
(Ibeas de Juarros, Espanha)
Ruth Swiemer
-
(Berlin, Germany)
Encarnación Araujo
-
(Orense, Espanha)
A la perra le sienta a como un guante. Nos dijo el veterinario de vuestra página, y hoy mismo con el se la hemos puesto y la lerra camina mucho mejor, en una York side, con artrosis en la rodilla. Muchas gracias.
Fiona Lessmann
-
(Hernals, Austria)
Haben für meine Bernhardiner Hündin das größte bestellt weil sie sich immer wieder am rechten Knie aufbeißt, die Bandage hat ein super weiches neoprenmaterial und sitzt gut
avelina gallardo
-
(Barcelona, Espanha)
La ayuda del protector a la regeneración de la rotura de ligamentos en enorme. Refuerza la articulación y mi schnauzer no siente tanto dolor, ni tiene tanto miedo a utilizar la extremidad lesionada.
Veronica Collado Jara
-
(Inca, Espanha)
La medida perfecta. Ayuda a mantener la pierna firme. Producto de muy buena calidad.
Paulo Carvalho
-
(Schifflange, Luxemburg)
Bonjour, super genouillère ! Bonne qualité ! Bon service livraison rapide ! Excellent vendeur ! Merci beaucoup ! Prenez soin de vous ! Cordialement
Margarita Moya Vidal
-
(Corbera de Llobregat, Espanha)
Comodo, fàcil de poner y de momento hace sus funciones. Perfecto!!! Mil gracias
LAURA MARTORELL PEREZ
-
(Vilanova i la Geltrú, Espanha)
Tengo una perrita Yorkshire, y le compre la talla XXXS. Le viene genial!
María Belén Morón Roësset
-
(Pozuelo de Alarcón, Espanha)
La pedí para un paciente. El pedido llegó perfectamente y el protector de rodilla le ajusta muy bien.
Eva Beltran Simon
-
(Barcelona, Espanha)
El pedido llegó súper rápido y el protector le va de maravilla.
ANA INES MORALES PACINELLI
-
(MARBELLA, Espanha)
El protector de rodilla ha llegado en el tiempo prometido y le va bien. Muchas gracias.
Lucía González Rodríguez
-
(Candás, Espanha)
Rapidez en el envío, buena calidad del producto, he quedado muy satisfecha con la compra.
Jacqueline Fischbach
-
(Münchenstein, Switzerland)
Supertolles Produkt. Kann ich nur weiterempfehlen
Jacqueline Fischbach
-
(Münchenstein, Switzerland)
Super Service. Super schnelle Lieferung. Die Kniebandage kann ich absolut weiterempfehlen. Das Preis-Leistungsverhältnis ist absolut top.
Stefania Beschi
-
(Calcinato (Bs), Itália)
Perfetto! Arrivato in 24h, l ho messo al mio cane dopo 2 settimane dall\' operazione Tplo
Elena Navarro Cia
-
(Olivella, Espanha)
Muy buen acabado y fácil de poner.
Virginia Franco
-
(Cigales, Espanha)
Producto muy bueno y eficiente. Fácil de poner y ojalá podamos evitar una operación con ello. Gracias
María Lorente de Celis
-
(madrid, Espanha)
Personal muy profesional y amable... Muy conyenta.
Pilar Castan Climent
-
(Avià, Espanha)
Tot perfecte. Ha arribat aviat i bé.
Christiane Nassiri
-
(Weinsheim, Germany)
schnelle Lieferung gute Qualität empfehlenswert
Susi Bienia
-
(Frankenthal, Germany)
Schneller reibungsloser Versand. Artikel so wie vorgestellt. Daumen hoch!
Honorio Ibilcieta
-
(ADIÓS, Espanha)
Todo perfecto, calidad, servicio y relación precio/resultado.
Günter Matschull
-
(Wildeshausen, Germany)
gaelle lamy
-
(bouhans et feurg, França)
Bon produit même si les finissions laissent à désirer mais très confortable ( ma chienne n\'essaye même pas de l\'enlever)
João Fernandes
-
(Carregado, Portugal)
Qualidade do produto, prazo de entrega excelente.
David Fernández Martínez
-
(Barcelona, Espanha)
PINZANI PINZANI
-
(SCANDICCI, Itália)
Arrivato prima del previsto prodotto perfetto, venditore serio
José Gomes Da Costa
-
(Vila Nova de Famalicão, Portugal)
Produto conforme anunciado. Boa qualidade. *****
Cristina Borgi
-
(Rivalta di Torino, Itália)
CONCHA BLANCH
-
(Esplugues de Llobregat, Espanha)
El servicio es rápido y eficaz. Yo me equivoqué de rodilla :((( y me lo cambiaron rápido haciendo una recogida del producto equivocado. Recomendable!!
ESTHER ROGER
-
(Cunit, Espanha)
Producto de muy buena calidad, de muy buen ajuste y facil de colocar, buena sujeción. Nos lo habia recomendado nuestra veterinaria y realmente ha sido un acierto.
Andry Catalina Rojas Rios
-
(SONDRIO, Itália)
Tutto perfetto!! Taglia giusta!! Molto sodisfatta!
avelina gallardo
-
(Barcelona, Espanha)
Mi perro tuvo una rotura parcial de ligamentos cruzados y una cirugía es sumamente peligrosa para él por sus otras patologías. Con el protector de rodilla ha estabilizado la lesión y ya no es necesaria la cirugía. Ha sido una solución excelente. Además, el protector está elaborado de forma impecable, los ajustes son perfectos, puedes lavarlo en lavadora y seca muy rápido, con lo cual siempre lo ll
Angela Bieri
-
(Wädenswil, Switzerland)
Super after surgery to protect and support! Would highly recommemd it. Good and comfortable to wear.
Carlos Tomé Garrigós
-
(Dénia, Espanha)
Llegó en 24 horas desde que hice el pedido. El producto fenomenal...es de neopreno y muy bien acabado. Relación calidad-precio muy buena.
Tanja Dziurowitz-Steinmaier
-
(Dinkelsbühl, Germany)
Passt perfekt! Auch bei Rüden kein Problem mit dem Gurt:) Bin sehr zufrieden, Lieferung war auch schnell. Gerne wieder
Amaya García
-
(Fontellas, Espanha)
Perfecto en tiempo de entrega y talla
irina zotova
-
(el ejido, Espanha)
Servicio muy bueno, llegada del producto muy rápido. Protector de rodilla se ajusta muy bien.
Leonor Astorga Sardina
-
(La Adrada, Espanha)
Buenas tardes, el pedido genial, muy rápido, el problema es que no me parecía que la talla fuera la correcta, hoy he recibido el segundo, y veré cuál es el que le viene bien a mi perra el otro lo devolveré como me indicaron, creo que Víctor? La atención correctisima y muy aclaratoria, por el momento estoy encantada. Un saludo
Shinichi Takeuchi
-
(Santa Gertrudis, Espanha)
Carolina Bescós Roy
-
(Playa Honda-San Bartolome, Espanha)
TODO HA RESULTADO FÁCIL Y RÁPIDO. MUY CONTENTA
Markus Koegel
-
(Dormagen, Germany)
Trotz genaues Messen und inkl. Toleranz nach oben ist die Bandage zu klein. Für das Bein und der Gurt sind für meinen Hund viel zu klein. Dennoch ist der Artikel ein klasse Produkt was ich nur Empfehlen kann.
Laura Perdomo
-
(sabadell, Espanha)
La perrita de mi.madre, un dia un mal gesto subiendo las escaleras, se fastidio los ligamentos, y tras mucha semanas de reposo, no mejoraba. Ahora, tras ponerle el protector, camina mejor, apoya la patita, que ya es mucho!
karen inostroza contreras
-
(concepcion, Chile)
Llego todo ok! Le quedó perfecto a mi perrito anda súper con su rodillera, buen servicio, gracias !
Laura de Jong
-
(Lisboa, Portugal)
I am very happy with the knee brace. Mostly, I was extremely impressed with the service. I accidentally ordered the wrong size at first. I called and they fixed it right away. They were very helpful and professional. I would certainly order from them again.
Danielle Pierre
-
(Casares, Espanha)
Mª Ángeles
-
(Jerez de la Frontera, Espanha)
Hola, a mi perrita Nur le ha ido genial, ha tardado un poco más de lo que esperábamos en recuperarse de su rotura de ligamentos, pero el protector le ha ido genial en sus paseos, ya está recuperada del todo. Gracias!
Francisco Luís CARDOSO SILVA
-
(FÂNZERES, Portugal)
Excelente. Ajudou bastante na recuperação de um joelho partido da minha Yorkshire. Ajudou no controlo da dor e na contenção do joelho. Obrigado.
Miguel Angel Maroto Fernandez
-
(Betera, Espanha)
Producto perfecto y recibido en el plazo indicado
Nieves Nievas
-
(Zaragoza, Espanha)
Muy buen producto y buen ajuste. No es complicado de poner.
RODRIGO VILLARROEL GOMEZ
-
(Madrid, Espanha)
Buenos días. He colocado el protector de rodilla a mi chiguagua y de momento lo aceptó muy bien y corretea feliz por la casa. Creo que la talla es la adecuada. Cuando pueda salir del nuevo al campo comprobaremos mejor cómo le va. Gracias, Rodrigo
Kathleen DiBacco
-
(Darien, USA)
I love this brace! It provides extra support for my 16 yr old greyhound Buster whose has lost a great deal of his strength in both of his back legs, but especially the left. The design is awesome and is very easy to put on and can be hand washed and air dried very quickly. This brace has given Buster greater mobility, increased quality of life & more time for me to love him! Thank you so much!!
Ludt Manfred
-
(Riegelsberg, Germany)
Sind sehr zufrieden............. vielen Dank und freundliche Grüße
Michel Leon
-
(Paris, França)
Todo perfecto, envio rapido y producto conforme. gracias
JOSÉ LUIS DOMENECH
-
(Almuñécar, Espanha)
La medida correcta, el ajuste perfecto. Lo ha aceptado sin rechistar. Espero que le sirva para su desgarro de ligamentos.
Sonia Piqueras BLÁZQUEZ
-
(El casar de talamanca, Espanha)
El producto está genial. Pero pensé que era unisex y me eh equivocado de pata. Como puedo hacer una devolución?
Lo más rápido es enviarnos la talla que no desees y realizar un nuevo pedido de la talla correcta. También podemos enviarte un mensajero a recoger el producto que deseas devolver.
irina zotova
-
(el ejido, Espanha)
Valerie cruypenninck
-
(Jonquières, França)
produit bien adapte pour soulager ma gaya (chienne labrador)en attendant l operation ( rupture des ligaments croises )
Christine Aresin
-
(Hattingen, Germany)
Mit dem Produkt bin ich sehr zufrieden. Das Material und die Passform sind schön. Die Anwendung ist einfach. Ich habe direkt noch eine bestellt zum wechseln. Es ist Winter und oft nass und schmutzig draussen ...
Sabine Lorenz.
-
(Wuppertal, Germany)
Maja Primec Johnson Johnson
-
(Ljubljana, Slovenia)
top product, warmly recommended!!
Christine Leue
-
(Leichlingen, Germany)
Very good product, excellent material, matches well on the leg of my dog. He walks much stronger with it after his knee operation as before.
Oliver Pet Care Solutions Pvt Ltd
-
(Mumbai, India)
Fits well, provides the required support, well made. Very happy with the product.
Anita Plume
-
(Riga, Latvia)
Very good product- it works perfectly and service is wanderfull!
veronica devalle
-
(Ciudad de Buenos Aires, Argentina)
excelente producto! llego a tiempo y en perfectas condiciones!
Antonio Panizo García
-
(Madrid, Espanha)
Excelente, cumple muy bien su función
INMACULADA HUELVA
-
(LA PALMA DEL CONDADO, Espanha)
El producto es perfecto y la calidad insuperable espero q le ayude a mi perrita en su mejora
Belén Varona Velarde
-
(Collado Villalba, Espanha)
Ya teníamos la rodillera, quedamos muy contentos con el resultado, tanto por la resistencia de la tela como por la comodidad que hemos repetido.
Karla Sotomayor
-
(Torreón, Mexico)
Excelente calidad, además, a ayudado mucho a mi perro a la hora de los paseos
Miguel Serrano extremera
-
(Alcalá de Henares, Espanha)
Me gustaría dar más estrellas pero el servicio de postventa no atiende mi consulta, y no podemos probar su protector de rodilla, porque no tenemos respuestas.
Hola Miguel, sentimos tener un retraso en las respuestas por mail. Tenemos miles de consultas cada semana y queremos responderlas todas de forma responsable. Para temas urgentes te recomiendo que llames por teléfono. Esperamos poder ayudarte.
Susan Swain
-
(Opotiki, New Zealand)
The left knee brace arrived several days ahead of the anticipated delivery date. It helped my beagle to walk on all four legs instead of limping on three - quicker. Sadly, she put her other knee out today so I\'ve ordered a right knee brace in the confidence she\'ll be back on all fours in no time. Thanks Orto Canis!
soontea han
-
(Asi, South Korea)
Sophie Cauchois
-
(Belbeuf, França)
Très satisfaite . Taille correspondante et très bon rapport qualité prix .
Sheila Rollan Garcia
-
(Arroyo de la Encomienda, Espanha)
Esta genial, mi perrita boxer de 9 años tiene artrosis en su patita trasera derecha y casi no apoyaba, ha sido ponerla y corre que da gusto verla. Ademas es muy ergonomica y no la ha extrañado nada desde el primer minuto
Mr R Blaylock
-
(WIRRAL, United Kingdom)
So, I purchased this product when my elderly dog damaged his knee ligaments and could hardly walk. Whilst surgery may still be necessary, this support has helped a great deal. It is well designed, easy to fit and does not cause him any discomfort. Great product, I\'m really pleased with it!
Mitchell Acevedo
-
(AUSTIN, USA)
My dog has luxating patella in both knees—she weighs 75 lbs and is 9 yrs. This fits her perfectly. It keeps her leg in the right position and seems to be helping keep dislocations to a minimum. I\'ll be ordering another for her opposite leg.
FRANCISCO BARBILLO
-
(LAGUNA DE DUERO, Espanha)
IEvelyn Kleinschmidt
-
(Schönau am Königssee, Germany)
Meike Kemper
-
(Gronau, Germany)
Leider ist die Kniebandage eher wenig geeignet. Sie verrutscht die ganze Zeit. Würde man jedoch eine Nummer kleiner bestellen würde diese nicht mehr über die Pfote passen. Ich bin leider total unzufrieden. Ich habe auch direkt nach Anlieferung den Händler kontaktiert, dass ich meine Bestellung nicht vollständig erhalten habe. Daraufhin gab es nur eine Mail und seitdem nichts mehr. Sehr schade.
Wir bedauern Ihren Ärger sehr, aber denken Sie daran, dass Sie über das Band zur Lordosenstütze verfügen, um das Problem des Gleitens von Knieschützern zu lösen. https://www.ortocanis.com/de/hundezubehoer/307-haltegurt-kniebandage.html
Isabelle PARANT
-
(Le Theil, França)
Très bien, mon chien a retrouvé sa locomotion !
Witteveen Witteveen
-
(GUALCHOS, Espanha)
La empresa de transporte afirma haber ofrecido el producto dos veces. Pero esa no es la verdad. Nunca he estado en mi dirección especificada. Estaba en casa esos días. así que no recibí nada. mañana iré a la empresa de transporte
Procedemos a contactarlos para ver que sucede con la entrega. Sentimos la incidencia de Envialia.
MERCEDES MARTINEZ MOLINA
-
(Guadalupe de Maciascoque, Espanha)
MI PERRA CON 14 AÑOS SE HA ROTO EL LIGAMENTO CRUZADO, CON ESA EDAD NO QUIEREN OPERARLA Y MIRANDO ENCONTRE ESTE PROTECTOR PARA LA RODILLA. ELLA ESTA FELIZ, NO QUIERE QUE SE LO QUITE, AL PARECER SE SIENTE SEGURA Y CONFIADA. UN GRAN PRODUCTO. GRACIAS POR DAR UNA SEGUNDA OPORTUNIDAD.
Dufour Margareth
-
(ST MARCEL SUR AUDE, França)
Très bon produit, qui remplit sa fonction, elle soulage mon chien et lui donne plus confiance en sa patte, mais malheureusement elle reste une solution de transition avant l\'opération, mais je recommande
Juan Carles Abelló
-
(Premiá de Dalt, Espanha)
Creo que es de muy buena calidad. Aun asi se sale alguna vez. He probado otros y este ha sido el mejor.
Cristina Herrero Elvira
-
(Puerto Lumbreras, Espanha)
Muy contenta con el producto, la perrita se adaptó bien desde el principio. Gracias
Odile Hoarau
-
(Saint-Joseph, Réunion)
Taille parfaite, livraison très rapide, je recommande excellent produit
Rafaela Luque Serrano
-
(Alcalá de Henares, Espanha)
El pedido me llegó muy rápido, a los dos días de pedirlo. El producto de buena calidad. Gente sería. Gracias.
Sven Wienholz
-
(Fürstenwalde/Spree, Germany)
Lluis Calcat Buixo
-
(Premià de Mar, Espanha)
Rodillera exelente, acabado perfecto, muy suave y resistente.
Dietmar BOMBA
-
(Ormea, Itália)
prodotto proprio come quella descritta, da consigliare grazie
Maria Isabel Picazo Malo
-
(La Muela, Espanha)
Con 14 años, rotura de ligamentos cruzados y cardíaca, anda por la casa que da gusto verla.
Alfonso De Los Santos
-
(San Sebastián de los Reyes, Espanha)
Todo bien, llegó en tiempo y correcto.
Cristina Gonzalez Saez
-
(Madrid, Espanha)
Muy bien. Rápido y eficiente!!
Zsuzsanna Gyarmathy
-
(Szentendre, Hungary)
Thank you your fast trans. My dog can walk again with the knee brace . She can use her leg. The size is perfect.
Maria Muñoz Garcia
-
(Villacarlos, Espanha)
Mi viejito carlino de 7,5 kg se extrañó al colocarle por primera vez su protector de rodilla, caminando al principio se sentía raro. Pero al poco tiempo ya iba bien. Parece caminar más seguro, aunque sigue teniendo la tendencia de doblar un poco hacia adentro su rodilla izquierda. El producto llegó muy rápido, y la talla es perfecta. Además llegó con una chuche para el pequeño. Gracias Ortocanis!
Antonella Alloggio
-
(Rimini, Itália)
Il cane sembra sopportarlo benino..le rifiniture non sono ottime ma sembra che la ginocchiera sia resistente.forse il materiale é un pò caldo per l estate.spero che aiuti il mio cane a camminare meglio
Carmen Fernandez Benito
-
(Madrid, Espanha)
La entrega del pedido fue rápida y la rodillera perfecta, el perrito ni siquiera la extrañó cuando se la puse. Gracias!
CORINNE GAUCHOUX
-
(Le Mans, França)
Colis bien reçu commandé le dimanche reçu en 4 jours avec la livraison en 4 jours . Produit parfait
Chantalle Cardelli
-
(Sudbury, Canada)
I bought this product back in the summer of 2018. If you have a crazy, active, and playful dog, chances are very high that the very top of the brace will start to come apart overtime. Although, I still use it because it still works very well in supporting my dog\'s leg. I do recommend it because it is very affordable and works quite well for the price. Also, the company is great to work with.
Ana María Fernández Pérez
-
(Madrid, Espanha)
Muy bien. El pedido llegó cuando se dijo y acerté cn la medida. Gracias
Marije Bolaños Gavilondo
-
(Trapaga, Espanha)
Muy buena atención y muy rápido.
Ana Montoya
-
(San jose, Costa Rica)
Servicio Excepcional!! El envio fue rapido y el producto es de muy buena calidad, a mi perrita le quedo como si hubiese sido hecho para ella. Un solo dia y ya puede caminar con mas comodidad....
Alba Andreu Sillero
-
(LLICA D'AMUNT, Espanha)
Producto muy bueno, talla perfecta. Gracias.
Egon Bittner
-
(Frankenhardt, Germany)
Bandage ist OK ob es hilft weiß ich noch nicht,wird sich erst nach einiger Zeit zeigen.
Jesus Maria Navarro Mendive
-
(Ansoain, Espanha)
Hola, acabo de comprar un protector de rodilla para mi perrito, un Bichon Maltes de casi 9 kilos, y en cuanto a la calidad, me parece un producto de muy buena calidad y adaptable atodo tipo de perros. Solo decir, que en mi caso, mi perrito tiene mucho pelo y la pata en su parte inferior es bastante ancha, por lo cual la prótesis le queda bastante a justada.
Lise Andersen
-
(Brackel, Germany)
Well finished product and fast delivery to Germany. Gracias:)
Barbara Girnth
-
(Meerbusch, Germany)
El vendaje se ajusta perfectamente y se ha cumplido el plazo de entrega de cuatro dias, por lo que pronto pediré un vendaje de repuesto.
Honorio Ibilcieta
-
(ADIÓS, Espanha)
calidad óptima y es mejor de lo esperado
Sabine Fuchs
-
(Wals, Austria)
Sehr gutes Produkt und hilft unserem Hund sehr beim Spazierengehen! Danke
Esther Luengo
-
(Madrid, Espanha)
Llevamos unos días con él pero ya parece que nuestra perrita anda mucho mejor, es muy mayor y tiene artrosis y está órtesis le ayuda y protege mucho. Y muy rápida la entrega!!
Hilda Guadalupe Domenech Hernández
-
(MAZATLAN SINALOA, Mexico)
A mi perrita le encantó (y a mí más!!), no intentó quitársela, y estoy segura le ayudará muchísimo. El tiempo de entrega fue un poco largo, pero valió la pena la espera.
Beth Bertram
-
(Milwaukee, USA)
This fits my girl perfectly and she is excited to wear it but it keeps slipping off her back so I ordered the strap and harness to keep it on. The short time she did wear it, she was walking with so much more confidence. So glad I found you!!!
Anna Castillo Miñarro
-
(Vilanoveta, Espanha)
Me ha llegado el pedido perfecto! Servicio de entrega muy rápido. De momento le es muy útil a mi perro el protector de rodilla y ha mejorado. Estoy muy contenta con el trato recibido desde el primer contacto. Compraría mas productos, me parecen muy interesantes y de mucha ayuda para nuestros perros. Gracias
Hyunsoo YOON
-
(Busan, South Korea)
Carmen Jemez de la Rosa
-
(Javea, Espanha)
Todo genial. Rápido y buena calidad del producto
Manuel Iglesias Rol
-
(Trujillo, Espanha)
Sencillamente, un producto genial.
Kirsten Lueth
-
(KIRCHTIMKE, Germany)
Habe einen sehr großeb und schweren Hund mit Kreuzbandriss. Bandage sitzt super, stabliliert und vor allem, es gibt keine wunden Stellen. Super einfach anzulegen. Vielen Dank:)
Idoia Guereta Iturbe
-
(VITORIA, Espanha)
hola,contenta con el protector de rodilla,pero al perro no le hace nada sigue cojeando,probaremos otra cosa pues él la sensibilidad la tiene en la almuhadilla,aquí tendremos que ponerle algo,gracias por cuidar de nuestros peludos.
Maria Cano Raya
-
(Tona, Espanha)
Tengo una perra con un problema de ligamentos cruzados en una de sus patas traseras, y pensé que el protector podría irle bien. No le podría haber ido mejor. Lleva una semana utilizándolo y le ha ido fenomenal. El producto de muy buena calidad y buenos acabados.Relación calidad precio, le doy un diez. Y en cuanto al envio, fenomenal.Más rápido,imposible.Sin lugar a dudas, recomendable al cien por
Rogelio Lopez amado
-
(San Lucas Sacatepéquez, Sacatepequez, Guatemala)
Tengan vergüenza. Ni siquiera he recibido el producto 11 días después de haberlo solicitado. Sean honestos y reembolsen el valor por el pago de envío express
Sentimos y entendemos tu enfado Rogelio. Por lo que veo en el enlace del seguimiento del envío hubo algún tipo de problema con la Aduana de Guatemala pero ya está entregado. Sentimos mucho el retraso en la entrega.
ROSARIO FERNÁNDEZ RUBIO
-
(Sant Just Desvern, Espanha)
ESTOY CONTENTA, UN SERVICIO RÁPIDO Y FORMAL.
Natalia Manzano
-
(GETAFE, Espanha)
Me ha gustado mucho,muy buen material,y la talla perfecta.
Maria Galvez Dominguez
-
(Mostoles, Espanha)
Un 10. En trato, en envío y perfecto.
Mª Isabel Soriano
-
(Arcas, Espanha)
Envio super rápido. Muy fácil y cómodo de poner y quitar.La perra se ha adaptado muy bien a los protectores. Estoy muy contenta. No he podido subir las imagenes porque pesan mucho y no me deja.
Jesús Ruiz
-
(Salteras, Espanha)
Buen producto, protector de rodilla para mi perro.
Orquidea FLORES MENDEZ
-
(CIUDAD DE MEXICO, Mexico)
El protector es de excelente calidad, porque además de buenos materiales, está diseñado hasta para perros de gran talla. Una cosa muy importante es que la tira que rodea la cintura no lastima ni roza al perro por lo que es cómoda para ellos. Gente de México: pidan el envío exprés (aunque pareciera ser mucho dinero), pero vale la pena; el envío por Correos tardó 36 días en llegar (Correos de Méxic
Estefiysara BM
-
(Alcobendas, Espanha)
Todo correcto y envio super rapido pero tenemos dudas en cuanto a la talla. Es la mas pequeña y dudo de si le puede quedar un pelin grande y no le sirva para nada la verdad... Por lo demas, todo de 10
Gracias por comentar Estifi, recuerda que si le quedase grande siempre podéis pedir una hecha a medida.
Pedro Luis Tejedor Gil
-
(Zaragoza, Espanha)
Mi perrillo con la rodilera va mucho mejor, lo malo es que con la rodillera no sabe orina a ver si aprende
m. PILAR BERMEJO CAMPOS
-
(Pillarno, Espanha)
El pedido llegó pronto y resultó útil y fácil de colocar .
sonia navarrete valiña
-
(La Coruña, Espanha)
Buenos días: Muy contenta tanto con la atención como con el producto. Mi perrete está encantado, ahora es el problema será que no corra y salte demasiado jeje
jose felipe franco martinez
-
(Madrid, Espanha)
María Espinosa de los Monteros
-
(Esteponsa, Espanha)
El protector es estupendo. La perrita se siente más segura y la veo más contenta, no le cuelga tanto la pata.
Isabel HERRERO FERNÁNDEZ
-
(Muros de Nalón, Espanha)
Muy buen producto y muy buena atención. Atienden muy rápido.
Carolina Lozano Machi
-
(Alayor, Espanha)
Estoy muy contenta con los resultados .Al caminar tiene mas confianza en apoyar la pata ,lo que le dá mas estabilidad en los movimientos.Se lo he comprado a las 2 semanas de haber sido operado de luxacion de rótula.Gracias.
Keith Willis
-
(El Cucador, Espanha)
Good quality product. Seems to be helping when walking to laying down, shifts off knee when sitting.
Noelia Villanua Alarcon
-
(Churriana, Espanha)
Envio rapidisimo y articulo de 10!
Raquel Escobar perez
-
(Algeciras, Espanha)
Le va genial a mi perrita le sujeta bastante bien la pata y a la hora de andar va mucho mejor
Thelma Akamine
-
(Ponta Grossa, Parana, Brasil, Brasil)
O produto chegou rápido aqui no Brasil. Produto de excelente qualidade, não machuca a pele do cão e traz conforto. Meu cão teve ruptura do ligamento e após a cirurgia foi muito útil.
CARME PENDON NAVARRO
-
(SANT QUIRZE DEL VALLES, Espanha)
El producto és muy bueno y de buena calidad. Se nota que esta pensado para los perros y esta a prueba de mordeduras. Estoy muy satisfecha. A Bruna la han operado de una luxacion de rotula y le està protegiendo muy bien, Gràcias
Emilia TORREBLANCA
-
(RIVAS VACIAMADRID, Espanha)
Lo primero es agradeceros vuestro trabajo , yo que quiero tanto a los animales os doy las gracias de hacer cosas asi, para ayudarles en su vida, no dejeis nunca de hacer cosas por ellos se lo merecen como nadie. el producto llegó perfecto en tiempo y envoltorio, muchas gracias mi Grace anda con el super bien. Se nota que le ayuda a mantener la rotula en su sitio , anda bien, no cojea asi que graci
Carolina Fernandez Ramos
-
(Escúzar, Espanha)
Muy recomendable. Ha llegado muy rápido
MARIA ANGELES
-
(MALAGA, Espanha)
La rodillera leva perfecta a mi labradora, es de buena calidad Además los resultados están siendo positivos respecto a su lesión de rotura de ligamento cruzado Ya apenas cojea y he dejado de darle medicación para el dolor porque no se queja nada
CARMEN ARNAU
-
(Valencia, Espanha)
Muy útil para mi yokshire después de operar la luxación de rotula
Ana Valadas
-
(Loulé, Portugal)
Everything OK, good fit and good support.
alexander alexeyuk
-
(Tottenham, Canada)
Good quality product, fit our dogs knees perfectly. Took time for our dog to get use to it, but after wearing braces for 2 weeks she now feels comfortable have them on. Good customer care as well. Will recommend Ortocanis to others.
ANTONIO TERRON SANCHEZ
-
(Huelva, Espanha)
El producto es adecuado para su uso. Mi opinión es positiva. Lo que es fatal es la agencia de reparto envialia, nefasta, sin atención. Tuve que ir a buscar el producto a su almacén. No cogían teléfono. No se entregó en su día.
Hola Antonio, gracias por tu feedback. Estamos valorando dejar de trabajar con una nueva empresa de mensajería. Espero que puedas disculpar la falta de seriedad de Envialia y que la rodillera os ayude mucho.
Françoise bourrieres
-
(TOURRETTES SUR LOUP, França)
ma commande est arrivée très vite! très bon maintien et soulagement à la marche de la patte arrière de ma chienne atteinte d\'arthrose.. je recommande vivement!
Francisco Jose MONTALT ESPARZA
-
(PUÇOL, Espanha)
hola, muy bien, el problema es que mi perra se lo muerde, se lo quiere quitar y lo rompe, aunque esto es ajeno a vosotros saludos
Katrin Lehmann
-
(Portocolom - Cala Marcal, Espanha)
Mein Hund hat einen Kreuzbandriss und auch wenn die Bandage nicht so stabil ist wie eine orthopädische, kann er damit sehr gut ein paar Schritte machen. Gute Passform und eine große Hilfe !
Mireia Navarro Cabo
-
(Burjassot, Espanha)
La rodillera le va genial, aunque si dudais de tamaño mejor más pequeña. En el pedido online me equivoque de pierna y no tuvieron ningún problema en rectificar el pedido cuando les llame, cosa que agradecí muchísimo.
Christine Leue
-
(Leichlingen, Germany)
Sehr schönes Material, leicht anzuziehen, wirkt trotzdem stabil und gangstabilisierend. Werde bei Bedarf noch eine Bandage kaufen, ist schon vorgemerkt.
Patricia Gómez
-
(Ciudad De México, Mexico)
Le quedó muy bien y esta vez nos enviaron como rastrear el envío. Por lo que estuve muy tranquila y supe exactamente cuando iba a llegar.
Andreea Alexandra Feurdean
-
(Madrid, Espanha)
Estephany Montero Arias
-
(Albacete, Espanha)
El producto muy bueno, pero si que hacia falta el arnes por otra parte para la sujeccion, ademas que ella es muy activa pues se le caia facilmente.
Patricia Gómez
-
(Ciudad De México, Mexico)
Le ayudó mucho a mi perro, valió la pena la espera.
Masha Tintore
-
(sitges, Espanha)
perfecto todo!super rapido el envío
Victor Ivan ESCOBAR LOPEZ DELLAMARY
-
(ZAPOPAN, Mexico)
Melania Campillo
-
(Archena, Espanha)
eric mauguy
-
(Tourlaville, França)
tres bien mais taille trop petite, est ce possible de faire echange?
Bonjour Eric! Vous pouvez changer la taille. Nous expliquons dans un e-mail comment le faire.
aurora lopez dominguez
-
(almeria, Espanha)
Melania Campillo
-
(Archena, Espanha)
Heidrun Wellhoefer
-
(Marktheidenfeld, Germany)
Alexandra García Arroyo
-
(Barcelona, Espanha)
Genial todo! El tiempo de envio, el producto y la atención recibida por telefoni!
francisco antonio furio palomares
-
(Torrevieja, Espanha)
Maria Carmen Simarro Palop
-
(Valencia, Espanha)
Estupendo, mi Kira tiene artrosis y con la rodillera se siente mas segura al andar, el envio muy rapido y con chuche de regalo, muchas gracias!!
Carmen Pedrosa
-
(Rivas Vaciamadrid, Espanha)
Clare Taylor
-
(St Austell, United Kingdom)
Prompt despatch of order, excellent customer service when item too small & had to be returned.
Patricia Mª Pena Pena
-
(Ferrol, Espanha)
El personal es muy amable y atento telefónicamente. El producto está bien, parece de calidad, no le pongo 5 estrellas porque no lo he podido probar, ya que lo he pedido para un gato, a ver si podía caminar por sus luxaciones de rótula en ambas patitas traseras. El resultado es que para gatos no sirve, debido a la morfología y forma de mover las patas y de agazaparse. Lo tengo que devolver.
HECTOR PEREIRA
-
(Cangas morrazo, Espanha)
Todo ok rapido y regalo de chuche para perro . Coji M para pitbull hembra y genial .no le escurre niceee
Silvio Heyer
-
(Duggendorf, Germany)
Dei Ortes ist gut verarbeitet und wurde schnell versendet
Celia Allés Sala
-
(Tona, Espanha)
Muy agradecida, de momento le va genial a mi perrita!
Sylvana Szabo-Bassi
-
(Hercegszanto, Hungary)
Natürlich ist die Bandage weich und ist für einen starken Bänderriss nicht so gut geeignet wie eine orthopädisch stabilisierte. Aber dennoch hilft sie meiner Hündin (Kreuzband anriss) besser zu laufen. Ein paar Tage Gewöhnungszeit hat es aber dazu gebraucht. Die Lieferung war schnell und unkompliziert, besten Dank
Francisco Tausi castellanos
-
(Coslada, Espanha)
Producto perfecto, desde que se lo compré mi perro se le a notado algo de mejoría a la hora de caminar.
Marta Lopez Alonso
-
(BARCELONA, Espanha)
Muy buen material y buenos acabados. Compramos la talla más pequeña que por las medidas que indicaba la tabla es la que le corresponde. Pero no tuvimos en cuenta el pelo... se trata de una caniche. Todavía no he decidido si cambiarlo por la talla siguiente o cambiarle el corte de pelo a un continental...
Bernadette Delvaux
-
(Flémalle, Belgium)
Magnifique genouillère mon Loulou vas être enfin soulagé après deux grave opération des ligaments latéraux et croisé plus du genou et tout ça à 30 mois merci pour lui en plus très bon service
Maria Farkas
-
(silvano d'orba (Alessandria), Itália)
Arrivato prima del tempo e conforme a quello che aspettavo !posso consigliare la ditta per la premura e velocità e la qualità del prodotto ..non meno importante il prezzo
Anna Fornasier
-
(Arese Milano, Itália)
Anna Fornasier
-
(Arese Milano, Itália)
DOROTHY MCQUEEN
-
(MOORE PARK BEACH, Australia)