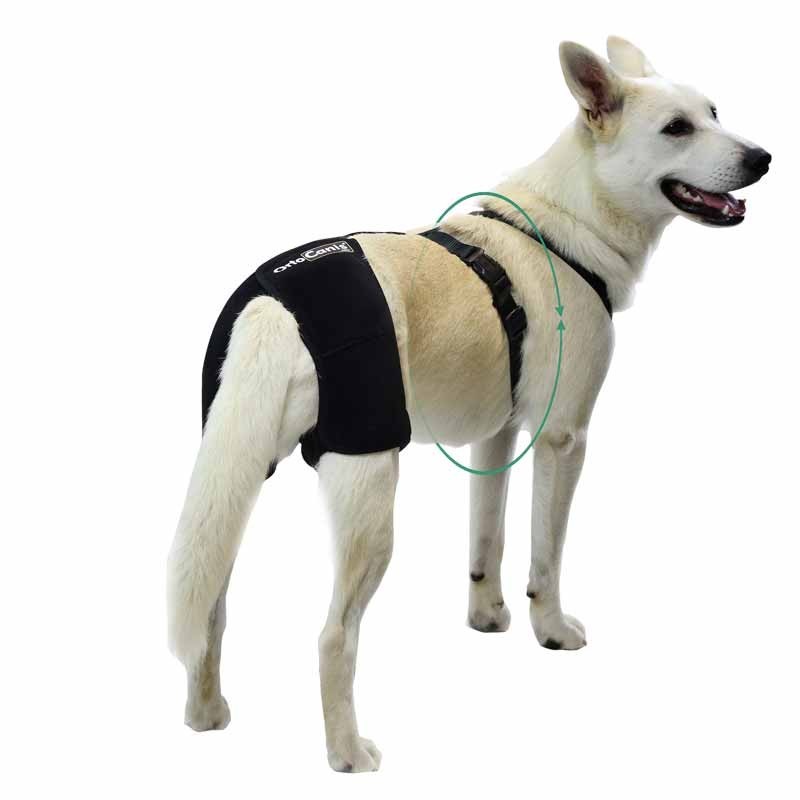  
Hip Brace
This support helps dogs with hip dysplasia or arthritis.
Stabilises and warms the hip articulation, reduces the pain and boosts the muscles activity avoiding atrophy and increasing the bond between the femur head and the acetabulum.
Scroll down in the description to see how to select the size and visit our FAQ section for any other questions about its uses, instructions, shipping, payment methods, returns or exchanges.
Ratings and comments from our customers
Dog Hip Brace

The hip brace for dogs provides support, warm and slight compression to the joints and muscles in the hips and lower back. It is appropriate for active dogs of all ages who suffer from arthritis, mild to moderate hip dysplasia, decreased endurance during activity, hip pain, low back pain or weakness and back leg limping. It is suitable for dogs recovering from surgery or injury and older dogs who have difficulty getting around. Once the dog got used to the hip brace, it can be used all day long and taken off during the night.
Indications for use:
Mild to moderate hip dysplasia

Arthritis

Decreased endurance during activity

Hip pain

Low back pain/weakness

Back leg limping or fatigue

Postoperative support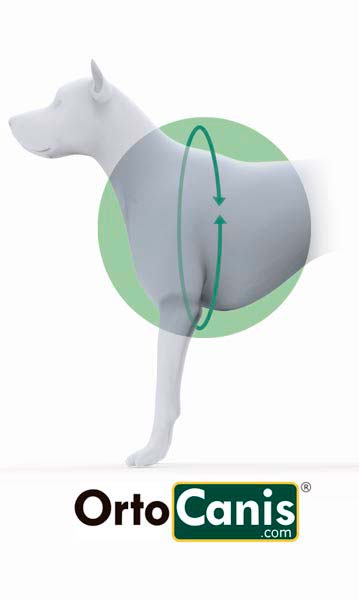 Follow these instructions to select the size:
1. Take a sewing tape, or a tape measure and string.
2. Measure the contour of the chest just behind the front legs (if in doubt, check the directions in the product images).
3. Look at the size chart for the size that corresponds to the measurement taken.
Size
Chest
Weight
S

48 - 63 cm

19 - 24 inches

4,5 - 11 kg
M

55 - 68  cm

21 - 26 inches

11 - 31 kg
L

69 - 96 cm

27 - 37,5 inches

31 - 46 kg
Note: As with all dog care devices - Check with your veterinarian. This product is NOT recommended for DM (Degenerative Myelopathy).
Instructions: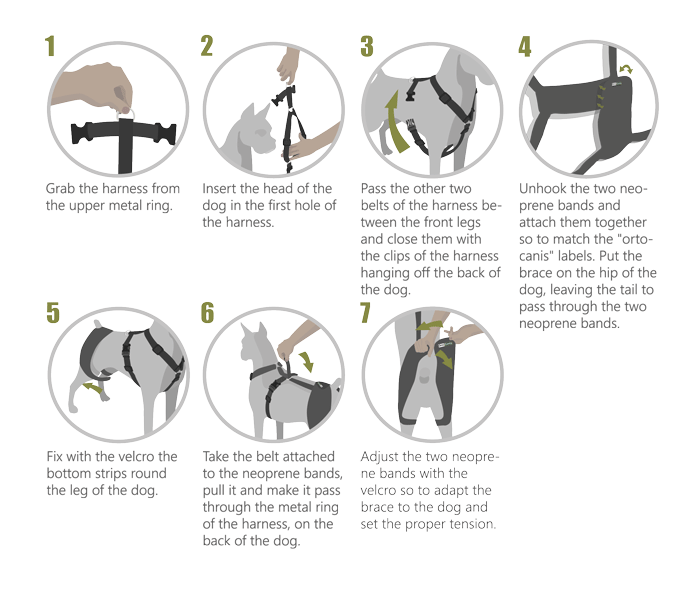 Chiara Ted..
-
(Fasnia, Spain)
Lo aconsejo mucho!!!me encanta para mi perro!
Maria José..
-
(Xeraco, Spain)
Mi perro es un schnauzer gigante de 50 kg que tiene displasia de cadera. Desde que lleva el soporte anda mucho mejor y más seguro. Estupendo
José Luis ..
-
(Chiclana de la frontera, Spain)
Bastante efectivo, una vez colocado adecuadamente
Gonzalo Ig..
-
(Santiago, Chile)
Gracias por dar la opción de poder comprar desde el extranjero, en mi caso desde Chile. Llegó en 4-5 días, agradezco la rapidez :)
Consuelo D..
-
(Madrid, Spain)
Muy rápido en la entrega. La talla M le era pequeño y la devolución y entrega de la talla L ha sido muy rápida.
veerle de ..
-
(Villemus, France)
I am very happy with the hip brace my dog is limping so much less and walks happy .I can recommend it to everyone!Thanks Orthocanis
Ines Drewa
-
(Schneeberg, Germany)
Passt super unser Rotti hat es ohne Probleme angenommen. Tolle Sache.
Sílvia Soler
-
(Santa Eulàlia de Ronçana, Spain)
FERNANDO G..
-
(ARES, Spain)
Muy bien....el Pastor Alemán espera con paciencia a que se lo coloque.Creo que le hace bien
Yves AIMARD
-
(Saint-Victoret, France)
Ne convient pas pour mon chien mais produit de qualité.
Marta Vill..
-
(Ibague, Colombia)
Hoy recibi la felula en horas de la manana imediatamente se la coloque a mi perrito, me parecio