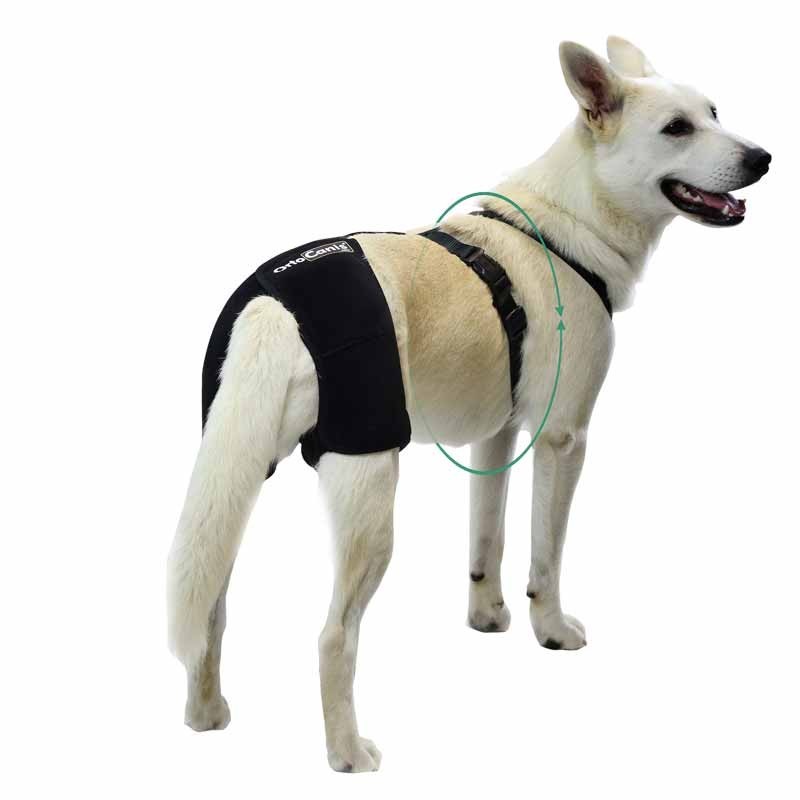  
Hip Brace
This support helps dogs with hip dysplasia or arthritis.
Stabilises and warms the hip articulation, reduces the pain and boosts the muscles activity avoiding atrophy and increasing the bond between the femur head and the acetabulum.
Ratings and comments from our customers
Dog Hip Brace

The hip brace for dogs provides support, warm and slight compression to the joints and muscles in the hips and lower back. It is appropriate for active dogs of all ages who suffer from arthritis, mild to moderate hip dysplasia, decreased endurance during activity, hip pain, low back pain or weakness and back leg limping. It is suitable for dogs recovering from surgery or injury and older dogs who have difficulty getting around. Once the dog got used to the hip brace, it can be used all day long and taken off during the night.
Indications for use:
Mild to moderate hip dysplasia

Arthritis

Decreased endurance during activity

Hip pain

Low back pain/weakness

Back leg limping or fatigue

Postoperative support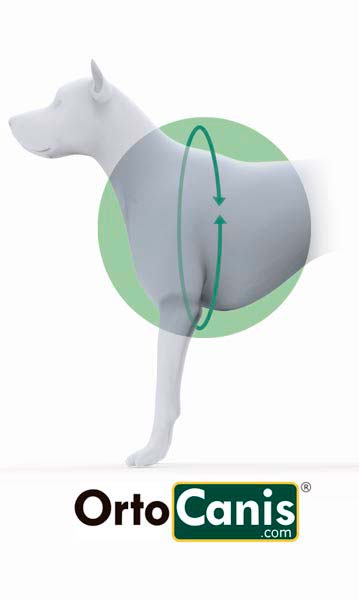 Follow these instructions to select the size:
1. Take a sewing tape, or a tape measure and string.
2. Measure the contour of the chest just behind the front legs (if in doubt, check the directions in the product images).
3. Look at the size chart for the size that corresponds to the measurement taken.
Size
Chest
Weight
S

48 - 63 cm

19 - 24 inches

4,5 - 11 kg
M

55 - 68  cm

21 - 26 inches

11 - 31 kg
L

69 - 96 cm

27 - 37,5 inches

31 - 46 kg
Note: As with all dog care devices - Check with your veterinarian. This product is NOT recommended for DM (Degenerative Myelopathy).
Instructions: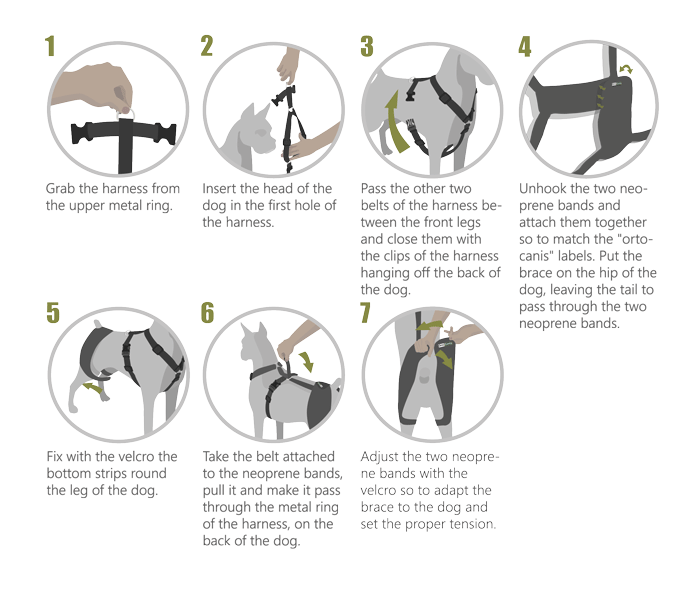 Barbara Ho..
-
(Land O Lakes Fl, United States)
Outstanding Brace . people in Spain went out of their way to get the brace to me, Came in 3 days!!! Can't find anything better, Vet liked
GABRIEL PA..
-
(torrefarrera, Spain)
Eli Santan..
-
(La Linea, Spain)
Muy buen producto aunque es pronto para opinions. Muy buen servicio de entrga Un saludo
Julia Supi..
-
(Cabrils, Spain)
Jose Manue..
-
(Madrid, Spain)
El modelo actual ha cambiado y no se parece en nada al anterior. Anillas de peor calidad, no hay enganche para correa de paseo, etc...
Sentimos y entendemos tu enfado. La función del arnés delantero es sólo sujetar la cinta lumbar pero es cierto que tenemos un modelo que lleva anilla extra superior. Este modelo en ocasiones se agota puesto que también se vende por separado y cuando sucede el soporte de cadera se envía con el estándar. De todos modos, si me confirmas la talla que compraste podemos mirar si hay talla o por lo menos informarte de cuándo volverá a estar disponible este arnés delantero.
Lorena Per..
-
(Alcalá de henares, Spain)
La talla genial.y sombra se está empezando a acostumbrar bastante pronto.muchas gracias por ayudarme con sombra
Aida Espar..
-
(Sant Pol de Mar, Spain)
Buen producto que llego rápido
Luís Migue..
-
(Lisboa, Portugal)
Entrega rápida, instruções claras, fácil de aplicar. Ajudou bastante na resolução de higroma do cotovelo. Miguel Vasconcelos, Portugal
Peter Krüt..
-
(Veelböken, Germany)
We have had the hip support for two days, yes that part is good The belt over the back would have to be a little wider in order to lie better on the spine, maybe also something underlaid with foam or neoprene so that no pressure points can arise. I look forward to hearing from you again and thank you very much. Kind regards Peter Krützmann
Simone Bol..
-
(Berlin, Germany)
Alles perfekt. Passt super. Angenehm zu tragen.
Luis Suare..
-
(Vigo, Spain)
La atención personal y la rapidez en la entrega del producto inmejorable. El arnés me parece de buena calidad y su diseño es ergonomico.
karen Medina
-
(Rivera, Uruguay)
La verdad que muy satisfecha con el producto,la calidad y rapidez del envió,karen desde Uruguay departamento de Rivera.
Meritxell ..
-
(El Pla de Sant Tirs, Spain)
Hola, finalmente no nos hizo falta dado que parecía que le fallaba la cadera pero tenía un esguince en la pata. Muchas gracias por la rapidez en el envío y por interesarse Saludos
cristina j..
-
(Manresa, Spain)
Al meu pastor alemany no li ha servit. Per gossos amb la cadera molt caiguda no s\'adapta bé i l\'has d\'estar adaptant constantment. Em sap greu no poder-ho valorar millor.
Sara Roman..
-
(Madrid, Spain)
tuve que devolverlo porque no le cuadraba ninguna talla, pero el trato y la facilidad ha sido muy bueno
Tamera Sel..
-
(Amissville, United States)
This hind brace has helped our senior dog a lot. It helps stabilize him so he doesn\'t fall over as easily and eases his back pain. I recommend it for dogs who need just a little extra help getting around.
IÑIGO ARANA
-
(GETXO, Spain)
En mi caso no he notado mejoria y los velcros se sueltan constantemente.
Patricia E..
-
(Girona, Spain)
Fantástico, nuestra perra de 13 años ha mejorado muchísimo. Tiene displasia de cadera muy severa de hace años y las patas de atrás le fallan y cuando alguna le patina se cae, desde que se lo pusimos no se ha vuelto a caer, lo recomiendo 100 por 100, es muy fácil de poner y se ve de buena calidad. Le va a facilitar los años que le queden con nosotros, estamos encantados. Envio en 24 h, rapidísim
Angélica G..
-
(Pilas, Spain)
Ha sido genial para mi perro ya que consigue tener más estabilidad en su cadera al levantarse y caminar tanto por casa como en la calle, estamos muy satisfechos. Y el perro muy contento.
Carolina C..
-
(Hornos, Spain)
Estamos contentísimas, Tewa a dado un cambio bestial, a los 3 dias de ponerle el soporte ya se puso a correr (poquito), ahora después de algo más de un mes vamos de paseo por la montaña y sube, baja trota,... Es maravilloso verla así!!!!
María José..
-
(Aranda de Duero, Spain)
Muy recomendable, tengo un Cocker con 10 años diagnosticado de displasia de cadera desde los 5 meses, andaba muy espatarrado y le costaba. Con el soporte de cadera después de una semana, anda recto! Ayer se echó una carrera y levanta la para para hacer pis!!! Es increíble, hacia más de un año q no lo hacía. Estoy muy contenta, parece magia
Pilar LEON..
-
(sagunto, Spain)
Mi terranova Clhoe va genial con el soporte de cadera, no le molesta nada y ahora se mueve con seguridad incluso subiendo y bajando escaleras, antes se negaba y no coordinaba bien las patas traseras, lo lleva puesto siempre y se lo quito al final del día para que descanse. Sigue también tomando sus condoprotectores. Muy recomendable.
María Dolo..
-
(Sevilla, Spain)
Por ahora, se observa mejoría locomotriz y en la estabilidad. Vamos a ver.
Leandro Re..
-
(Madrid, Spain)
Muy contento con el producto y mi perrete encantado. De pasar a tener que dormirle y ahora, una semana despues, con el tratamiento y esta sujección esta sin dolores de la artrosis y queriendo volver a levantarse. Asi que es la mejor inversión que he hecho.
Ana maria ..
-
(MUTILVA, Spain)
Encantada..lo única cosa k el arnés era pequeño pero puse otro. Le ha ayudado a mejorar totalmente . Le daba la comprensión suficiente para mejorar su musculación. Una cosa a desear sería un asa para ayudarle al principio a subir escaleras. Pero lo recomiendo totalmente. De no andar a moverse y con la medicación..a intentar correr.
Tatiana Su..
-
(Chite, Spain)
Pues ha llegado súper rápido y mi pastor alemán esta muy contento con el soporte de cadera, camina mucho mejor, no le molesta nada y estamos muy contentos.
M Emilia O..
-
(Trofa, Portugal)
Fiquei satisfeita com o produto, pois deu uma estabilidade motora ao meu cão, excelente artigo
Albert Ros..
-
(Castellar del Vallès, Spain)
Muy bien diseño. Fácil colocación. Muy anatómico. La perra no se encuentra incómoda para nada, al contrario se la vé feliz y la cadera le queda recogida y le evita que se haga más daño. Muchas gracias.
Claudio De..
-
(Claro, Switzerland)
perfetto e molto pratico anche da applicare
Sergio Sub..
-
(Torremolinos, Spain)
Itzel Torr..
-
(Ciudad de México, Mexico)
Va súper bien, al segundo día mi perra ya se paró con más facilidad y se entusiasmo más para salir a pasear. Es verdad que mantiene la zona caliente y le da mucha más estabilidad para caminar. Estoy muy satisfecha con el producto. Lo único malo es que tardó dos semanas más de lo esperado en llegar a pesar de que pagué el envío express.
Hola Itzel! Lamentablemente a veces las entregas tardan un poco más debido al proceso de aduanas. De toda manera seguimos trabajando para mejorar nuestros servicios.
Bea García
-
(Doñinos de Salamanca, Spain)
El arnés tiene calidad y el envío muy rápido, todo perfecto. El problema es que a mi perro no le cuadra bien la talla, la parte delantera es l, pero la cadera sería una m, a esto hay que sumarle que es un samoyedo y con el pelo es casi imposible que nada le quede realmente bien cuadrado. Ha notado un leve mejoría puesto que le separa un poco las patas traseras y al menos no se le cruzan.
Hola Bea, gracias por comentar. Puedes cambiar sólo la parte trasera de la cadera por la talla M sin problema. Depende de la raza suele ser normal esta diferencia.
Koen Wauters
-
(Ginestar, Spain)
First use today off the hip brace......extreme different in walking and running.....at the moment I'm always precocious
Jordi Llop..
-
(Vallirana, Spain)
De momento estamos bastantes contentos, el pobre ha notado mejoria al salir a pasear