New course of Introduction to Animal Rehabilitation and Physiotherapy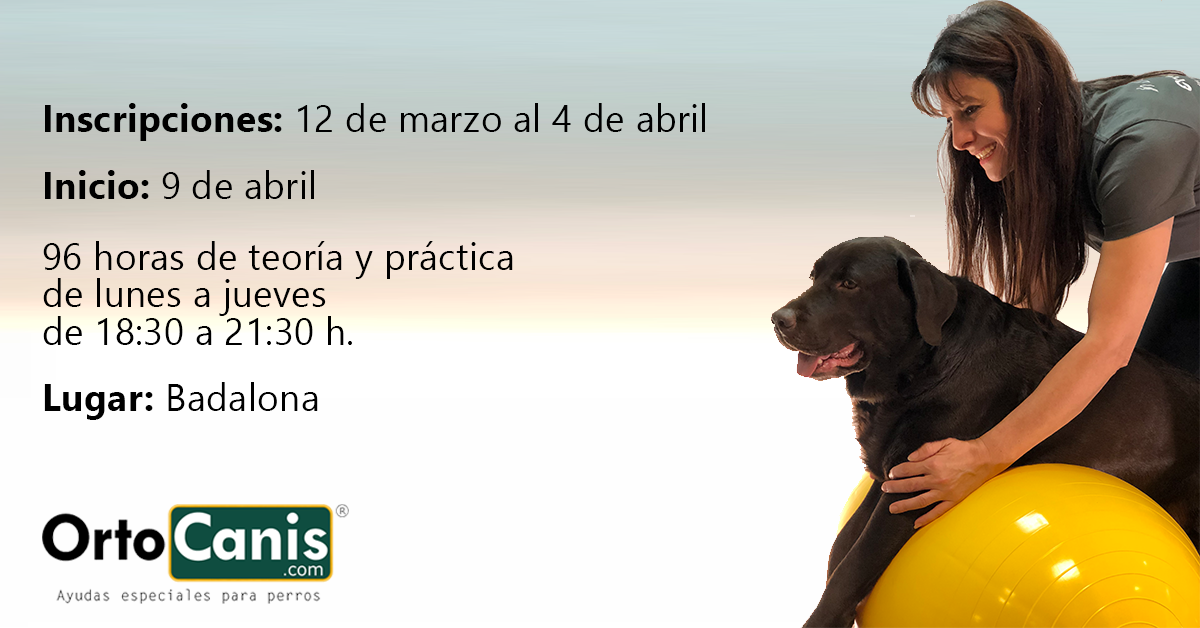 Rehabilitation and physiotherapy is an expanding area, both in human and veterinary medicine, in the constant search to improve quality of life and well-being through non-invasive therapies.
It is a course aimed at veterinarians and technical assistants. With this course you will be able to work as a specialist veterinarian or together with a veterinarian, as a specialized assistant in physiotherapy, with sport animals, in protectors.
We will learn to treat canines and felines with different trauma and neurological pathologies, the concept of functional assessment of the patient and specific rehabilitation plans for each specific case will be studied.
Temary:
Concepts and indications of animal physiotherapy

Anatomy and bone healing

Motor anatomy and soft tissue healing (muscles, ligaments,tendons)

Anatomy and functional examination of the nervous system

Signs and phases of inflammation/ span>

Most common musculoskeletal pathologies to treat

Neurological pathologies that can be rehabilitated
Exercise Physiology:
Biomechanics

Physical form

Training plans
Manual therapies:
Massages (types and indications)

Therapeutic stretching

Passive kinesitherapy (PROM)

Cryotherapy and thermotherapy (when and how to use heat and cold)

Active kinesitherapy (active exercises)

Hydrotherapy
Physical therapies:
Ultrasound

Laser

Magnetotherapy

Electrotherapy (TENS-EMS)
Use of orthosis:
When and how to indicate them to help in rehabilitation

Pathologies to be treated
Specific rehabilitation plans:
Musculoskeletal system

Nervous system
Faculty:
Veterinary Stella Maris Frasconá Herrlein (MP 3641).

Specialized in passive anti-inflammatory techniques (CEMV-BsAs) 1999.

Accredited as a Veterinary Rehabilitation and Physiotherapist (FORVET-Madrid) 2010.

Refresher postgraduate course in trauma surgery in small animals.

Experience in emergency care and specialist in rehabilitation and physiotherapy in hospitals (2005-2012).

Technical advisor of Ortocanis and Naturhima Veterinaria (2015-2016).

Teacher at various academies in Barcelona.

Home rehabilitation service and for veterinary clinics. (

www.rehabilitacionveterinaria.es)

Learn more about the teacher and veterinary rehabilitation in this video:
Course duration:
Intensive coursetheoretical-practical of 8 weeks (96 hours). Limited registrations to be able to work with small groups.
Course start: Monday April 9, 2018
Three-hour classes from Monday to Thursday, from 6:30 p.m. to 9:30 p.m.
An accrediting diploma will be awarded as long as 80% attendance is completed and the approval of a final work on a clinical case.
This promotion has a special discount€ 300 in the registration fee.
Register now by click here.
Information and registration:
Ortocanis, Riera d'en Matamoros 53, 08911 Badalona.
You can call from Monday to Friday from 9 a.m. to 7 p.m. at 930 219 323or write to us [email protected]