Myelography is a special technique used for obtaining X-rays of the spine. It is based on a contrast injection in the subarachnoid space (between the two membranes that cover the spinal cord). When taking the X-ray, the contrast gives a clearer image, "drawing" the edges of the spinal cord.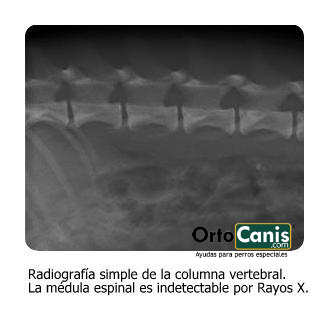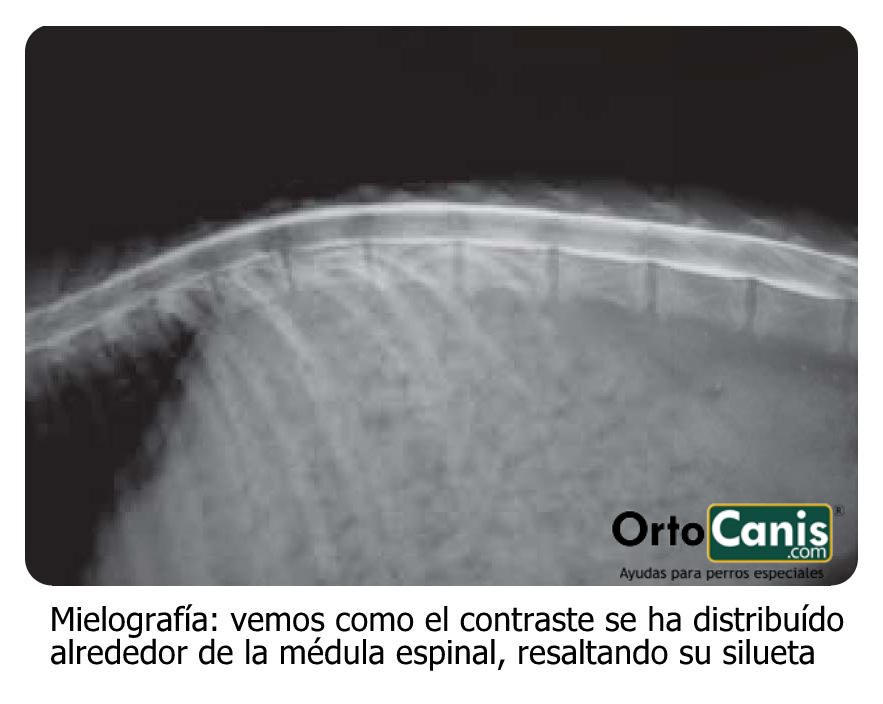 This technique is used for diseases affecting the shape of the spinal cord, such as herniated discs, fractures or vertebral displacement, cists, tumors, ...
Myelography requires the use of general anesthesia. The puncture injecting the dye can be made in two regions:
Cisternal

puncture

: level of the first vertebrae.

Lumbar puncture

:space between vertebrae L5, L6 or L7

.
Choosing which technique to use will depend on the experience and preference of the vet and the region to be evaluated. Generally speaking, the lumbar region puncture is considered safer.
Myelography is contraindicated when general anesthesia is impossible, if there are any known allergies to the iodinated contrasts, if there is increased intracranial pressure, in animals with coagulation problems, encephalitis and meningitis. For the cisternal technique it is also contraindicated with atlanto-axial subluxation or fracture or cervical vertebral dislocation.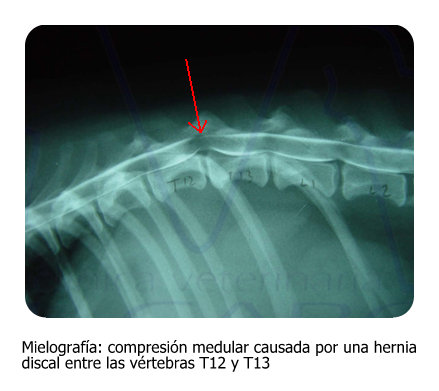 Being a relatively invasive diagnostic technique, it is not free from risks: seizures and increased clinical symptoms (generally mild and transient). In very rare cases death can occur from anesthetic complications, an allergic reaction to the contrast or accidental puncture in vital regions of the spinal cord.
Myelography has been a widely used technique offering great diagnostic results. The possible complications are very rare. However, it is a technique that is being replaced by Nuclear Magnetic Resonance (NMR) because, despite still requiring general anesthesia, it has fewer potential complications (those associated with the injection of the ionized contrast in the spine) and gives much more information. Its high cost and low availability in many places contributes to myelography still being widely used.

Laura Perez - Ortocanis Veterinary