Dog Knee brace
This knee brace helps dogs with limping and joint pain for an improved quality of life.
The knee brace reduces pain and swelling by improving balance among the muscle groups involved. Improved flexibility in tight muscles enables the dog to quickly regain a normal walking gait in the affected limb. The slight pressure that this surface brace exerts alleviates the burden on the joints, increasing their stability and preventing the injury from turning into a more serious condition.
The brace has both an elastic and stabilising effect. In the event of damaged cruciate ligaments, the dog may use the knee brace before the surgical procedure (along with the prescribed treatment) to prevent loss of muscle mass. Five days after surgery, the dog can use the brace again once the swelling has gone down.
Instructions for Use
The knee brace has to be correctly pulled up on the dog's leg until it covers the knee area. Place the fastening strap of the brace under the abdomen and over the back and fasten the Velcro on the outside. Be careful not to injure the dog when placing it, apply force to the brace while still respecting the natural position of the knee.
Sizes
When choosing the size, measure the upper circumference (A) of the highest part of the leg. Wrap a measuring tape around the thigh above the knee and near the groin. In the table below find the size that corresponds to the measurement.
If in doubt between two sizes, select the smaller one.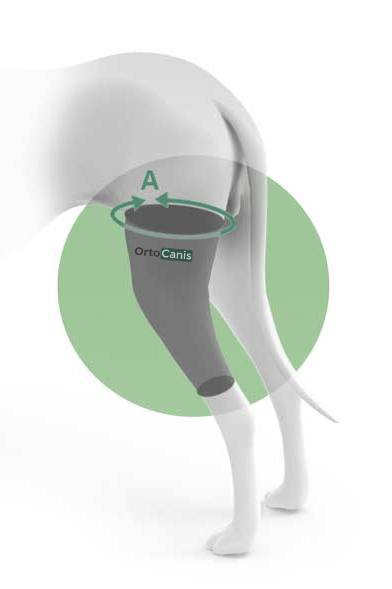 Size
Breed (for guidance only)

Thigh measurement

(A)

XXXS
Chihuahua

17 to 22 cm

(6.7 to 8.7 in)

XXS
Jack Russell

22 to 25 cm

(8.7 to 9.8 in)

XS

Sheltie, Cocker Spaniel,

Fox Terrier

25 to 29 cm

(9.8 to 11.4 in)

S
Kelpie, Greyhound, Beagle

30 to 34 cm

(11.4 to 13.4 in)

M

Border Collie, Springer Spaniel,

small Labradors

34 to 38 cm

(13.4 in to 15 in)

L
Schäfeer, Tik Rottweiler, Boxer, Labrador

38 to 42 cm

(15 in to 16.5 in)

XL

Hane Rottweiler, Bernese

Mountain Dog

42 to 46 cm

(16.5 to 18 in)
Some dogs have a fallen hip and the upper belt may slide back and fall off. To prevent this from happening you can purchase the LUMBAR FASTENING STRAP
If the size you need is not available in the above table, or if you prefer a better fit, you can order a CUSTOM KNEE BRACE
Do you need more stability? Check out our new HINGED KNEE BRACE

In the unlikely case of swelling and redness you must contact a veterinarian or physical therapist.