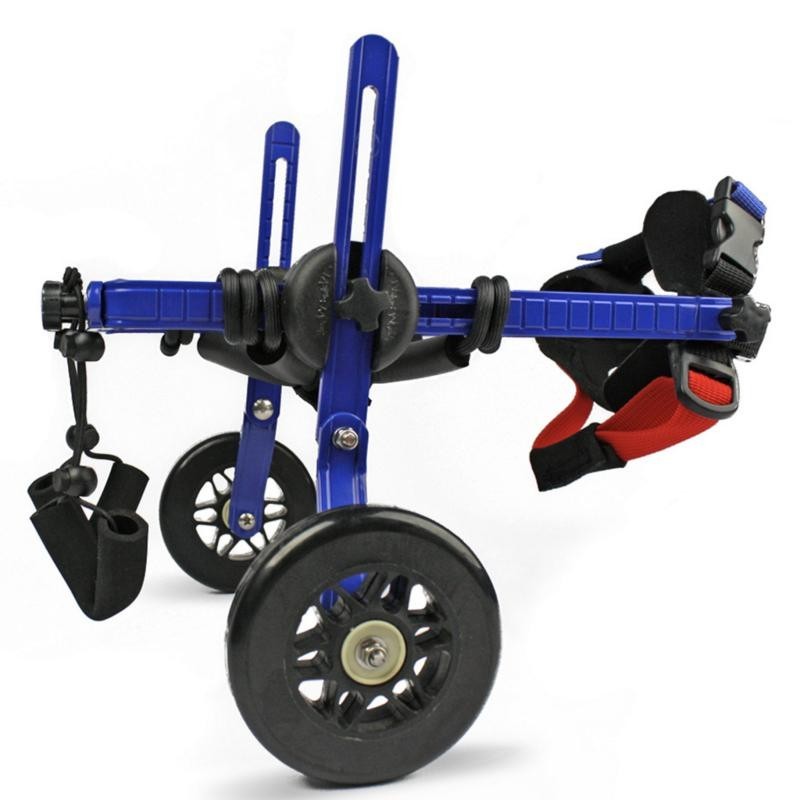  
Adjustable Dog Wheelchair
This wheelchair for dogs can be fully adjusted to fit any type of dog.
It is the most modern wheelchair on the market and the only one that is fully adjustable. Made of aluminum.
Equipped with different carts that meet the needs of dogs with reduced mobility. 
Scroll down the description and visit our FAQ section for answers to all your questions about the wheelchair, shipping, payment methods, returns or exchanges.
Ratings and comments from our customers
Adjustable Dog Wheelchair for Hind Legs
This dog wheelchair is designed to fit any sized dog. Wheelchairs for dogs are essential for managing problems in the hindlimbs. They enable dogs to stay active and maintain their independence, thus regaining their physical and mental health. In some cases, using a wheelchair can be the key to a good recovery in animals with reversible paraplegia. 
It has 2 main uses: 
Auxiliar in dogs with reduced mobility in the hind legs. The animal receives support to move the hind legs freely. It provides independence and prevents the loss of muscle mass and ankylosis due to prolonged disuse, as well as allowing the animal to regain mobility.  
Full support for back legs in paralyzed dogs. It ensures their independence and prevents skin ulcers due to permanent, prolonged rest on the bed or floor. There are even many cases where, depending on the injury, the dog can regain mobility, as we increase the dog's activity level and enable it to try moving the legs.  
The most common situations where using a wheelchair is necessary are: hip dysplasia, arthritis, herniated discs, proprioceptive deficits, as an aid during rehabilitation or in order to immobilize the hind limbs after a surgical procedure. 
Characteristics
The design of this chair is unique and has been endorsed and improved by expert veterinarians. Made of extruded aluminum parts and designed to easily adapt to any sized dog. Assembly is very simple. The wheelchair comes with all necessary components and instructions for its immediate use.  
It can be instantaneously adapted to any breed or size thanks to its new and improved design. Our unique neoprene harnesses offer better adjustment and comfort.
Measurements
We only need you to measure from the ground up to the groin and select the measurement from the drop down menu. Available in blue, pink or camouflage.   
Adjustment Period 
The key to success regarding the dog's adjustment to the wheelchair lies in the dog's desire to walk again and that the front legs are in good condition. Thus, a cheerful dog with the desire and motivation to move again, that has to drag itself around the house by pulling with the front limbs, will be eternally grateful to you for providing a dog wheelchair. With the chair, once again you will be able to enjoy going for walks and feeling your dog tug on the leash. 
Generally, the dog adjusts to the wheelchair on the same day we introduce it. In the event that the animal has had a long period of inactivity and there is muscular atrophy, we must progressively introduce the chair in order for the muscles in the front legs to become stronger: in a few days we can observe how the dog passes from spending the whole day lying down to having an almost normal activity level. When acquiring a wheelchair for dogs you will receive a set of recommendations that will help you during this process. 
If you are not sure that your dog will adapt well to the chair, we also have the possibility of renting this chair and its accessories, such as the compatible rear lift harness. 
The wheelchair besides regaining mobility and your dog's self-esteem, also improves the condition of the muscles, having a very positive overall effect on their health. 
Do not miss our videos and photo galleries that will provide you with all the information you need in order to assemble the wheelchair and adjust it perfectly to your dog. 
Its adjustment is easy and quick. Watch this video where we show you how an Ortocanis wheelchair for dogs works:
"The life of a disabled dog no longer has to be a drama!"
Daniela Al..
-
(Madrid, Spain)
Se adapta muy bien a la altura y al peso, le ha venido genial a mi perrete ya que está perdiendo movilidad en las patas traseras.
Pedro Pera..
-
(Madrid, Spain)
La silla es buenísima y sobre todo las indicaciones y ayuda de "Tessa" sin sus consejos no hubiera acertado en la talla de la silla.mil grac
José Luis ..
-
(Fuente Vaqueros, Spain)
Hace poco que el perro ha tenido una lesión medular por accidente. El perro, gracias a la silla Ortocanis, comienza a retomar su vida. BIEN.
FATIMA RIV..
-
(Alcalá de Henares, Spain)
Por ahora estupenda, muy fácil de montar y a mi perro no le ha costado ni 5 minutos adaptarse.
Lourdes Ga..
-
(Majadahonda, Spain)
Miguel Ang..
-
(Barcelona, Spain)
Genial a mi Yuko los paseos vuelven a ser divertidos!
Emiliano R..
-
(valladolid, Spain)
La silla va genial y se ha adaptado muy bien a ella recomiendo la compra.
Manuel Jac..
-
(Sant Feliu de codinas , Spain)
Gracias ha está silla mi perro ha tenido una buena recuperación y ha ganado mucha masa muscular, para nosotros ha sido un desahogo .
Flori Viud..
-
(Castillonroy, Spain)
Es una pasada lo bien que va para que mi peludo tenga de nuevo cuerta libertad y autonomia para poder salir a pasear.
Raquel Ven..
-
(Badalona, Spain)
Hola buenas la verdad estamo muy contentos del producto a polac leva muy bien. Saludos
Jose Lopez..
-
(Barcelona, Spain)
Ideal para cuando surgen problemas de mobilidad dd tu perro, en mi caso por su edad, un golden de 15 años, que fallan las patas traseras
Deme Erencia
-
(Sant cugat del valles, Spain)
La verdad es que al principio cuando te dicen el precio… te asustas un poco, pero cuando ves la cara de felicidad de tu perro se te olvida
Eva Rodríg..
-
(Puerto Del Rosario, Spain)
Gracias a esta silla Brownie pastor alemán de 14 años con displasia de cadera puede salir de paseo y hacer sus necesidades. La mejor compra
Pepi Buitr..
-
(Jerez de la frontera, Spain)
Le venía justa, pero me hicieron el cambio sin problemas
Pepi Buitr..
-
(Jerez de la frontera, Spain)
Estupendo, recuperó movilidad y esta mucho más contento. Ha sido un acierto para mejorar su calidad de vida.
Cristina M..
-
(madrid, Spain)
Servicio de entrega muy rápido.Carrito ligero y bonito.Pero las cuerdas del 'asiento' deberían ser algo más firmes, para sujetar el trasero.
christelle..
-
(dunkerque, France)
Mon chien a tout de suite adopté son chariot, il peut se promener, courir, aller partout sans difficulté, le chariot est simple à monter,
Paloma Pér..
-
(Móstoles, Spain)
Una pasada!! Mi perro no puede estar más contento. Ha descubierto de nuevo a correr y jugar ?
María Gonz..
-
(El Casar, Spain)
Enhorabuena por su logística. Llegó en menos tiempo. Estamos muy muy contentos con este producto. El perro está súper bien. Muchas Gracias.
Lourdes or..
-
(Las Palmas, Spain)
Mi perrita ha vuelto a ser feliz en sus salidas al parque. La Silla es muy fácil de ajustar y la perrita se adaptó enseguida.
Miriam Bal..
-
(Paterna, Spain)
Es una muy buena silla, fácil de montar, ligera y plegable, lo que facilita mucho los traslados en coche. Vale la pena pagar un poco más
Agnieszka ..
-
(Schulzendorf, Germany)
Die Kundenbetreuung ist freundlich und auf Emailanfragen wird schnell reagiert. Der Rollstuhl hält was er verspricht : Super Qualität
Victoria G..
-
(Albacete, Spain)
La experiencia con ortocanis genial. La silla vino muy pronto y mi perro se ha adaptado a ella desde el primer momento. Todo perfecto.
Elena de I..
-
(Riaza, Spain)
Entrega súper rápida. Silla de calidad y montaje muy fácil. Nano aún está en periodo de adaptación pero vuelve a disfrutar de los paseos.
Jesús Teje..
-
(Muriedas, Spain)
Muy buena silla,ligera pero resistente!! Hemos hecho rutas de montaña además de paseos por la playa y sin ningún problema.
Jane Haines
-
(Larnaca, Cyprus)
Excellent quality wheelchair and unbelievable service! Ordered from Spain and delivered to Cyprus in 24 hours. Definitely recommend!!
Antonio He..
-
(Marbella, Spain)
Solo decirle a la gente, que antes de tomar una decisión equivocada, hay segundas oportunidades, cada día de mas su perro se lo agradecera.
JOSE FELIX..
-
(ETXEBARRI, Spain)
El producto es de gran calidad y esperamos que sea de gran ayuda para nuestra Golden Retriever.
claudia sa..
-
(tlajomulco de zuniga jalisco, Mexico)
excelente calidad y muy fácil de usar, estamos felices.
Laura Sanc..
-
(Vitigudino, Spain)
La silla llegó súper rápido, el trato genial.Ahora solo falta que mi perrito se acostumbre, de momento no hay manera que camine con ella.
Rochelle V..
-
(Nicosia, Cyprus)
Another great product. Easy to use, and comfortable for the dog.
Rochelle V..
-
(Nicosia, Cyprus)
We have many carts from Ortocanis for the disabled dogs at our Sanctuary in Cyprus. Every time the product and service is excellent.
Flavia Rob..
-
(Rottenburg a.N., Germany)
Kompetente,freundliche Beratung, schnelle Lieferung, Rolli lässt sich einfach individuell anpassen, pneumatische Räder "offroad"-geeignet
Daniel Jim..
-
(Piera, Spain)
La silla está bien, obviamente es de un precio elevado, pero la calidad lo merece. Nosotros fuimos a la tienda física y se la ajustaron allí
Maria Chec..
-
(Villacañas, Spain)
La mejor decisión que he podido tomar. Mi perra es otra desde que usa la silla de ruedas
Rosa Maria..
-
(Navarrete, Spain)
Se está adaptando poco a poco. Le cuesta coger impulso para hacer andar el carro. La mía lleva además el complemento de las ruedas delanteras. Pero por lo general, muy bien.
Mª Elena N..
-
(Algeciras, Spain)
Es una maravilla. Llegó pronto y mi perro está muy contento de poder andar nuevamente. Y la dueña más contenta de no tener que llevarlo a cuestas. Mi perro tiene 14 años y hernias de disco en las lumbares, por lo que se ha quedado paralítico de las patas traseras. Este carrito me permite sacarlo a la calle todos los días, con poco esfuerzo. Es muy fácil de colocar y el perro se siente cómodo.
Vanesa Cañ..
-
(Madrid, Spain)
Fenomenal,buen producto,buena calidad y buenísima atención al cliente
alfio emma..
-
(randazzo, Italy)
OTTIMO davvero! lo uso da quasi sei mesi oramai 4/5 volte al giorno, dopo qualche tempo troverete la giusta regolazione, è resistente , ottimi materiali, io ho cambiato sin ora solo i copertoni, per il resto è ok; dopo aver cercato su internet vari modelli, visto video etc. questo a mio avviso è uno dei migliori se non il migliore!
Sergio Mar..
-
(Cieza, Spain)
En mi opinion la mejor del mercado(por lo menos en españa) Ligera y facil de desmontar, cabe en el maletero del coche perfectamente. Mi perro tardó 3 paseos en acostumbrarse a la silla. Da gusto verlo de nuevo andar mas rapido que yo
Angélica G..
-
(Pilas, Spain)
Llevábamos desde el verano pasado sin poder dar paseos largos, ha sido muy satisfactorio volver a ver correr a Rex, es un perro muy enérgico, con la silla consigue hacerlo sin caerse sentado. Le ha costado un poco adaptarse pero en cuanto a visto sus compis se le ha olvidado de momento.. Es el mejor Regalo que puedo darle como pago a sus años de compañía a mi lado. Gracias!
Coral Vane..
-
(San Lorenzo de El Escorial, Spain)
Todo perfecto. Llegó rapidísimo y en perfectas condiciones. Gracias.
David RODR..
-
(Palma De Mallorca, Spain)
La silla está bien construida y es robusta, tiene muchos ajustes y diferentes barras para que puedas adaptarlo. Nuestro peludo tardó poco en acostumbrarse y le ha devuelto la vida. Ahora corre y vuelve a pedir la pelota. Sin duda es un gran acierto. Muchas gracias
Urbano Gar..
-
(Matarò, Spain)
Buen servicio Todo el pedido servido bien. Ningún problema. Recomendable. Gracias Un salido
carlos fra..
-
(Alcalá de Henares, Spain)
Virginia C..
-
(Huelva, Spain)
Esta silla de ruedas le ha devuelto la alegría a mi basset hound que llevaba 2 meses y medio inválido debido a una hernia de disco. Ahora con ella puede bajar a la calle y está más feliz y relajado. Los materiales de la silla son muy buenos, es ligera y no es dificil de montar, aunque en un basset hound, al ser un perro bastante especial en cuanto a medidas, requiere un poco más de ajuste pero c
Carmina Pa..
-
(San vincent de mont alt, Spain)
Muy buen producto, y todo terreno, al principio a mi perra pastor aleman le costo acostumbrarse, ahora que ya no puede ni aguantarse de pie, con la silla parece otra, corre como si nada, juega a pelota, con ella vuelve a ser la perra feliz y juguetona que era. Gracias
Josep Ma. ..
-
(Rupià, Spain)
Magnífico artículo, de gran calidad, para facilitar la vida de mi perro que, por culpa de una artrosis prematura, ha quedado inválido de las patas traseras. Es un perro muy activo que con esta silla ha podido recuperar buena parte de su movilidad sobre todo en sus paseos diarios.
Nathalie P..
-
(Santa Coloma de gramanet, Spain)
Una maravilla. Mi bichon se alegra cada vez que ve que se la pongo. Todo correcto.
Josep Ros ..
-
(Girona, Spain)
Tras unos días de adaptación funciona bastante bien.
hanna bren..
-
(La Jaille-Yvon, France)
a first class product thank you.x
hanna bren..
-
(La Jaille-Yvon, France)
Francesca ..
-
(Sondrio, Italy)