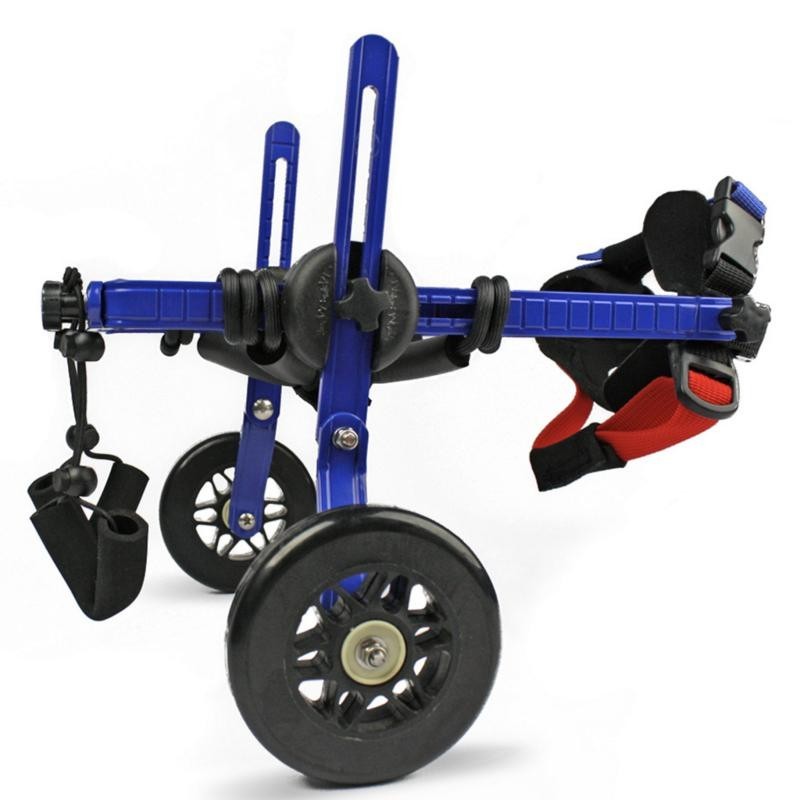  
Adjustable Dog Wheelchair
This wheelchair for dogs can be fully adjusted to fit any type of dog.
It is the most modern wheelchair on the market and the only one that is fully adjustable. Made of aluminum.
Equipped with different carts that meet the needs of dogs with reduced mobility. Available in three colors. Free shipping. Option of repurchase.
Ratings and comments from our customers
Adjustable Dog Wheelchair for Hind Legs
This dog wheelchair is designed to fit any sized dog. Wheelchairs for dogs are essential for managing problems in the hindlimbs. They enable dogs to stay active and maintain their independence, thus regaining their physical and mental health. In some cases, using a wheelchair can be the key to a good recovery in animals with reversible paraplegia. 
It has 2 main uses: 
Auxiliar in dogs with reduced mobility in the hind legs. The animal receives support to move the hind legs freely. It provides independence and prevents the loss of muscle mass and ankylosis due to prolonged disuse, as well as allowing the animal to regain mobility.  
Full support for back legs in paralyzed dogs. It ensures their independence and prevents skin ulcers due to permanent, prolonged rest on the bed or floor. There are even many cases where, depending on the injury, the dog can regain mobility, as we increase the dog's activity level and enable it to try moving the legs.  
The most common situations where using a wheelchair is necessary are: hip dysplasia, arthritis, herniated discs, proprioceptive deficits, as an aid during rehabilitation or in order to immobilize the hind limbs after a surgical procedure. 
Characteristics
The design of this chair is unique and has been endorsed and improved by expert veterinarians. Made of extruded aluminum parts and designed to easily adapt to any sized dog. Assembly is very simple. The wheelchair comes with all necessary components and instructions for its immediate use.  
It can be instantaneously adapted to any breed or size thanks to its new and improved design. Our unique neoprene harnesses offer better adjustment and comfort.
Measurements
We only need you to measure from the ground up to the groin and select the measurement from the drop down menu. Available in blue, pink or camouflage.   
Adjustment Period 
The key to success regarding the dog's adjustment to the wheelchair lies in the dog's desire to walk again and that the front legs are in good condition. Thus, a cheerful dog with the desire and motivation to move again, that has to drag itself around the house by pulling with the front limbs, will be eternally grateful to you for providing a dog wheelchair. With the chair, once again you will be able to enjoy going for walks and feeling your dog tug on the leash. 
Generally, the dog adjusts to the wheelchair on the same day we introduce it. In the event that the animal has had a long period of inactivity and there is muscular atrophy, we must progressively introduce the chair in order for the muscles in the front legs to become stronger: in a few days we can observe how the dog passes from spending the whole day lying down to having an almost normal activity level. When acquiring a wheelchair for dogs you will receive a set of recommendations that will help you during this process. 
If you are not sure that your dog will adapt well to the chair, we also have the possibility of renting this chair and its accessories, such as the compatible rear lift harness. 
The wheelchair besides regaining mobility and your dog's self-esteem, also improves the condition of the muscles, having a very positive overall effect on their health. 
Do not miss our videos and photo galleries that will provide you with all the information you need in order to assemble the wheelchair and adjust it perfectly to your dog. 
Its adjustment is easy and quick. Watch this video where we show you how an Ortocanis wheelchair for dogs works:
"The life of a disabled dog no longer has to be a drama!"
JOSE FELIX..
-
(ETXEBARRI, Spain)
El producto es de gran calidad y esperamos que sea de gran ayuda para nuestra Golden Retriever.
claudia sa..
-
(tlajomulco de zuniga jalisco, Mexico)
excelente calidad y muy fácil de usar, estamos felices.
Laura Sanc..
-
(Vitigudino, Spain)
La silla llegó súper rápido, el trato genial.Ahora solo falta que mi perrito se acostumbre, de momento no hay manera que camine con ella.
Rochelle V..
-
(Aradippou, Larnaca,, Cyprus)
Another great product. Easy to use, and comfortable for the dog.
Rochelle V..
-
(Aradippou, Larnaca,, Cyprus)
We have many carts from Ortocanis for the disabled dogs at our Sanctuary in Cyprus. Every time the product and service is excellent.
Flavia Rob..
-
(Rottenburg a.N., Germany)
Kompetente,freundliche Beratung, schnelle Lieferung, Rolli lässt sich einfach individuell anpassen, pneumatische Räder "offroad"-geeignet
Daniel Jim..
-
(Piera, Spain)
La silla está bien, obviamente es de un precio elevado, pero la calidad lo merece. Nosotros fuimos a la tienda física y se la ajustaron allí
Maria Chec..
-
(Villacañas, Spain)
La mejor decisión que he podido tomar. Mi perra es otra desde que usa la silla de ruedas
Rosa Maria..
-
(Navarrete, Spain)
Se está adaptando poco a poco. Le cuesta coger impulso para hacer andar el carro. La mía lleva además el complemento de las ruedas delanteras. Pero por lo general, muy bien.
Mª Elena N..
-
(Algeciras, Spain)
Es una maravilla. Llegó pronto y mi perro está muy contento de poder andar nuevamente. Y la dueña más contenta de no tener que llevarlo a cuestas. Mi perro tiene 14 años y hernias de disco en las lumbares, por lo que se ha quedado paralítico de las patas traseras. Este carrito me permite sacarlo a la calle todos los días, con poco esfuerzo. Es muy fácil de colocar y el perro se siente cómodo.
Vanesa Cañ..
-
(Madrid, Spain)
Fenomenal,buen producto,buena calidad y buenísima atención al cliente
alfio emma..
-
(randazzo, Italy)
OTTIMO davvero! lo uso da quasi sei mesi oramai 4/5 volte al giorno, dopo qualche tempo troverete la giusta regolazione, è resistente , ottimi materiali, io ho cambiato sin ora solo i copertoni, per il resto è ok; dopo aver cercato su internet vari modelli, visto video etc. questo a mio avviso è uno dei migliori se non il migliore!
Sergio Mar..
-
(Cieza, Spain)
En mi opinion la mejor del mercado(por lo menos en españa) Ligera y facil de desmontar, cabe en el maletero del coche perfectamente. Mi perro tardó 3 paseos en acostumbrarse a la silla. Da gusto verlo de nuevo andar mas rapido que yo
Angélica G..
-
(Pilas, Spain)
Llevábamos desde el verano pasado sin poder dar paseos largos, ha sido muy satisfactorio volver a ver correr a Rex, es un perro muy enérgico, con la silla consigue hacerlo sin caerse sentado. Le ha costado un poco adaptarse pero en cuanto a visto sus compis se le ha olvidado de momento.. Es el mejor Regalo que puedo darle como pago a sus años de compañía a mi lado. Gracias!
Coral Vane..
-
(San Lorenzo de El Escorial, Spain)
Todo perfecto. Llegó rapidísimo y en perfectas condiciones. Gracias.
David RODR..
-
(Palma De Mallorca, Spain)
La silla está bien construida y es robusta, tiene muchos ajustes y diferentes barras para que puedas adaptarlo. Nuestro peludo tardó poco en acostumbrarse y le ha devuelto la vida. Ahora corre y vuelve a pedir la pelota. Sin duda es un gran acierto. Muchas gracias
Urbano Gar..
-
(Matarò, Spain)
Buen servicio Todo el pedido servido bien. Ningún problema. Recomendable. Gracias Un salido
carlos fra..
-
(Alcalá de Henares, Spain)
Virginia C..
-
(Huelva, Spain)
Esta silla de ruedas le ha devuelto la alegría a mi basset hound que llevaba 2 meses y medio inválido debido a una hernia de disco. Ahora con ella puede bajar a la calle y está más feliz y relajado. Los materiales de la silla son muy buenos, es ligera y no es dificil de montar, aunque en un basset hound, al ser un perro bastante especial en cuanto a medidas, requiere un poco más de ajuste pero c
Carmina Pa..
-
(San vincent de mont alt, Spain)
Muy buen producto, y todo terreno, al principio a mi perra pastor aleman le costo acostumbrarse, ahora que ya no puede ni aguantarse de pie, con la silla parece otra, corre como si nada, juega a pelota, con ella vuelve a ser la perra feliz y juguetona que era. Gracias
Josep Ma. ..
-
(Rupià, Spain)
Magnífico artículo, de gran calidad, para facilitar la vida de mi perro que, por culpa de una artrosis prematura, ha quedado inválido de las patas traseras. Es un perro muy activo que con esta silla ha podido recuperar buena parte de su movilidad sobre todo en sus paseos diarios.
Nathalie P..
-
(Santa Coloma de gramanet, Spain)
Una maravilla. Mi bichon se alegra cada vez que ve que se la pongo. Todo correcto.
Josep Ros ..
-
(Girona, Spain)
Tras unos días de adaptación funciona bastante bien.
hanna bren..
-
(La Jaille-Yvon, France)
a first class product thank you.x
hanna bren..
-
(La Jaille-Yvon, France)
Francesca ..
-
(Sondrio, Italy)
Consegna veloce, prodotto in perfette condizioni, spiegazioni chiare - c\'è anche un dvd - sul montaggio e le regolazioni varie... e la mia meticciotta taglia media ha ricominciato a scorazzare tutta felice.
Rosa María..
-
(Burriana, Spain)
Le devolvió la alegría, la fuerza y la independencia a mi perra. Mi perra tenía dos hernias discales que no se pudieron operar y no podía caminar con las patas de detrás, así que estuvo todo un mes sin poder salir a la calle porque no tenía ni fuerzas ni ganas de hacerlo, pero en cuanto le compramos esta silla de ruedas y sintió que podía moverse libremente sin depender de nadie y que podía vo
Heinz Schmid
-
(Zollikofen, Switzerland)
Top Produkt, leicht und verständlich erklärt, Chinaware. Alles tip top, jederzeit gerne wieder.
Andrés Gut..
-
(Alovera, Spain)
Estoy muy contento con la silla es genial, se la ve muy confortable y ligera, mi perrita se esta haciendo a ella rápidamente, ha sido una compra fenomenal, con ella puedo pasear tranquilo de nuevo y ella tiene total autonomía, me preocupaba el tema de sus necesidades pero efectivamente no tiene ninguna dificultad para hacerlas, muchas gracias!! Os dejo una fotito de Nana su juguete y la silla que
mayte serr..
-
(cadiz, Spain)
Era tal y como la esperabamos, nuestro gato está teniendo dificultades de adaptación, era algo con lo que ya contabamos. Esperamos que Uno se adapte pronto y lo volvamos a ver jugar y perseguirlos. Muchas gracias por todo.
Susana rai..
-
(Portalegre, Portugal)
A cadeira serviu na perfeição… material de boa qualidade e foi fácil a montagem … ficamos bastante satisfeitos com a aquisição da cadeira …
Daniela Ál..
-
(Terrassa, Spain)
Le va súper bien!!!es un campeón y ahora no lo para nadie!!!
Julio Albe..
-
(Fuenlabrada, Spain)
Feliz con su carrito !! Aunque de entrada se resiste a ponérselo enseguida se le olvida. Ha recuperado su movilidad habitual.
dominique ..
-
(Laprade, France)
eso es lo que nuestro perro faltaba para revivir, tomó posesión de su dispositivo en unos minutos y ahora, después de unos días, se está arrastrando cerca de su carro y nos hace entender que es hora de caminar
Juan Migue..
-
(Aldeamayor de San Martín, Spain)
Es perfecto para mi perro que ya no anda por no poder mover las patas traseras, cuando lo recibimos lo montamos gracias al video explicativo que viene en la caja ya que las instrucciones vienen en inglés, idioma que desgraciadamente no dominamos, Danko, nuestro perro se adapto el primer día a él, por lo que estamos encantados ya que ahora podemos salir con a la calle con él.
Lluįs Ribe..
-
(Igualada, Spain)
Todo bien, pero me gustaría que un experto evaluara si todo lo que monté está bien y si hay algo mejorable. Gracias
Alícia Sor..
-
(Buñol, Spain)
Genial, la perrita ha mejorado muchísimo su calidad de vida, se ha adaptado estupendamente a ella.
LETICIA MO..
-
(MADRID, Spain)
Un servicio de asesoramiento excelente, Toni me ayudó durante todo el proceso para elegir la silla que mejor se adaptaba a mi chiquitín, me envió incluso vídeos para despejar mis dudas, el envío ha sido muy rápido y la sillita muy resistente y bien fabricada, muy fácil de usar y se acomodar al perrito, desde luego estoy muy agradecida porque le habéis devuelto nuevamente la calidad de vida a mi ma
Montserrat..
-
(Santa coloma de gramanet, Spain)
Teo es mi cocker de 12 años, tiene displasia de cadera y últimamente apenas salía a la calle porque se caía continuamente. Nos hemos decidido a comprar la silla de ruedas y es la mejor decisión que hemos tomado. Desde el primer momento Teo se ha adaptado a ella perfectamente, salimos a pasear cada día. Da gusto verlo tan contento otra vez. Estoy realmente satisfecha
Fernando C..
-
(Salvada, Beja, Portugal)
Funciona perfeitamente! Gracias!
TREVOR SHARP
-
(PIETERMARITZBURG, South Africa)
GREAT PRODUCT AND SERVICE !!!! THANKS
Paula Rios..
-
(Ferrol, Spain)
Envio rapido. Todo correcto y funcionando bien!
Christian ..
-
(Mannswörth, Austria)
M Cristina..
-
(Rubi, Spain)
Buen producto, rápida entrega....solo un poco caro, però creo que vale la pena, la perrita va que " se las pela "
Mireia mar..
-
(Sabadell, Spain)
Realmente efectiva, mi perro ya no podía desplazarse por si mismo, perdío la mobilidad en las patas traseras. La manera de moverse era arrastrándose. Compramos la silla de ruedas y desde el primer momento, empezó a andar con ella, incluso a jugar con una pelota! Realmente recomendable. El personal de la tienda me pareció muy profesional y muy humanos.
Silvia Nor..
-
(Venezia, Italy)
Servizio assistenza clienti e spedizione eccellenti Anche il carrello è di buona qualità, resistente e adattabile
Daniel Don..
-
(Hörstel, Germany)
Super Rollstuhl Schnelle Lieferung
Jesus Cube..
-
(Blanes, Spain)
Muy satisfecho, tanto el trato recibido como el producto adquirido.
ana llobel..
-
(Algemesi, Spain)
Estamos muy contentos con la silla de ruedas y nuestra Rumba mas.Gracias a ella puede de nuevo salir al parque,vuelve a vivir.Es la sensacion ,todos le dicen cosas y ella encantada.Estamos agredecidos y damos las gracias por que existan personas como vosotros.
Peter Orfi..
-
(Alaior - Cala en Porter, Spain)
Nada de lo que pueda quejarme. Compra y envío rápido, siempre informado de la situación de pedido/pago/envio. La silla de ruedas de buen material (parece) y la perra se está adaptando bien. Recomendaré a todos mis conocidos vuestra página.
Elisabeth ..
-
(Wien, Austria)
Einfach einzustellender Rollstuhl für Hundsew. - Bei meinem Hund verwende ich den Rollstuhl "nur" zur Unterstützung, damit er seine Muskeln trainieren kann, ohne die Gelenke zu überlasten. Der Hund fühlt sich auch nicht behindert, sondern hat den Rollstuhl gerne als Unterstützung angenommen. Sehr freundliches Service!
Jordi Gran
-
(Rubí, Spain)
Pedido recibido. Estoy muy feliz, la vida de mi perrito ha cambiado como un calcetin. Todavía tiene que adaptarse porque va chocando con todo y para que lo saque a la calle faltan unas semanas, pero solo por el ratito de verle moverse por casa ya ha merecido la pena. Gracias por dedicaros a esto. Un saludo cordial, hasta otra.
Lucia Sin ..
-
(Barcelona, Spain)
Мuchas gracias estamos encantados y creo que somos la mejor propaganda de vuestra firma ya mandé varias personas Muchas gracias por su labor saludos
Edgar Torn..
-
(Burriana, Spain)
Muchas gracias Ortocanis. Recien cumplidos tenia los 5 años, y jugando con la gata se quedo parapléjica de un salto mal ejecutado. Ella de por si era un terremoto, y con esto ha vuelto a serlo. Envio rápido, serio, buen trato, y 100% recomendable. Sin duda alguna, para todo aquel que se encuentre en mi situación que ni lo dude. Volver a ver a tu mejor amigo correr y ser feliz no tiene precio. Nos
Rocio Neir..
-
(Guadalajara, Spain)
Jaime Vigo..
-
(Puerto de Santa María, Spain)
Muy bien, recibí la silla enseguida, todo perfecto. Pero tengo un problema: he perdido los accesorios para colgar las patas traseras, y las arrastra. ¿Cómo puedo coseguir unos? Gracias
Buenos días Jaime, muchas gracias por tu pedido en Ortocanis y muchísimas gracias por tu feedback. Nos ayuda a seguir adelante y mejorar la vida de más peludos :D Puedes adquirir los suspensores de pies en el siguiente enlace: https://www.ortocanis.com/es/accesorios-silla-de-ruedas-autoajustable/193-correa-de-sosten-pies.html
Juan sanch..
-
(COSLADA, Spain)
Genial !! rápida adaptación del perrete a la silla gracias a su peso ligero y fácil colocación.
SERGIO MOR..
-
(San Esteban Sasroviras, Spain)
Perfecta, desde que la tenemos podemos pasear como antes y Max ha recobrado parte de su autonomía. Gracias a Ortocanis por enviarme las instrucciones en castellano.
Ismael Tor..
-
(Alicante, Spain)
buenos días,estoy contentísimo y mi perro aún más.queria preguntaros si tenéis repuestos para los accesorios de la silla pues uno de los ganchos de plástico donde soportan las patitas de rompió el mismo día.y por si alguna vez me hace falta alguno mas
Julia More..
-
(Albacete, Spain)
Perfecto una vez pasada la adaptación que para el supone gracias a dios solo una correa nueva empieza a corretear y ser feliz de nuevo
Susana Mol..
-
(Valencia, Spain)
Me hubiera gustado no necesitarla, pero desde luego, para mi perro teckel es perfecta... lo único malo son las instrucciones de montaje que son muy escuetas. Así que yo fui incapaz de montarla y tuvo que hacerlo mi veterinario rehabilitador. Y al momento mi perro empezó a recorrer el gimnasio, como si fueran sus propias patitas.
Mercedes C..
-
(Ulldecona, Spain)
Me a encantado la.atencion que nos habeis ofrecido . Roco esta mas contento desde que se le puso la silla
monica tom..
-
(rivoli, Italy)
abbiamo un cane di grossa taglia che per problemi neurologici ha perso progressivamente l\'uso delle zampe posteriori. con questo carretto ha ripreso a camminare. inizialmente gli lasciavamo le zampe appoggiate a terra perché le muoveva ancora, ma da quando è totalmente insensibile grazie ai lacci gliele alziamo e cammina tranquillamente anche delle ore senza affaticarsi.
Marcelino ..
-
(Terrassa, Spain)
Excelente producto, ligero, comodo y de facil montaje. Ver recuperar la alegría en sus paseos diarios no tiene precio.
Sergio gia..
-
(conzano, Italy)
grazie arrivato in Italia al quarto giorno lavorativo, perfetto. Carrellino fantastico.
María Tere..
-
(A Coruña, Spain)
Hola, ayer recibimos el envío y hoy hemos montado la silla.La perrita ya camino por casa.Estamos totalmente satisfechos por la atención recibida en todo momento y por lo rápido que nos ha llegado la silla.Ya os mandaremos algún vídeo para que la veáis.Muchas gracias por todo. Saludos
Marce Mont..
-
(barcelona, Spain)
Es estupenda la silla. Se ha adaptado muy bien y va muy contento.
Amparo Isl..
-
(Bossòst, Spain)
Servicio muy bueno, le he quitado una estrella por la durabilidad de ciertos materiales que no pertenecen a la estructura del carrito, como los neumáticos y ciertas zonas del arnés que he debido coser varias veces. Creo que con el precio que tiene no debiera de pasar.
Sonia raqu..
-
(Ciudad Autonoma de Buenos Aires, Argentina)
La verdad que la sillita es un sueño super ajustable un poco costosa pero vale cada centavo
Micaela Ma..
-
(Terre del Reno (FE), Italy)
Abbiamo acquistato per il nostro Pastore tedesco Kira, di 14 anni e 1/2 , il carrello e dopo 15 giorni le ruote pneumatiche aggiuntive. Kira ha ricominciato a camminare di nuovo con gioia è felicità insieme a noi. Grazie a Ortocanis per l\'ottimo prodotto e per la consulenza eccellente di Tessa .Micaela, Umberto, Kira.
Carla Zammit
-
(Chiclana de la Frontera, Spain)
Exactly as per website description although unable to adjust height of wheels. Unable to contact ortocanis for advice
Dear Carla, we are sorry for the inconveniences. Please can you explain a bit more what is the problem? Please contact us on info@ortocanis.com or calling to +34 930 219 323, from 9 to 18;30h (spanis hours).
miguel bor..
-
(Illescas, Spain)
Buenos días,..Nos enviaron lo que les pedimos y en muy poco tiempo nos llegó,..lo han hecho excelentemente. Gracias MBB
Fatima Gar..
-
(Zalla, Spain)
Totalmente satisfecha con la compra. La atención excelente, el envío muy rápido. La silla es fantástica, le ha dado vida a mi perrita. No le ha costado nada adaptarse y no veáis como camina. La recomiendo totalmente.
Angel Lope..
-
(Dos Hermanas, Spain)
El servicio y la atención inmejorable. La silla muy práctica y efectiva, aunque creo que su precio es elevado.
Manuel Ceb..
-
(Cudón, Spain)
Lamentablemente mi querida enana tenía muchos años y al día siguiente de llegar su silla de ruedas se nos fue. Pero no puedo pasar por alto mi opinión sobre ORTOCANIS. Solo puedo decir que la amabilidad de Toni y las facilidades que nos ha brindado han sido excepcionales. Respecto a la silla, aunque por desgracia solo se la pudimos usar un día, es un producto excelente y lo recomiendo sin duda.
Jorge Sori..
-
(REQUENA, Spain)
Buen producto, ligero y práctico. Precio un poco elevado. Se agradecerían instrucciones de montaje en español.
Pablo Port..
-
(Cuevas de Almanzora, Spain)
La verdad es que la silla funciona perfectamente. Es muy ajustable y creo que es cómoda para el perro si se es coherente al hacer el ajuste. La atención recibida también es buena. Como pegas o contras al producto diría dos cosas: es muy cara para lo que es, y la duración de algunos elementos como las ruedas me parece algo justa. Luego los repuestos no son baratos precisamente.
Yoko Suzuki
-
(Barcelona, Spain)
Emanuela b..
-
(scanzorosciate-bg, Italy)
E\' fantastico! Veramente utile per Negrita che cammina davvero molto meglio e corre veloce sul suo carrellino! La consegna e\' stata velocissima!!! Ottima assistenza e professionalita\'! Grazie Ortocanis!!!
Alberto Ma..
-
(Autonoma de Buenos Aires, Argentina)
Calidad de producto excelente, ajustable, adaptable y de mucha ayuda para un perro de 40 kg, muy recomendable
Paolo Came..
-
(Reggio Nell'emilia, Italy)
paola cagl..
-
(San Cristobal de Las Casas-CHIAPAS, Mexico)
Gran ayuda para cuidar nuestras mascotas Estuvo un placer comprar en Ortocanis. Todo perfecto la atencìon al cliente ,la amabilidad y la profesionalidad. El sitio està muy bien hecho paravque la compra sea sencilla y placentera y confiable. Me gusta mucho la parte dedicada a los consejos y a la informacìon veterinaria , està de gran ayuda para cuidar nuestras mascotas en en la meyor manera. Paola
Roberto Dí..
-
(Madrid , Spain)
Gracias Rapidez, profesionalidad, gracias.
Nerea jara..
-
(Urduliz, Spain)
Rápidos Rápidos en el envío y encontré lo que necesitaba
Mercedes M..
-
(Sant Adria, Spain)
Compramos arnés de recambio Compramos un arnés de recambio pues estaba gastado el viejo, siendo atendidos de la mejor manera.
Natalia Ca..
-
(Salto, Uruguay)
Muy bien llego muy bien el pedido y se adapto muy bien a la silla de ruedas. Muchas gracias!
Elisabet V..
-
(Torelló, Spain)
Genial todo!Gracias! Muy buena atencion,informacion disposicion y eficaz y rapido!Gracias
Jose Manue..
-
(LA CORUÑA, Spain)
Genial! Buen producto y buen servicio
Silke Braun
-
(Tuebingen, Germany)
Super! Rollstuhl ist super! Anpassbar in Höhe, Weite und Länge. Wartungsfreie Rubber-Reifen. Sehr empfehlenswert!