 
Hinged Knee Brace for Dogs
This customizable knee brace helps dogs with limping and joint pain for an improved quality of life. It compensates loss of joint functionality, immobilizes the lateral displacement of the knee and reduces pain in dogs with cruciate ligament and injuriespatellar luxation.
Scroll down the description to see how to take all six measurements. Remember to write them down in the order notes so that the pattern can be made to measure.
Visit our FAQ section for any other questions about its uses, instructions, shipping, payment methods.
Ratings and comments from our customers
Hinged Knee Brace for Dogs
A dog's knee is a complex joint that often requires a long recovery period with the risk of further problems appearing. When the knee suffers any sort of damage, the muscles are quickly weakened and the joints destabilize, which can lead to a damaged meniscus and arthritis in the joint cartilage. 
This hinged knee brace compensates for the loss of joint function and immobilizes lateral displacement thanks to the two metal hinges included and reduces pain in a dog with arthritis or arthrosis, cruciate ligament injuries, meniscus injuries or problems in the kneecap or tendinitis.   
The knee brace reduces pain and inflammation, improving the balance between the involved muscle groups. Increased flexibility in tense muscles allows the dog to recover the natural movement of the limb. The slight pressure that this surface orthotic exerts alleviates the burden on the joints, increasing their stability and preventing the damage from turning into a more serious condition.  
In the event of damaged cruciate ligaments, the dog can use the knee brace before the surgical intervention (along with the prescribed treatment) in order to prevent the loss of muscle mass. The brace can be used again 5 days after the operation, once the inflammation has reduced. During the first 5 days applying cold is recommended. 
Instructions for use
The knee brace has to be correctly pulled up on the dog's leg until it covers the knee area. Place the fastening strap of the brace under the abdomen and over the back and fasten the Velcro. Be careful not to injure the dog when placing it, exerting force on the brace while still respecting the natural position of the knee. 
Remember to indicate in the "order comments" section (at the end of the purchasing process) of your order the following measurements:
1 - Upper circumference of the dog's leg.
2 - Circumference of the kneecap or middle area.
3 - Bottom circumference of the dog's leg.
4 - Length of the upper strap. Measure from one side of measurement 1, over the loin, to the opposite side of the same measurement 1.
5 -Distance between measurements 1 and 2.
6- Distance between measurements 2 and 3.
Please take into consideration, that if measure n. 5 is less than 5 cm, and measure n. 6 is less than 8 cm, the knee brace will have a padded with a reinforcement especially designed for this cases instead of the metal hinge. 
This custom made product takes 10 days to be realized once the measures have been received. 
In the unlikely case of swelling and redness, contact a veterinarian or physical therapist.
It is important to use the hinged knee brace in a gradual way in order for the dog to adapt and taking it off while the dog is resting.
In most cases, a thin sock / cotton pad can be applied between the protector and the skin to eliminate possible problems.
This is a custom made product and can't be returned or exchanged. The product can be different from the image on the web page.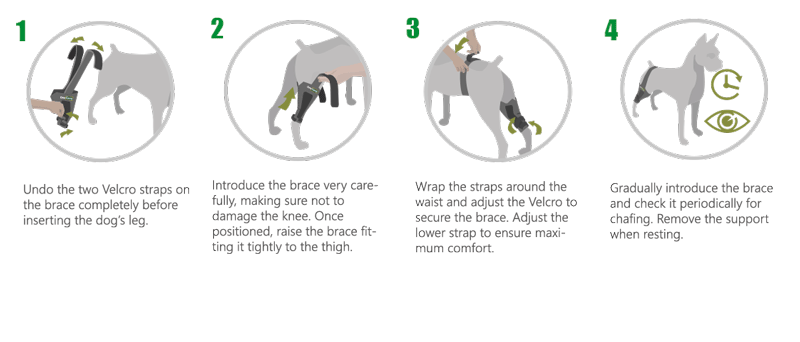 Leila Abou..
-
(Yuzhnoukrainsk, Ukraine)
Knee brace fits perfectly, my dog is smoothly getting used to it, I'm very pleased with the brace, thank you
JOSEPH MAKAR
-
(Oakdale, United States)
This brace was mot made correctly. It is not even close to fitting my dog leg. Very disappointed!
Hi Joseph, we are sorry for your disappointment. There must be a problem with the measurements but to understand what is the situation I will need few pictures of the product your received. If we make any mistake on the manufacture of the product we will make a new one ore reimburse the money. I hope we cans solve this situation as soon as posible.
marco mooren
-
(Nettetal, Germany)
Das Produkt selber ist sehr gut, passt und hat anständige Qualität. Kundenservice sehr freundlich und verlässlich. Leider kam es zu einer Verzögerung, bis es endlich auf dem Weg hier her war.
Soledad Vi..
-
(PUERTO MONTT, Chile)
El producto llegó a Chile muy bien y en la fecha acordada, muy confiable y muy buena calidad.
Anna Titel
-
(Rheine, Germany)
Gute Qualität, dem Hund passt sehr gut. Nur die Eingewöhnung klappt es noch nicht so gut.
Alberto Va..
-
(Santiago, Chile)
Muy agradecido, un servicio confiable y profesional. Saludos desde Stgo, Chile.
Marc Mehri..
-
(Muchamiel, Spain)
muy bien producto por relacion precio/calidad. debes que fijarlo bien para evitar movimiento y cambio de posicion quando se duerme el animal. muy bien tienda, buena gente que hablan varios idiomases y con servicio rapido. muy contento.
Astrid Dor..
-
(Gaishorn am See, Austria)
Thantip Sr..
-
(Bangkok, Thailand)
Works great! This make my dog walk better. She have ACL and can not get operation anymore, so this product really help her out. Thanks!
Josep De L..
-
(Odena, Spain)
Anthony Gr..
-
(Grand Lake, United States)
Fits perfectly! Shipping was fast and I am very pleased with the brace. Thank you!
Josep De L..
-
(Odena, Spain)
Confiamos plenamente y recomendamos los productos Ortocanis para paliar la atrosis de nuestros perros. La artrosis en los perros es una enfermedad degenerativa que lamentablemente no se puede curar, pero en cambio sí se puede mejorar mucho la calidad de vida del animal así como reducir y retrasar en la medida posible, los efectos negativos de esta enfermedad articular.
Nancy Krue..
-
(Santa Cruz, United States)
We thought your customer service was superb. The brace fits excellently. Our dog took to it immediately and is now putting weight on the affected leg. Thank you! Nancy
Eduardo Sa..
-
(Concepcion, Chile)
bien Despacho dentro del plazo prometido, y bién informado.
Indira Burga
-
(lima, Peru)
Excelente Excelente, el pedido llegó al Perú a los tres días muy satisfecha Salvo q mi aduana con problemas por el hecho de las croquetas pero producto de excelente calidad ahora esperar la recuperación completa de mi can
Annette Bl..
-
(Allentown, United States)
Positive My experience on the website has been a positive one. The only downfall was when I tried to pay it wouldn\\'t accept my charge pmt. I used my paypal b but that\\'s ok. The follow up has been excellant so far I can\\'t wait to try the product on my black lab Zoey, she has been in such pain for only 4 yrs old ,with an ACL tear. hope to get my shipment soon.
Carine BRUN
-
(Stattmatten, France)
Un grand merci Bonsoir, Juste pour vous dire un grand merci. Vous m\\'avez remboursée très rapidement! Et la livraison de la genouillère plus petite à été rapide ! Mon chien doit s\\'habituer maintenant , pas facile. Dès qu\\'il se sera adapté, je commanderai pour la patte gauche . Merci aussi pour la petite friandise mise dans le colis. Je ne manquerai pas de parlez de vous autour de m
Anita Plume
-
(Riga, Latvia)
All together: it is great experinece and result I have bought the hinged brace 10 days ago and have to say-it works really as it promissed. Our old dog has her knee ligaments broken and her left knee was making tourn otwards while walking.After using the brace for a week , her left knee stays more in place and dog can walk much better.The service was very personal and also attentative-all together
Rachel Wal..
-
(Evansville, United States)
Very good! It was easy to understand, easy to navigate and translated to English easily as well as converted Euros to Dollars. My only thought for improvement would be to state more clearly to add measurements in Centimeters instead of Inches for those of us in the States.
Jessica Mi..
-
(Vallejo, United States)
mary mulle..
-
(hamburg, United States)
Great product!! Thanks for the wonderful brace your team made for my dog. It works so very well, and my pup is so happy to able to finally walk with this support. Also, your customer service was outstanding - every one was courteous and so helpful.... I will gladly recommend you to anyone who ever needs assistance for their pet! Thanks again
Carolyn ol..
-
(west cornwall, United States)
Great! Ordering was easy. I asked some questions on the product I ordered and responses back were fast. I have not received the item yet but am looking forward to it!
Marius Els
-
(London, United Kingdom)
beautifully made Dear Olivia, Thank you for knee brace that arrived this morning. It seems like a good fit and my dog is adapting quickly and even putting even wight on legs while walking. It is beautifully made, fits well and looks very promising so far. Do you have any guidelines in using the knee brace. For example do I take the knee brace of at night or do I just leave it on permanently. Un
Customers who bought this product also bought: