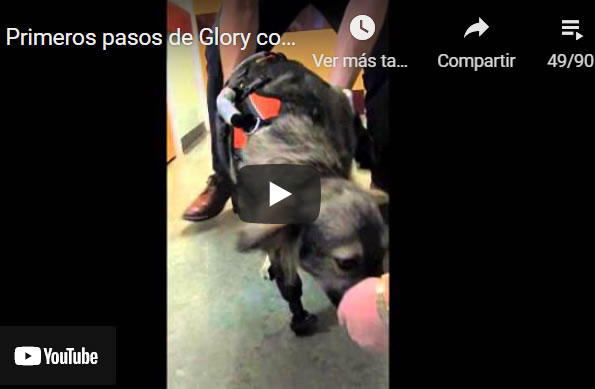 Do you remember Glory, a dog with only one leg? We already published a post about Glory the dog with just one paw in case you want to know the beginning of the story.
Glory got her three prostheses thanks to anonymous donations. But its use always requires a period of adaptation and for Glory it was the first contact with an orthopedic device, imagine wearing no less than three of them … Here is the video of his first steps with prostheses:
As you can see, at first it looks weird and it is difficult to control the steps. But with a good motivation like food he manages to forget those sensations and starts walking 
Glory has been impressing owners and veterinarians with her ability to adapt to something so difficult. The rear prosthesis resisted a little more, but nothing is insurmountable. This is Glory 16 days after his first contact with the prostheses:
Adapting dogs to prostheses is not done overnight, but Glory has shown that dogs are capable of this and much more. She has been the first to demonstrate it and has opened the door to this type of procedure, which allows to give a more than dignified life to dogs that until now were destined for immobility or euthanasia.
Bravo for Glory and her caregivers!
Thank you to everyone who made it possible.

https://www.ortocanis.com/blog/wp-content/uploads/2014/07/PRIMEROS.jpg
389
595
Ortocanis
https://www.ortocanis.com/blog/wp-content/uploads/2022/03/logoblog1.png
Ortocanis
2014-07-02 12:51:42
2014-07-02 12:51:42
Glory, a dog with only one leg