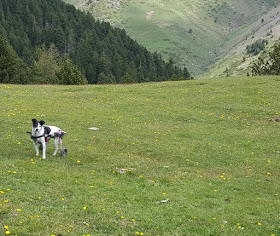 A dog's ability to move and perform its daily activities depends on the ability of the brain, spine, nerves, and muscles to coordinate together.
This complex communication system exchanges information when nerves in the brain send messages to the body about the outside environment, and the body sends messages to the brain about what it is experiencing in the environment. These messages are transmitted through nerves in the spinal cord, which are embedded in the spine or spine. Together, the nerves of the brain and spinal cord make up the central nervous system. Trauma to any part of the nerve pathways can lead to poor communication, or a total lack of communication between the brain and the body, leading to an inability to coordinate body movements.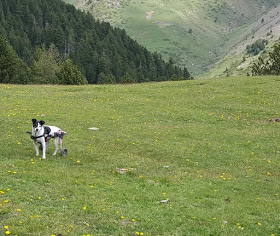 The spine is made up of a set of 24 bones called vertebrae, which are separated from each other by small cushions called intervertebral discs. Together, the vertebrae and intervertebral discs protect the spine from damage. Trauma to the vertebrae or discs can create vulnerability in the nerves of the spinal cord, leading to new disorders to the neural pathway.
When a dog experiences paralysis, it is often because communication between the spinal cord and the brain has been disrupted. In some cases, the dog is not able to move its legs, a state of total paralysis, and in other cases, there may still be some communication between the brain and the spine, and the dog will only appear weak or have difficulty moving its legs, a condition known as: partial paralysis. There are also cases where a dog may be paralyzed on all four legs (quadriplegia), and in others, the dog may be able to control movement in some of its legs, but not all. This is determined by the location of the trauma, occurring in the brain, spine, nerves or muscles.
Some breeds are more prone than others. Dogs that are close to the ground with elongated backs, such as dachshunds and bassets, are commonly affected by ruptured vertebral discs by putting pressure on the spinal cord, a condition known as intervertebral disc disease. Some breeds are genetically predisposed to a condition called degenerative myelopathy (MD), a disease that attacks nerves on the backs of older dogs (more than seven years old). It is a slow action, a progressive disorder that eventually leads to paralysis of the hind legs. Breeds affected by this disease are the Welsh corgi, boxer, German shepherd, Chesapeake Bay retriever, and Irish setter.
Symptoms:
Not able to move all four legs (quadriplegia)
Not able to move the hind legs (paraplegia)
Walks with front legs while dragging hind legs
There may be pain in the neck, spine, or legs
Not able to control urination, urine dripping
Not able to control defecation
Causes:
Canine degenerative myelopathy (MD) – related to the gene of German shepherd, boxer, Welsh corgi, Chesapeake Bay retriever, ages 7-14 years; the cause is unknown
Slippage of the discs in the back – intervertebral disc disease
Spondylodiscitis – bacterial or viral infection in the bones of the spine (vertebrae)
Infection or inflammation of the spine
Meningomyelitis – viral or bacterial infection of the brain, leading to poor communication of nerve impulses
Polymyositis – infection or inflammation in the muscles
Polyneuritis – inflammation of the nerves
Embolism – obstruction of blood flow to the spine
Aortic embolism – obstruction of blood flow to the back legs
Tumors or cancer in the spine or brain
Tick paralysis as a result of tick bites
Botulism – bacterial toxins
Myasthenia Gravis – severe muscle weakness
Fibrocartilaginous embolism the fluid inside an injured disc enters the arterial system and settles in the spinal cord, creating a permanent embolism, or blockage, is irreversible, but not progressive.
Hypothyroidism – Low thyroid level
Malformation of the spine or vertebrae
Diagnosis:
You will need to give a complete history of your dog's health, the onset of symptoms and possible incidences that may have led to this condition, such as tick bites, or recent injuries from jumping or falling. During the physical exam, your veterinarian will pay close attention to how well your dog is able to move his legs, and how well he is able to respond to reflex tests. The veterinarian will also test your dog's ability to feel pain on all four legs, control of the head, spine, and legs for signs of pain and alertness to the touch.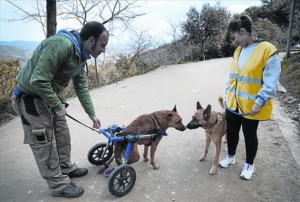 All of these things will help your veterinarian locate the place in your dog's spine, where nerves or muscles are having problems. Basic laboratory tests include a complete blood count, a biochemical profile and a urinalysis, which can determine if your dog has a bacterial infection, a virus or a toxin reaction, which is interfering with nerve pathways. X-ray images of the spine can show evidence of an infection, a malformation of the vertebrae, or a herniated disc that is pressing against the spinal cord. Other conditions that can lead to disruption of nerve pathways may be evident on an X-ray, such as tumors, obstructions, or inflamed nerves.
In some cases, your veterinarian may order a special X-ray called a myelogram. This process uses an injection with a contrast agent (dye) into the spine, followed by X-ray images that will allow the doctor to see the spinal cord and vertebrae in more detail. If these imaging techniques aren't helpful, your veterinarian may order a computed tomography (CT) scan, or magnetic resonance imaging (MRI) of your dog's brain and spine, both of which provide a very detailed picture. In some cases, your veterinarian may take a sample of the fluid around the spine, for analysis, or sample of the muscles or nerve fibers for a biopsy. These tests can determine the presence of an infection in the brain or spine.
Treatment:
The course of treatment will depend on the cause of the paralysis. If your dog is unable to walk, urinate, or defecate on his own, he will most likely be admitted to the hospital while his veterinarian will work to deliver a diagnosis. From there your veterinarian will track your dog's recovery and progress. If your dog is in pain, he will be given medication to help control the pain, the bladder is emptied several times a day by catheter, and your dog will be physically moved to make sure he doesn't get ulcers from staying in one place for too long. There are several products that will help you spend time still without getting damaged, such as mattresses. If the cause of the paralysis is an infection or a herniated disc, the condition will be treated with either medication, surgery, or therapy. Anti-inflammatory drugs that may be natural and specific such as imflamex will be used to reduce inflammation of the nerves. Tumors or blockages of blood flow can be repaired surgically, depending on the vulnerability of the location. Some paralyzed dogs recover very quickly. Depending on the severity of the illness, your dog may stay in the hospital until he is able to walk, or your veterinarian will decide to send your dog home with a guide to provide care and recovery at home. Your veterinarian will establish a plan to review the progress of your dog's treatment and adjust it accordingly.
life and a lot!
Your veterinarian will help you make a plan for your dog's care at home. Occasionally, the dog may resist care due to pain, but assertive and gentle care will help decrease fear reactions.
It is important that you take care of your dog properly so that he can fully recover. Carefully follow all instructions from your veterinarian. If your veterinarian has prescribed medication, be sure to administer all treatment, even after your dog appears to have fully recovered. In most cases, a canine wheelchair can be of great help, either for the rehabilitation process or as a simple means of transporting the immobile part of the animal. Most wheelchair dogs adapt very well and continue to enjoy their life.
Orthocanis

source:VenFido
https://www.ortocanis.com/blog/wp-content/uploads/2015/07/Hope2.jpg
236
280
Ortocanis
https://www.ortocanis.com/blog/wp-content/uploads/2022/03/logoblog1.png
Ortocanis
2013-01-16 08:55:38
2013-01-16 08:55:38
Paralysis in dogs