Thermal dog rug
How Back on Track works
Back on Track's joint and muscle supports are all made of functional textiles with heat reflective properties. The textile is a synergy of ancient Chinese experience and modern scientific textile technology. During the manufacturing of polyester fibres the ceramic particles are fused into the fibres. When heated, the ceramic particles radiate a heat back towards the body. This reflected heat is long-wave heat radiation, which is also known as long wave infrared radiation.
Heat Radiation
It is well established that long wave infrared heat radiation increases the blood circulation. The increased blood circulation in the tissues helps to relieve muscles tension and improves performance. One important property is the injury prevention effect.
Therefore, the most important applications are injury prevention, which you get when the protections are used for training and competition, injury relief, which speeds up the healing process, and muscle warming-up exercises, which prevent fibrillar damages.
Back on Track rugs are specially designed with ceramic fabrics to improve your dog's muscles and articulations. Thanks to their properties they may also speed up healing processes.
Highly recommended for dogs that participate in outdoor activities, such as gundogs, agility dogs, mushing dogs and RCI, and also for dogs with osteoarthritis and elderly dogs.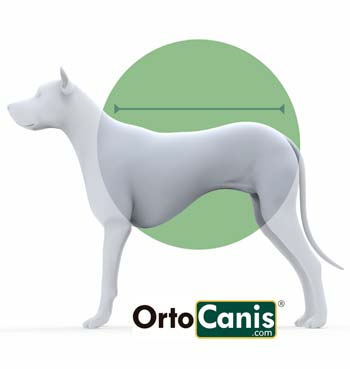 *The rugs have not been tested on pregnant dogs.
To determine the right size, indicate the measure your dog's back length in the buying process, in the comments box on the order.
| | |
| --- | --- |
| Size | Length of you dog's back |
| S | 76 cm |
| M | 85 cm |
Recommendations
All Back on Track products should be implemented gradually. To start with, use the product for a maximum of four hours a day for the first 2-3 days. The body then has the opportunity to familiarize itself with the fabric's effects.
The product can be machine washed at 30 ºC in a gentle program with normal detergent without bleach or fabric softener. Air dry.