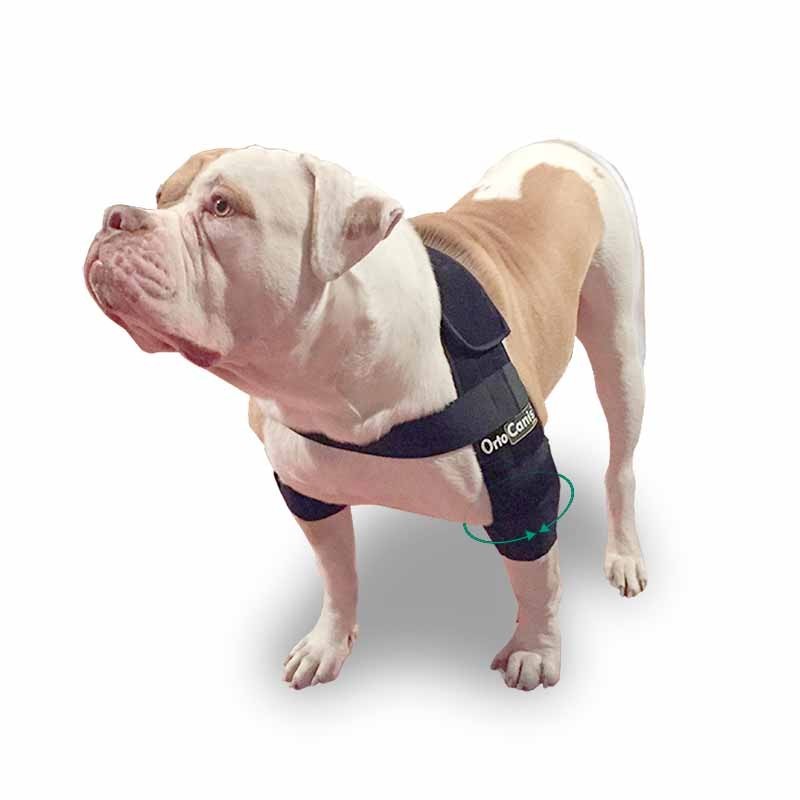  
Elbow Pads
New solution for stabilizing and protecting your dog's elbows. Unique in Europe.
This brace improves mobility in dogs with elbow arthritis, reduces hygromas and provides support. Designed and tested by veterinarians. 
Scroll down in the description to see how to select the size and visit our FAQ section for any other questions about its uses, instructions, shipping, payment methods, returns or exchanges.
Ratings and comments from our customers
Dog Elbow Pads
What are the elbow pads for?
They can be used for treating hygromas, calluses, decubitus ulcers, elbow dysplasia, arthritis, swelling and limps that are the cause of pain in so many dogs.
Observe how the calluses become softer and more flexible. The protective pads reduce arthritic pain and improve mobility thanks to the heat and support generated by the neoprene.
The extrathick patch protects the articulation from impacts and hard surfaces.
 Uses:
- After surgery and with conservative treatments
- Hygromas and bursitis
- Instability and joint hypermobility
- Elbow osteoarthritis
- Elbow arthritis
- Elbow dysplasia
- Proprioceptive deficits
* Seek advice for amputee dogs.
Standard Sizes
Follow these instructions to select the size:
1. Take a sewing tape, or a tape measure and string.
2. Measure the contour of elbow  (please follow measure n. 2 in the image)
3. Look at the here below chart to find the size corresponding to the measurement you have taken.
Size
Circumference elbow (2)
Aproximate race 
XS

7,5 - 11,5 cm

2.9 - 4.3 inches

Cocker Spaniel, Whippet
S

11,6- 16 cm

4.3 - 6.3 inches

Collie, Springer Spaniel
M

16,1 - 20,5 cm

6.3 - 8 inches

Labrador, Dalmatian
L

20,6 - 25 cm

8 - 9.8 inches

 German Shepherd, Golden Retriever
XL

25,1 - 32 cm

9.8 - 12.6 inches

Rottweiler
If in doubt between two sizes, select the bigger one.
How to measure your dog if you opt for a customized brace:
Select the custom option in the size drop-down
All elbow braces are custom made with the measurements you send us. Use a sewing tape or a vinyl tape measure, never a rigid carpenter tape.
It is very important to get the correct size. Bear in mind that all elbow braces are used to protect joints, not to restrict movement. 
1- With the dog standing, measure from the tip of the elbow on one side to the same spot on the opposite limb, passing over the dog's back.
2- Measure the circumference of both elbows (left and right). They may be different, especially if there is swelling.
3- Measure the circumference of both limbs (left and right) a few centimeters below the tip of the elbow.
4- Measure from tip of the elbow to the floor.
*Make sure to include all measurements (1, 2, 3 and 4) in the comments section when placing the order for a custom size brace.
Important: We have standard sizes in stock, however custom made braces are made with the measurements you send us. Bear in mind that in this case the delivery takes a bit longer than usual (10 days).
Instructions

Sarai Puente
-
(Torrecilla de Alcañiz, Spain)
Hemos pasado de ir cojo de una de las delanteras a cojear pero poder correr y volver a disfrutar de los paseos.
Fina Fortu..
-
(Girona, Spain)
Muy contenta la verdad, el producto se ve de buena calidad y todo lo que pueda hacer para el bienestar de mis mascotas es poco. Agradecida.
Juan Anton..
-
(Alcázar de San Juan, Spain)
Me gustó el producto. La talla no se ajusta. Unas partes le van bien y otras no. Servicio y atención al cliente excelentes.
Juan Anton..
-
(Alcázar de San Juan, Spain)
Me gustó el producto. La talla no se ajustaba bien a mi perro. Unas partes le iban bien, otras no. Devolución y atención excelentes.
Berit Laht..
-
(Kuusamo, Finland)
Raquel Mar..
-
(Aranda de Duero, Spain)
Perfecto para mi perrito con problemas de codo. Me lo recomendó mi veterinario y estoy muy contenta. Como siempre servicio rápido y de calid
Daniel Del..
-
(madrid, Spain)
El producto en su talla correcta, va de maravilla. Se adapta correctamente a los codos, y realiza una buena sujección. Gracias
Nieves De ..
-
(Roa de duero, Spain)
Se ha adaptado estupendamente, corre más seguro y a él se le nota muy contento que es lo más importante.
Christophe..
-
(Soyaux, France)
Au top pour mon chien, juste un peu chere
PILAR MART..
-
(MOLINS DE REI, Spain)
material resistente y adaptable, buena adherencia velcro y facil de poner, un poco justo en el lomo y pecho; en un mastin de casi 60 kg
MARIE-CHRI..
-
(VIRY-CHATILLON, France)
Très bon produit. Conforme à mes attentes. Le prix est justifié .Très bonne qualité. Je conseille. Facile à mettre,
Carolina R..
-
(Oviedo, Spain)
Buen material. Perfecto. Y rápida entrega.
Dolores Du..
-
(Barbate, Spain)
Fernando G..
-
(Colmenar Viejo, Spain)
Buen producto. Pero en actual evolución del problema de mi ejemplar, ya no sería necesario
Chantal GR..
-
(Saint-Santin, France)
Charlène M..
-
(Frolois, France)
Produit conforme à la description.Je me suis trompée de taille au 1er achat et l'échange s'est fait très facilement:SAV réactif et efficace
Ana Martin..
-
(Alcalá de Henares, Spain)
Llegó mi pedido de un día para otro, ya se lo he colocado a mi perrita y parece que está cómodo con el. Gracias
Francisco ..
-
(Viator, Spain)
Cómo siempre todo muy rápido y fácil. Gracias.
Peter Taciak
-
(Bayern - Eichenbühl, Spain)
hab die Bandage für längere Spaziergänge gewählt , es hilft meiner Hündin sehr gut, Gelenk wird optimal unterstützt , Qualität ist sehr gut
Josep Ruba..
-
(Girona, Spain)
Mejor imposible. Rapidísimo
Sasa Brajic
-
(Osijek, Croatia)
The product is of exceptional quality and it seems to me that my 14-year-old Labrador dog walks better and easier. The product was quickly delivered with all the praise.
Martin Abe..
-
(Dorsten, Germany)
Das Produkt macht einen guten Eindruck. Unser Hund muss sich allerdings erst einmla an diue Orthese gewöhnen.
Miren Mait..
-
(Iurreta, Spain)
Una maravilla ,le sujeta el hombro estupendamente,lo aconsejo mucho
LISE NORLAND
-
(LOCERI, Italy)
Absolument merveilleux! J'ai un Malinois de 14 ans qui pese 27 kg. J'ai pris L. C'est la taille parfaite. Une grande protection confortable!
Belén Varo..
-
(Collado Villalba, Spain)
El producto es de muy buena calidad, la perra va cómoda y la ayuda a caminar. Lo llevo comprando desde hace unos años seguiremos haciéndolo
sharon gri..
-
(grado, Italy)
Amazing. My dog is walking way better now
Françoise ..
-
(Savigny sur Orge, France)
Genouillères conseillée par un vétérinaire physiothérapeute. Résultat bluffant.
Sesse Loza..
-
(Muxia, Spain)
Genial,muy contenta,a mi peludo no le molesta nada,es de muy buena calidad, lo unico que podría estar un poco mas acolchado la zona del codo
Sarah Mess..
-
(Oberbozen, Italy)
Ottimo aquisto. Sono molto felice di aver trovato questo prodotto. Il nostro Rottweiler ha l'artrosi su entrambi i gomiti, quindi possiamo limitare meglio il suo dolore. Grazie mille
maria jose..
-
(Coria del Río, Spain)
Buen asesoramiento y rapidez en la entrega
corine lef..
-
(caen, France)
Bonjour, Je viens de recevoir l'attelle coudes et je trouve qu'il ne correspond pas à la description de votre site moins bonne qualité
Bonjour, S'il vous plaît, pourriez-vous nous donner plus de détails sur ce que vous avez trouvé différent de la description sur le site Web et du produit que vous avez reçu ? Nous mettons à jour nos produits souvent mais toujours pour les améliorer. Je vous remercie beaucoup pour votre aide.
Coia Sierr..
-
(Riudoms, Spain)
El producto es fuerte y de aguanta de todo,vivimos en el campo y el perro esta en el exterior.Tengo un mastin y la pieza del pecho va justa.
Jose Anton..
-
(San Roque, Spain)
Mi Dálmata tiene diagnosticado problemas de artrosis de codo, así como problemas en la columna. Parece que cojea menos. Muchas gracias.
Marta Pila..
-
(Zaragoza, Spain)
El producto ha empeorado bastante en los últimos años, las anteriores que tenia de hace unos años duraban más y eran bastante mejores.
Hola Marta, actualizamos nuestros productos regularmente, siempre añadiendo mejoras en los diseños para aumentar su eficiencia. En esta última versión se ha cambiado el material exterior del codo para mejorar la amortiguación y la ergonomia. También se ha mejorado el tallaje, cosa que puede haber afectado a cómo le queda a tu perro. Por favor, envíanos fotos para que podamos ayudarte.
VÍCTOR HUG..
-
(VILLAJOYOSA, Spain)
La atención telefónica buena, el transporte bueno. El producto tras dos semanas de uso, está para tirar, se despega. La calidad es pésima.
Hola Víctor, sentimos y entendemos tu enfado. Por favor, envíanos una foto del problema para que podamos entender que ha sucedido. Es probable que sea un defecto de fábrica por lo que te cambiaríamos el producto por uno nuevo.
Gemma Llop..
-
(Vilafranca del penedes, Spain)
Compré la ortesis de codo para mi perra que tuvo una lesión en la escápula. El servicio y la rapidez de esta empresa es excelente la recomendaría a cualquier persona.
BURLURUT D..
-
(NEUILLY PLAISANCE, France)
Les coudières sont parfaites une fois avoir compris le sens monture, peut-être l\'indication imprimé dessus du sens avant ou arrière serait une bonne aide et mon chien ne m\'a pas aidé ;) une fois en place et bien réglées elle le dérange a peine. The elbows are perfect once i have understood the positioning, maybe a printed indication on the front or back would be a good help unfortunatly my dog
Carolina C..
-
(Hornos, Spain)
Estamos muy contentas, Tewa cojea mucho menos, se le va corrigiendo la posición del codo trota, sube, baja ...sin ningún problema y junto con el soporte de cadera es otra perra, esta feliz y se le nota