 
Knee Brace Fastening Belt
Some dogs are built in such a way that the knee brace may slip off the back. This fastening belt prevents the knee brace's upper strap from falling off. The belt is fastened with an optional harness that can be added to the pack. 
To be used in combination with our dog knee brace.
Ratings and comments from our customers
Knee Brace Fastening Belt
Some dogs have inclined hips that make the upper strap of the knee brace fall down or off. This fastening belt is designed to prevent the strap from slipping, thus maintaining the knee brace in the correct position. 
The fastening belt attaches to a normal chest harness like in the image. If you need a harness you can add it to the order (please indicate to us the circumference of your dog's chest).

How to pick the correct size?
Pack harness + fastening belt
In the case you need to order the full pack, measure the circumference of your dog's chest and follow the sizes in the table to select the correct size of the pack:
Size

Chest size

S

48 - 63 cm

18 - 24 inches

M

55 - 68 cm

21 - 26 inches

L

69 - 96 cm

27 - 37 inches
In case you only need to order the Fastening Belt, please follow the indications in the below table, based on the size of knee brace you have ordered:
| | |
| --- | --- |
| Knee brace size  | Fastening belt size |
| Mini | XS |
| XXXS | XS |
| XXS | S |
| XS | S |
| S | S |
| M | M |
| L | L |
| XL | L |
| XXL | L |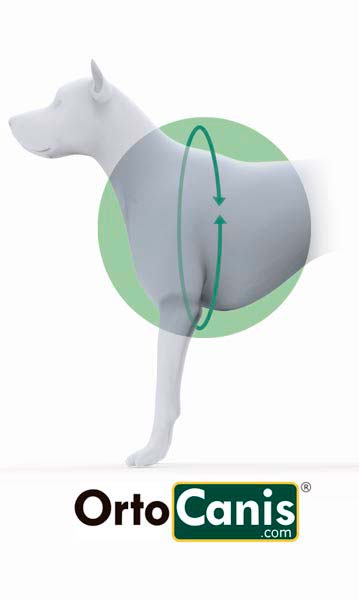 To be used with our dog knee brace.
Mireille V..
-
(Bruxelles, Belgium)
Excellent produit. Tient bien l'attelle en place !
Sylvie Stu..
-
(Omaha, Belgium)
Très bon produit, tient bien lors des promenades.
Chantal GR..
-
(Saint-Santin, France)
Brigitte H..
-
(Bockenheim a.d. Weinstrasse, Germany)
Diese Halterung lässt sich an jedes Brustgeschirr befestigen. Ist sehr praktisch. Kein runterrutschen der Bandage beim Laufen.
Nerea Rodr..
-
(Alaejos, Spain)
Muy buena compra. Nuestro perro es de cadera "caída" y no se le sujetaba el protector de rodilla. Ahora va como un tiro
Isabelle P..
-
(Perpignan, France)
Pratique et indispensable pour les chiens à poids ras ou dont le bassin est court
franck lai..
-
(surgeres, France)
parfait avec la genouillere , s'adapte parfaitement à notre harnais car fine
Luis José ..
-
(Zaragoza, Spain)
Perfecto para que la sujeción de rodilla no se caiga en los perros de pelo corto
Mónica Lla..
-
(Igualada, Spain)
La cinta de la férula se ajusta muy bien. La cinta inmoviliza aún más y no se mueve nada. Simplemente, perfecto
MARIA JOSE..
-
(Bullas, Spain)
Le quedaba pequeño, sin problemas, devolución rapidísima. Buena calidad el material y todo un detalle la bolsa para guardarlo
MARIA JOSE..
-
(Bullas, Spain)
Me encanta la calidad del material! Y rápida entrega! Muy contenta
shalini Bi..
-
(Phoenix, Mauritius, Mauritius)
the delivery was very fast indeed and the product very effective indeed.thank you.
Claudia Cy..
-
(Cölbe, Germany)
Der Gurt ist sehr hilfreich wenn die Bandage rutscht.
Lorena Mor..
-
(Cornellá de Llobregat (Barcelona), Spain)
Cumple su función a la perfección. Mi bóxer tiene la grupa más baja por problemas de columna y displasia, y la compré para la rodillera
Carla Mart..
-
(Vilarinho/ Lousã, Portugal)
Ótimo entrega super rapida
Aida Bufanu
-
(Giroc, Romania)
The product is ok. It s perfect for what we needed. It is very helpfully. I recommend these products.
Ache' Saint
-
(North Bay Village, United States)
Great product, easy to put on and off and love that its adjustable.
Susi Bienia
-
(Frankenthal, Germany)
Super Artikel. Daumen hoch.
Sophie Cau..
-
(Belbeuf, France)
Indispensable pour maintenir la genouillere. Très satisfaite autant par la qualité que par l efficacité. Taille correspondante aux mesures indiquées.
Stéphanie ..
-
(Nismes, Belgium)
Livraison rapide! Achetée lorsque ma chienne est seule pour éviter qu\'elle n\'enlève sa genouillère. Et parfait, quand je rentre tout est bien resté en place.
frank vazq..
-
(Estepona, Spain)
very good quality and fits perfect.
Luis Perez..
-
(Cuernavaca, Mexico)
Excelente servicio. Excelente información en la pagina para comprar. Los productos llegaron en perfectas condiciones y en el tiempo indicado.
Jorge Truj..
-
(Badalona, Spain)
El trato muy bien y respecto a la perrita también se siente más segura y apoya más la pata esperamos que pueda recuperarse algo más pero estoy seguro k lo que compre la ayudara
Chanone Sa..
-
(Kerikeri, New Zealand)
Works well with the harness and knee brace. Would be easier to put on and take off or adjust if had velcro enclosures instead of clasps. Helps to keep the knee brace in the correct position depending on the shape of your dogs back and hips. Would definitely get this if you get the knee braces.
Fatima Dry..
-
(., Spain)
Maria MENE..
-
(Mexicali, Mexico)
Excelente el servicio, llego muy rápido a Mexicali, Mexico. Le quedó muy bien a mi perrita, se acostumbró rápido, excelente para mantener en su lugar el soporte para su rodilla.
Sylvie LÊ ..
-
(Amilly, France)
Très bon harnais mais malheureusement inutile puisque la genouillère n\'est pas utilisée
María Tere..
-
(Colmenar Viejo, Spain)
Como las rodilleras se le caían, compré también la cinta de sujección, sin embargo ésta no hace bien su función, dado que se despega y se suelta.
Buenos días María Teresa, gracias por tus comentarios, nos ayudan a mejorar. Por favor, podríamos tener mayor detalle del problema de la cinta de sujeción. Si se trata de un defecto de fabricación te enviríamos otra sin coste. Si tienes una foto o vídeo nos ayudaría mucho. Muchas gracias, Toni Fernández
Alica Propst
-
(Newton, United States)
The harness part is too small as my dog is deep chested. It wouldn\'t adjust enough to fit but I can just buy one at a store.
Judith Rui..
-
(Delft, Netherlands)
Keeps the brace nicely in place
Toni Eccher
-
(Junction City, United States)
Very well made. Highly recommended.
Arlene Rob..
-
(Wakefield, United Kingdom)
Fits perfectly. I recommend people to get this with the knee brace as it distributes the weight more evenly than just the brace would.
Sabin Shee..
-
(Gingelom, Belgium)
Marta Fern..
-
(., Spain)
Perfecto, super recomendable para que quede bien sujeto su protector de rodilla.
Debbie Dan..
-
(Burleson, United States)
Could not use the brace without this harness and strap. definitely worth every penny. Highly recommend using this with leg brace to keep it held up. very adjustable as well.
Anthony Gr..
-
(Grand Lake, United States)
The brace ordered fits great ...unfortunately, the harness was for a small dog and doesn\'t come close to fitting. The demensions given for the brace should have indicated that this was for a large dog, weighing in at 90 pounds.
Suzanne Gr..
-
(Mesa, United States)
Sizing was perfect true to size. Customer service was excellent: thank you
Yolanda Se..
-
(SAN CRISTOBAL DE SEGOVIA, Spain)
Ideal para sujetar las protecciones de rodilla, implica que no se le caigan de la cadera y que estén siempre en su sitio.
Jean Bull
-
(Ivybridge, United Kingdom)
This made a huge difference in securing the knee brace. Worked really well.
Thérèse Du..
-
(Mons, Belgium)
Voilà, j\'ai acheté la ceinture pour la genouillère pour mon pinscher. C\'est super, c\'est ce qu\'il manquait pou qu\'elle remarche sur ses quatre pattes!!! Je recommande vivement! Merci!!!!
Erika Pasc..
-
(Móstoles, Spain)
Un 10 a todo Rapidez en el pedido y hasta nos han dado una chuche para nuestro peludo. Además la cinta de sujeción para el protector de rodilla va genial. Que pena no haberlo visto antes. Un 10 a todo
Lesley Eiler
-
(Ingersoll, Canada)
Good Fast delivery and good product
You might also like
Customers who bought this product also bought: