Dog Carpal Wrap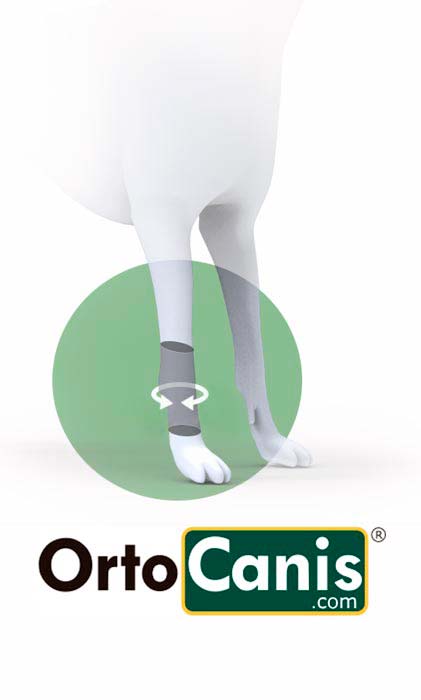 The carpal wrap is ideal for dogs with weak wrist joints following an operation or due to arthritis or injuries in the tendons and ligaments, or as a preventative treatment for injuries.
Made from 2 mm thick dynamic, highly resistant neoprene with a "plush" interior finishing for greater thermal insulation.
The heat increases blood circulation in the tissues which in turn helps to relieve muscle tension and improves performance. One important property is the injury prevention effect.
The most important uses are for injury prevention when the protector is used for training and competition, injury relief, which speeds up the healing process, and muscle warming-up exercises, which prevent fibrillar damages.
The carpal wrap does not restrict movement. It enables the dog to move the carpus while limiting excessive movement. Its function is similar to that of human wrist bandages.
Ortocanis has another product - the carpal brace - that provides stricter immobilization with two rigid splints.
Sizes and Measurements:
To determine the right size, measure the circumference of your dog's leg at the height of the carpus. The "height" measurement refers to the length of the carpal wrap. If in doubt between two sizes pick the bigger one.
| | | |
| --- | --- | --- |
| Size | Circumference | Height |
| XXS | 5-8 cm | 7 cm |
| XS | 9 -11 cm | 7 cm |
| S | 12-13 cm | 10 cm |
| M | 14-16 cm | 11,5 cm |
| L | 17-19 cm | 14 cm |
| XL | 20-22 cm | 15 cm |



Instructions:

At the beginning, use the product for a maximum of four hours a day for the first 2-3 days.
The body then has the opportunity to familiarize itself with the effects of the neoprene.The product can be machine washed at 30ºC (86ºF) in a gentle program with normal detergent without bleach or fabric softener. Air dry, do not tumble dry.
Price for one unit.
In gray or black depending on availability.