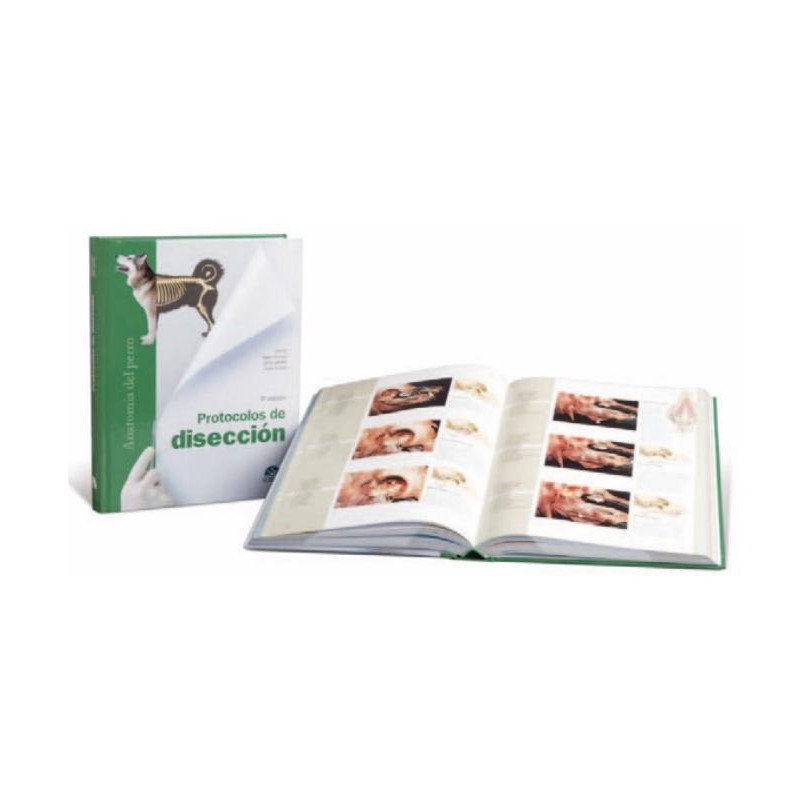  
protocolos de disección
Best-selling dog anatomy book.
High-quality photos of dissected preparations, with the nomenclature of the international anatomical list.
Third edition of the basic book of veterinary anatomy in dogs.
Ratings and comments from our customers
Dissection protocols
In this third edition of the best seller of veterinary anatomycanine "Dissection protocols", in addition to the exhibitionclear and practical of the different anatomical zones and regions andhow to access them, a new chapter on osteology is incorporatedto further complete the information on the anatomyof the dog, and thus turn this book into a reference forveterinary students and professionals.
Likewise, it includes access to a self-assessment system inInternet for veterinarians and future veterinarians to gochecking your progress.
In the words of its authors: "This work is a toolinteractive to optimize both effort and personal work ".
Data sheet
Author: Julio Gil, Miguel Gimeno, Jesús Laborda and Javier Nuviala.
Format:23 x 30.5 cm.
Number of pages:568.
Number of images:More than 2,500.
Binding:Hard cover.
ISBN:978-84-92569-73-1.
Year:2012.
PVP:€ 85
Index
Body planes
Chapter 1: regions and common integument
Chapter 2: Neck. thorax, back and arm (1)
Chapter 3: chest, back and arm (2)
Chapter 4: Walls of the Thorax and Abdomen
Chapter 5: thoracic limb
Chapter 6: pelvic limb
Chapter 7: Head
Chapter 8: Thoracic Cavity
Chapter 9: Abdominal Cavity
Chapter 10: Pelvis and Pelvic Cavity
Chapter 11: Pelvic Cavity and Genitalia of the Dog
Chapter 12: Pelvic cavity and genitalia of the bitch
Chapter 13: Sense Organs
Chapter 14: nervous systemCentral
Chapter 15: osteology
Chapter 16: joints
Alphabetic index

There are more feedbacks to show.
Customers who bought this product also bought: