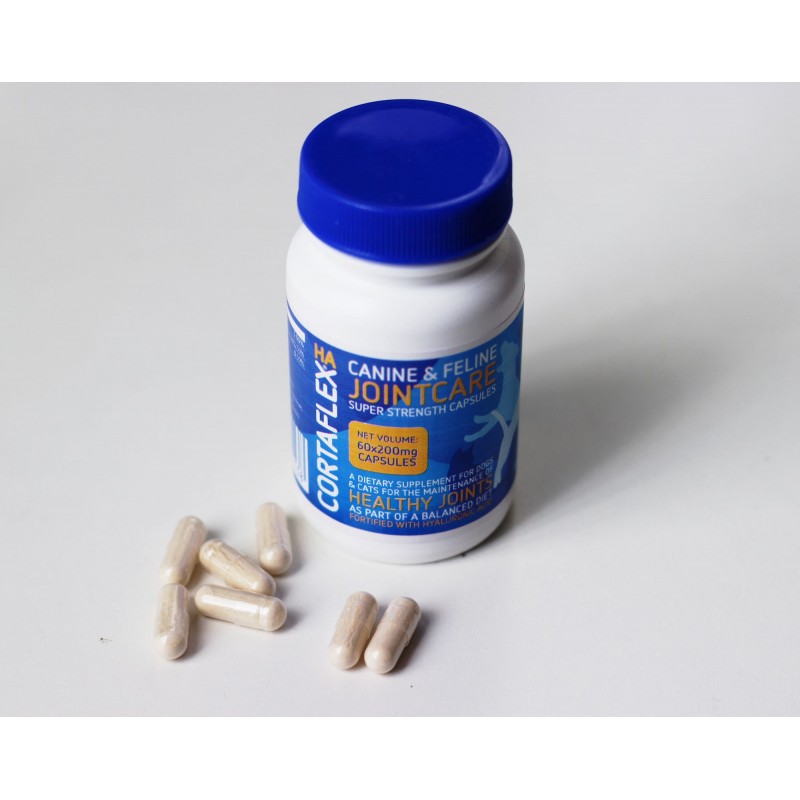  
Cortaflex Joint Care Capsules
Super strength capsules for joint care, No. 1 in the United States. 
Protects and nourishes the joint cartilage in dogs and cats. Administer Cortaflex daily to keep joints as healthy as possible in the long-term. 
Ratings and comments from our customers
Cortaflex Capsules 
Cortaflex is a fortified joint protector that helps to improve and protect your dog's joint cartilage. 
A must for the treatment of arthritic dogs and highly recommendable for breeds with a high incidence of hip or elbow dysplasia.
Cortaflex is the best dietary supplement for young dogs with hip dysplasia to prevent against arthritis in the future. 
Wear and tear on the joints varies based on shape and breed, and often occurs during growth spurts. Cortaflex can be administered to young cats and dogs, especially in larger breeds that are typically associated with hip and elbow problems, such as the German Shepherd, St. Bernard, Golden Retriever or Rottweiler to help and protect the joints throughout their lives. 
Product Description:
How does Cortaflex work? 
Unlike most common supplements on the market, Cortaflex is not based on conventional glucosamine chondroitin sulfate which, due to the large size of the molecules, present absorption difficulties. Cortaflex is a unique formula that isolates the smaller molecules of Chondroitin Sulfate and Glucosamine. That is what makes Cortaflex so different! 
Cortaflex has been fortified with hyaluronic acid which is the key component in joint fluid, and remains one of the main supplements for joint mobility in dogs and cats.
Cortaflex is recommended by veterinarians all over the world and is number 1 in the United States.  
Cortaflex is available in liquid or capsule form, satisfying the needs and personal preferences of each animal. 
All of our prices are kept within the most competitive margin possible and are often lower than the recommended retail price. Our stock is fresh and most products have a shelf-life of at least one year. For larger orders of supplements please contact us.   
Any supplements that appear on this website are not designed to cure or treat specific diseases, they are not drugs, they are supplements whose ingredients have scientifically proven beneficial properties.
IF YOU HAVE ANY QUESTIONS ABOUT YOUR PET'S HEALTH, consult with your veterinarian. 
Additional Information: 
Indicated for improvement and maintenance of joint mobility. 
Key ingredients: Glycine, Aspartic Acid, Glutamic Acid, L-Proline, L-Glutamine, Isolated Soya Protein concentrate, Birth Extract, Collagen, Hydrolysate, Sulphur and the Cellulose Capsule. 
Bottle with 60 capsules. 
Feeding Directions: 
For cats and small/medium dogs up to 20 kg (44 lbs) - 1 capsule per day 
For large dogs over 20 kg (44 lbs) - 2 capsules per day 
Also available in liquid form, in 236 ml and 946 ml. 
Testimonials: 
"I have a Border Collie who regularly competes in obedience. Two weeks ago I started giving her Cortaflex after seeing the effects on horses. After two weeks she has changed - she can do things I thought she would never be able to do. I am writing this letter to thank you for enabling my dog to have a great quality of life. She will continue with Cortaflex for the rest of her life." 
Arantxa Mi..
-
(Valdemorillo, Spain)
El servicio, desde la solicitud a la entrega, muy ágil. Del producto, del que he leido muy buenas recomendaciones, aún no puedo opinar dado que no ha habido margen a efecto. Espero en breve poder decir q la mejoria ha sido fantástica...
Natalí Cri..
-
(Málaga, Spain)
Excelente atención Excelente atención, entrega rápida e inmediata, aún falta por saber si el producto es efectivo, eso solo el tiempo lo dirá. El precio es un poco elevado.
Ana Maria ..
-
(MATAELPINO, Spain)
Envío perfecto! El envío ha llegado perfecto, y en buen tiempo El producto aún lo estoy probando
rita mariñ..
-
(Coruña, Spain)
Muy bien! Interesante página web, bien estructurada.Fácil proceso de compra y rapidez en el envío.
Sergi Civi..
-
(Tarragona, Spain)
Molt bé! Com sempre molt bé! Facilitat en la compra i rapidesa en l\\'entrega. I de moment la meva gossa, no ha perdut anys però sí que ha guanyat certa mobilitat i agilitat amb el tractament combinat d\\'Inflamex i Cortaflex, així que ella també està contenta!
Ana Alexan..
-
(Figueira da Foz, Portugal)
Muito satisfeita Estou muito satisfeita com o serviço prestado. Correu tudo como previsto, e até já fiz um novo pedido!
Customers who bought this product also bought: