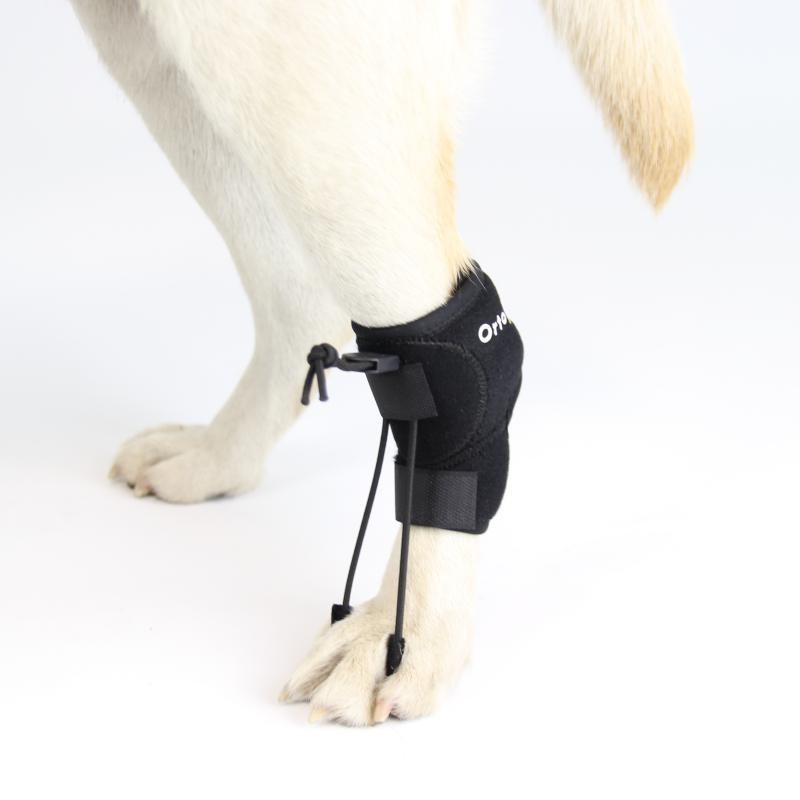  
Anti knuckling sling
The Anti knuckling sling is an assistive device for dogs with sciatic nerve insufficiency secondary to Degenerative Myelopathy, intervertebral disc disease, fibrocartilaginous embolus, spinal trauma and neoplasia, among other diagnoses.
Proprioceptive Corrector
This foot sling has been developed to assist dogs who drag their paws when walking due to a sciatic nerve problem. The sling prevents knuckling by supporting the paw's 2 middle toes, and is attached via a tightened elastic adjustable cord with a strap wrapped around the hock.
Dogs with the ability to bear weight on the limb (i.e. hock, stifle, and hip
extension) are candidates for the foot sling; these dogs have diminished conscious
proprioception or loss of digital extensor function causing toe dragging and knuckling. The tension generated by the aid encourages the dog to walk properly and prevents it from dragging the dorsal part of the foot. 
The sling should not be left on overnight and is not recommended to be used for more than 2 continuous hours without a break. Check every 15 minutes on the start sessions. 
Indicated for use in:
Degenerative Myelopathy

Spinal trauma

Intervertebral Disk Disease

Neoplasia

Fibrocartilagenous Embolus
The foot sling has two different configurations:
DAILY USE: Connect the end of the elastic cord to the tip of the 

corrective boot for the sciatic nerve

 (optional, not included). The boot is indicated for sessions longer than 15 minutes.

REHABILITATION SESSIONS: with one hand supporting the paw, place the neoprene section under 3rd and 4th phalanx, then pull the cord to give the desired amount of tension. Intended for sessions shorter than 15 minutes.
Sizes:
1. Take a sewing tape, or a tape measure and string.
2. Measure the contour in the upper area of the tarsus, a couple of centimeters above the joint (if in doubt, check the instructions in the product images).
3. Look at the size chart for the size that corresponds to the measurement taken.
| | |
| --- | --- |
| Size | Hock Perimeter |
| XXS | 5 - 7 cm |
| XS | 7 - 9 cm |
| S | 9 - 11,5 cm |
| M | 11,5 - 14 cm |
| L | 14 - 20 cm |
Conchi Albisu
-
(Medrano, Spain)
Buen producto, calidad muy buena. A mi perro le ha ido bien para reconducir la posición de la pata que arrastra por cauda equina. Los velcros de sujección no se sueltan y es fácil colocarlo ya que encaja muy bien en la forma de la pata. Muy bien, no puedo decir nada negativo.
María Durán Marteache
-
(Candelaria, Spain)
Maravilloso, entrega veloz, mi perro camina sin doblar la pata
REYES VARELA FERNANDEZ
-
(VIGO, Spain)
El envío muy rápido. Mi perra ha mejorado su movilidad desde el segundo día!! * Me gustaría, la almohadilla de los dedos cubriera un poco más ...se desplaza con el caminar de la perra.
Maryline BOQUELET
-
(Saint Paul Trois Châteaux, France)
Patricia de la Oliva Varea
-
(Madrid, Spain)
Estupendo. Mi perro tiene una lesión en el nervio y esa pezuña no había manera de que la recuperara al caminar, con el corrector va estupendamente. Recomendable 100% y el envío rapidísimo.
Ulf Czarnojan
-
(Staufenberg, Germany)
Hilft unserer Hasel ungemein, die Füße richtig aufzusetzen. Von daher genau der richtige Kauf.
Ventura palazuelos
-
(Colindres, Spain)
Giorgio Rosso
-
(Palazzolo, Italy)
Perfetto! Cammina molto meglio
Tânia Costa
-
(Rio Tinto, Portugal)
Muito bom. Ajudou muito o meu cão.
Lorena Pizarro
-
(Antofagasta , Chile)
Corrige bien la postura de la pata
Ursula Pleß
-
(Erzhausen, Germany)
Vielen Dank, ich bin sehr zufrieden und mein Hund ist mit den Bandagen sehr geholfen. Ich gebe voll die 5 Sterne. Liebe Grüße U. Pleß
Maya Stoop
-
(Uetikon am See, Switzerland)
Perfekte Hilfe für meinen Hund. (siehe vorherige Rezension)
Maya Stoop
-
(Uetikon am See, Switzerland)
Joel Patiño
-
(Guadalajara, Mexico)
Muy buen servicio de parte del vendedor, en todo momento me mantuvieron al tanto del paquete y resolvieron todas mis dudas. El envio llego en tiempo y forma desde España a Mexico. 1000% confiables y seguros
Reyes Payá López
-
(Madrid, Spain)
Desde el primer momento que se lo hemos puesto hemos notado mejoría, pero no sé si a largo plazo se le corregirá o sólo cuando lo lleve puesto .
Paula Moya
-
(Madrid, Spain)
Todavía está en periodo de adaptación. Mi perra tuvo un embolismo fibrocartilaginoso y perdió la movilidad y sensibidad de las patas traseras. Le falta recuperar la propiocepcion de la pata izquierda y este corrector le está ayudando, aunque de momento lo lleva solo unos minutos al día.
Frédéric Morisod
-
(Prevessins-Moëns, France)
Excellent service. Produit reçu très rapidement.
Catherine Houed
-
(Doral, United States)
Excelentes productos, debido al problema en la patita que tiene mi perro la arrastra, y definitivamente no puede andar sin este zapatito y su corrector. El pedido llegó rapidísimo según el flete pagado. ¡Muy agradecida!
Felícita del Carmen Echeverría Orellana
-
(Guatemala, Guatemala)
Estoy muy contenta con el producto, muchas gracias, mi perrito Crash también esta feliz!
Maria Elizabeth De Ornelas Cardoso
-
(Aveiro, Portugal)
La idea del corrector como tal es buena. Ahora, el seguro de plástico no es muy duradero porque el perro en menos de dos semanas lo destruyó. Quisiera mandar las fotografías. Sugiero que así como mandan un aro repuesto en la bota, manden esta especie de candado. La mayoria del tiempo en que usó el corrector tenia el funil puesto y llegó fácilmente a éste.
Gracias por tus comentarios María, lo tendremos muy en cuenta y cogeremos algunas piezas de recambio por si acaso.
MA LUZ HERNANDEZ ARREGUIN
-
(Ciudad de Mexico, Mexico)
Muchísimas gracias por dedicarse a esto!, a mi perrita la inyectaron mal y derivado de eso ya no pudo caminar bien, pero con el corrector propioceptivo ella puede salir a pasear como si nada hubiera pasado. Solo como detalle, le tengo q poner una venda para colocarle el corrector el material por dentro le da comezón. tal vez si estuviera forrada por dentro o cubierto estaría mucho mejor
Gracias Ma Luz por tu feedback. Tomamos nota. Es importante revisar siempre si alguna zona del velcro puede rozar la pata, especialmente los primeros días.
Cristina Collell Sabaté
-
(Torelló, Spain)
La idea es buena, pero por el precio que tiene debería ser mucho más resistente, un poco más "rudo", teniendo en cuenta que lo van a usar perros.... Un paciente de nuestra clínica lo usó y le duró 3 días, se rompió la goma, y no nos lo abonaron. Para otros productos, no tenemos ninguna queja.
Gracias por tu feedback Cristina. Nos consta que os ofrecimos la restitución inmediata, pero que no encontrabais el corrector dañado. Recuerda que si lo encontráis os lo cambiaremos por uno nuevo.
Mon Yuen
-
(Tai Po, HongKong)
The product quality is good. My doggie\'s toes of the hindlimb are bend down (folding position) when walking after a surgery, probably waiting for nerves recovery of the toes area in order to control the toes movement. However, this corrector could not help. I might order the accessory "boot toe up sling" and see if this could help better as I think the boot helps lifting up the tip of the toes
RAFAEL GARCÍA BRAVO
-
(México, Mexico)
Buen producto que fue entregado en tiempo y forma.
Maite Berridi Martinez
-
(Madrid, Spain)
Blanca Vélez Duserm
-
(Palafrugell, Spain)
Aunque al principio no podía usar el corrector durante demasiado tiempo ya que se le quedaba al poco rato la pata encogida, finalmente se acostumbró y ahora podemos pasear tranquilamente. Tengo la sensación de que cuando le quito el corrector su pata arrastra menos durante un tiempo. Simplemente genial!
Tereza Štysová
-
(Praha 13, Czech Republic)
great! everything was great!
Tommy Wittke
-
(Punta del Este, Uruguay)
Muy bien! Recibí los correctores propioceptivos y las botas para éstos, en tiempo y forma según lo solicitado. Los estoy probando y espero que le resulten de gran ayuda a mi Siberian Husky
Ivan Manuel chaques alvarez
-
(fuenlabrada, Spain)
De lujo De lujo, me han atendido perfectamente y el producto y envió perfecto y rápidisimo. Un \" 10 \" para vosotros.
You might also like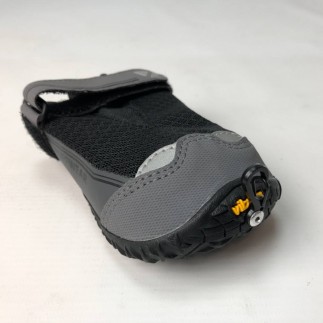 Regular price
€37.60
-€6.00
Price
€31.60
Customers who bought this product also bought: