More info
Knee immobilizer for dogs
The Ortocanis knee immobilizer stabilises the articulation of the dog.
Specifically designed for those cases that require a parcial immobilization, such as patella luxation, ACL or any ligament injury.
Characteristics:
Two lateral aluminium splints (internal and external) with an angle that allow a better adaptation to the knee anatomy.
2 mm thickness neoprene so to give a higher compression and stability
Ergonomic design for an easy adjustment
Ortocanis knee immobiliser can be used also as a pre and post surgery support under vets supervision.
Sizes:
When choosing the size, measure the upper circumference (A) of the highest part of the leg. Wrap a measuring tape around the thigh above the knee and near the groin. In the table below find the size that corresponds to the measurement.
If in doubt between two sizes, select the bigger one.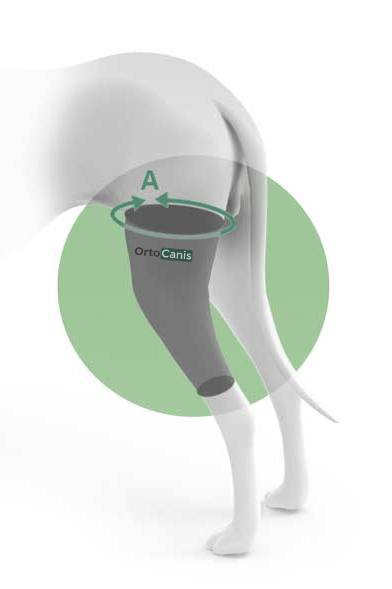 | | | |
| --- | --- | --- |
| Size | Race approx. | Thigh contour (A) |
| Mini | Pinscher | 14 - 16 cm / 5.5'' - 6.29'' inches |
| XXXS | Chihuahua | 17 - 19 cm / 6.69'' - 7.48'' inches |
| XXS | Jack Russell | 20 - 22 cm / 7.87'' - 8.66'' inches |
| XS | Sheltie, Cocker Spaniel, Fox Terrier | 23 - 25 cm / 9'' - 9.84'' inches |
| S | Kelpie, Greyhound, Beagle | 26 - 29 cm / 10.23'' - 11.41'' inches |
| M | B Collie, Springer Spaniel, Labrador | 30 - 32 cm / 11.81'' - 12.59'' inches |
| L | Pastor alemán, Rottweiler pequeño, Boxer, Labrador | 33 - 36 cm / 12.99'' - 14.17'' inches |
| XL | Rottweiler | 37 - 42 cm / 14.56'' - 16.53'' inches |
Some dogs have a fallen hip and the upper belt may slide back and fall off. To prevent this from happening you can purchase the LUMBAR FASTENING STRAP
Instructions: