More info
Knee immobilizer for dogs
The Ortocanis knee immobilizer stabilizes the articulation of the dog.
Specifically designed for those cases that require a parcial immobilization, such as patella luxation, ACL, ligament injury and pre and postoperatative treatment.
Characteristics
Two lateral aluminium splints (internal and external) with an angle that allow a better adaptation to the dog's knee anatomy.
Special neoprene to give a higher compression and stability
Ergonomic design for an easy adjustment
The Ortocanis knee immobilizer should be placed without forcing the joint, opening the lower adjustment and sliding the orthosis gently until it reaches the groin.
Frequently check the most sensitive areas in the first few days to detect if there is skin rubbing.
Sizes
When choosing the size, measure the upper circumference (A) of the highest part of the leg. Wrap a measuring tape around the thigh above the knee and near the groin. In the table below find the size that corresponds to the measurement.
If in doubt between two sizes, select the bigger one.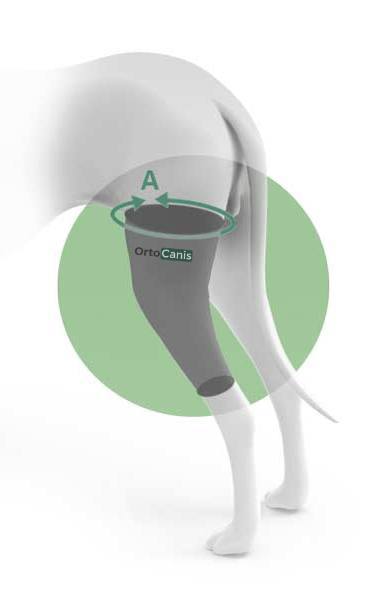 | | | |
| --- | --- | --- |
| Size | Race approx. | Thigh contour (A) |
| Mini | Pinscher | 14 - 16 cm / 5.5'' - 6.29'' inches |
| XXXS | Chihuahua | 17 - 19 cm / 6.69'' - 7.48'' inches |
| XXS | Jack Russell | 20 - 22 cm / 7.87'' - 8.66'' inches |
| XS | Sheltie, Cocker Spaniel, Fox Terrier | 23 - 25 cm / 9'' - 9.84'' inches |
| S | Kelpie, Greyhound, Beagle | 26 - 29 cm / 10.23'' - 11.41'' inches |
| M | B Collie, Springer Spaniel, Labrador | 30 - 32 cm / 11.81'' - 12.59'' inches |
| L | Pastor alemán, Rottweiler pequeño, Boxer, Labrador | 33 - 36 cm / 12.99'' - 14.17'' inches |
| XL | Rottweiler | 37 - 42 cm / 14.56'' - 16.53'' inches |
Some dogs have a fallen hip and the upper belt may slide back and fall off. To prevent this from happening we recommend the LUMBAR FASTENING STRAP
Instructions