expand_less expand_more
Thermal Dog Blanket
How Back on Track Works
This thermal blanket for dogs is made with the Back on Track fabric, which is the name of unique textile products that have been developed based on a synergy between ancient Chinese experience and modern scientific textile technology, supported by scientific studies. The resulting product used in these blankets is a fabric made up of an optimal mix of polyester/polypropylene and ceramic particles.
Ceramic particles are fused into the polyester fibres during their manufacturing. When heated, the ceramic particles radiate heat back towards the body. This reflected heat is long-wave heat radiation, which is also known as long wave infrared radiation. It is well known that infrared light has a calming effect as the mild heat reduces inflammation, decreasing muscle tension and improving blood circulation. The tense muscles relax and the recovery process of injured muscles, tendons, ligaments and joints is speeded up
Therefore, the blanket's most important use is for injury prevention, as well as for injury relief and a faster healing process for previous injuries. It is also used to warm up muscles before exercise or physical activity, thus eliminating the risk of tears and fibrillar damage.
The Back on Track effect of the ceramic particles:
Increased blood circulation
Accelerated recovery from injuries
Reduced inflammation
Reduced muscle tension
Pain relief
 Uses:
Relaxes the muscles before exercise or physical activity - warm-up 
Prevents muscle, ligament, tendon and joint damage (ideal in agility or mushing dogs) - injury prevention
Facilitates and accelerates the recovery process for injured muscles, ligaments, tendons, and joints - injury relief 
Highly recommended for dogs with arthritis and older dogs that live in colder and/or humid regions as well as for sporting dogs: agility dogs, mushing dogs and RCI.
*The Back on Track blankets have not been tested on pregnant dogs.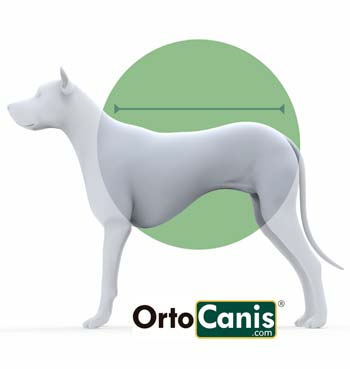 To determine the right size, measure the length of your dog's back:
| | |
| --- | --- |
| Size | Length of your dog's back |
| XS | 21 - 33 cm |
| S | 34 - 41 cm |
| M | 42 - 62 cm |
| L | 63 - 82 cm |
Recommendations
All Back on Track products should be introduced gradually. To start, use the product for a maximum of four hours a day for the first 2-3 days. The body will then have the opportunity to familiarize itself with the fabric's effects. Once the dog has adjusted it can be worn all day.
It can be used in both winter and summer as it retains the dog's own body heat. It does not increase temperature artificially and it is also extremely breathable.
The product can be machine washed at 30ºC (86ºF) in a gentle program with normal detergent without bleach or fabric softener. Air dry do not tumble dry.
Specific References
ean13

7340041106372
Mesh dog blanket
This blanket is specially indicated for dogs with arthritis, recovery dogs and elderly dogs.
Soft and comfortable, it fits perfectly to the animal's body.
The ceramic particles reflect the animal's own body heat as infrared radiation. 
Ideal to be used all day long.
European leaders
Own designs
Made in Barcelona