expand_less expand_more
Assisted

 S

upport

 H

arness
For older, injured or disabled pets, this assisted support harness provides a comfortable and safe way to enhance your pet's mobility. The harness can be used with the rear support only, with the front support only, or using both supports for dogs that need extra help.
When using the rear support only, the harness must be attached to the pet for each use.
However, when using the complete body harness (front and rear), the harness can be worn comfortably for long periods of time, making it easy to help your pet without having to always put the harness each time it is necessary (ideal for emergency bathroom breaks).
 
The design supports dogs from the hips to the abdomen, provoking less stress than devices that support only from the legs or abdomen. There is also a special protective holder for the lower abdomen for males (which can be removed for females).

The assisted support harness has three possible methods for use:
Front harness: using the adjustable strap

, or carrying handle;

Rear harness: using the carrying handle

;

Full harness: using the convenience of the front and rear 

carrying handle, as well as the adjustable shoulder strap attached to the handles.
The assisted support harness is great for helping pets to climb stairs, get into vehicles, on and off furniture, outside for a bathroom break, or to provide assistance when going for a walk. Perfect for during rehabilitation after injury or surgery.
 
Available in two adjustable sizes to fit any dog comfortably - the medium size fits dogs from 16-32 kg (35-70 lbs) and the large size fits dogs from 32-59 kg (70–130 lbs). Refer to our sizing chart below to determine the best fit.
Full harness version:
| | | | |
| --- | --- | --- | --- |
| Size | Chest | Waist | Weight |
| M | 61 - 84 cm | 48 - 79 cm | 16 - 32 kg |
| L | 79 - 117 cm | 68 - 94 cm | 33 - 59 kg |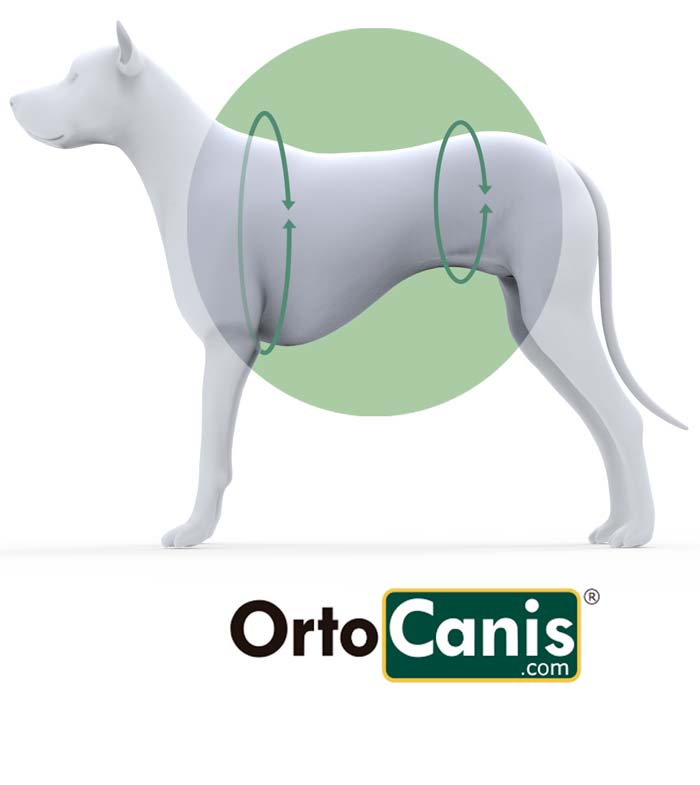 Rear harness version: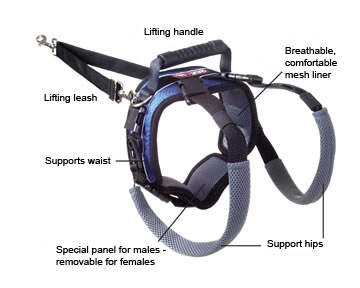 Specific References
ean13

729849168800
Assisted support harness
Especially suited for improving mobility in older, disabled or injured dogs. It fastens from the hips to the abdomen. Indicated for dogs weighing from 16-59 kg (35 to 130 lbs), with lifting straps and adjustable support handles.
Scroll down in the description to see how to select the size and visit our FAQ section for any other questions about its uses, instructions, shipping, payment methods, returns or exchanges.
European leaders
Own designs
Made in Barcelona