 
Carpal Wrap
The dog wrist wrap is ideal for dogs with arthrosis, arthritis, and injuries in ligaments, tendons and muscles.
Made with dynamic, highly resistant neoprene and a special plush lining that speeds up the healing and recovery process while protecting the joint.
In gray or black depending on availability.

Ratings and comments from our customers
Dog Carpal Wrap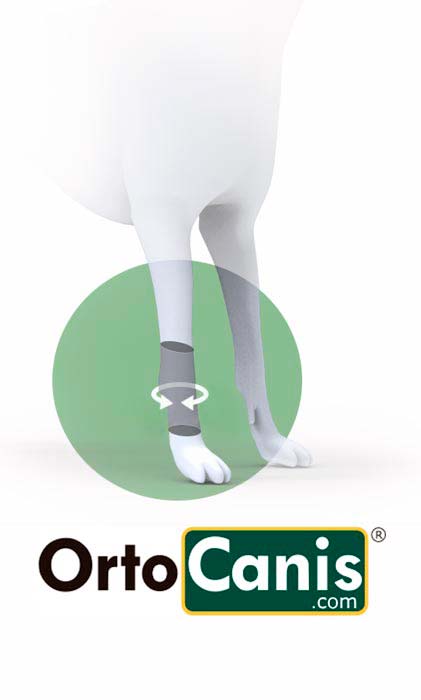 The carpal wrap is ideal for dogs with weak wrist joints following an operation or due to arthritis or injuries in the tendons and ligaments, or as a preventative treatment for injuries.
Made from 2 mm thick dynamic, highly resistant neoprene with a "plush" interior finishing for greater thermal insulation.
The heat increases blood circulation in the tissues which in turn helps to relieve muscle tension and improves performance. One important property is the injury prevention effect.
The most important uses are for injury prevention when the protector is used for training and competition, injury relief, which speeds up the healing process, and muscle warming-up exercises, which prevent fibrillar damages.
The carpal wrap does not restrict movement. It enables the dog to move the carpus while limiting excessive movement. Its function is similar to that of human wrist bandages.
Ortocanis has another product - the carpal brace - that provides stricter immobilization with two rigid splints.
Sizes and Measurements:
1. Take a sewing tape, or a tape measure and string.
2. Measure the contour of the leg at the height of the carpus (if in doubt, check the indications in the product images).
3. Look at the size chart for the size that corresponds to the measurement taken.
4. If in doubt between two sizes, choose the larger one.
| | | |
| --- | --- | --- |
| Size | Circumference | Height |
| XXS | 5-8 cm | 7 cm |
| XS | 9 -11 cm | 7 cm |
| S | 12-13 cm | 10 cm |
| M | 14-16 cm | 11,5 cm |
| L | 17-19 cm | 14 cm |
| XL | 20-22 cm | 15 cm |



Instructions:

At the beginning, use the product for a maximum of four hours a day for the first 2-3 days.
The body then has the opportunity to familiarize itself with the effects of the neoprene.The product can be machine washed at 30ºC (86ºF) in a gentle program with normal detergent without bleach or fabric softener. Air dry, do not tumble dry.
Price for one unit.
In gray or black depending on availability.
Angeles Go..
-
(Madrid, Spain)
A mi perrita para la artrosis le ha venido bien al principio no se movía , ahora ya sé adaptado y como si no llevara nada.
BERGOI OLA..
-
(Vertavillo, Spain)
Buen material.Recomendable.
Senta Wiss..
-
(Pohlheim, Germany)
Seit dem meine kleine Jack Russel Hündin diese Bandage trägt läuft sie sehr viel besser.
Bea Conejo
-
(Cassà de la Selva, Spain)
Van perfectas, tienen agarre, los velcros son de calidad
Marta Rodr..
-
(Bueu, Spain)
Tomando como nos indican las medidas, se adapta perfectamente, y al menos en nuestro caso tardo como mucho 10 minutos en adaptarse a ella.?
Francisco ..
-
(Linares, Spain)
Pues la muñequera me la recomendó el veterinario y la verdad es que le va muy bien a mi perra va ganando confianza y va apoyando su petilla
SARA VITOR..
-
(VITORIA-GASTEIZ, Spain)
De momento le va bien. Esperemos q haga su efecto. El perro lo ha aceptado relativamente bien y camina con ello puesto sin dificultad.
Bernadette..
-
(Quimper, France)
ROBERTA AL..
-
(TRAVACO SICCOMARIO, Italy)
purtroppo non è arrivato il prodotto della foto. ne è arrivato un altro che non si chiude bene come gli altri
Aggiorniamo periodicamente i nostri prodotti. Sempre per il meglio. L'ultima versione, quella spedita, l'abbiamo migliorata con loghi riflettenti per migliorare la visibilità in condizioni di scarsa luminosità e i velcro sono di ultima generazione per migliorare la resistenza e ridurre l'adesione dei capelli.
Maika Mano..
-
(Araico, Spain)
El producto perfecto. Fue la veterinaria fisioterapeuta la que me indicó lo que tenía que comprar. Llego en 24h. Muy contenta. Gracias
Mariana Br..
-
(Portimao, Portugal)
Produto muito ergonómico e fácil de utilizar
Roland Dol..
-
(Zeuthen, Germany)
Die Lieferung erfolgte pünktlich zum Termin. Die Qualität ist sehr gut.
Margarida ..
-
(Arneiro das Milhariças, Portugal)
My dog has adapted well to this product, and this support on each of his front legs helps him walk with less arthritic pain.
Maria del ..
-
(Tarragona, Spain)
Muy satisfecha con el producto, es de buena calidad y su funcionalidad excelente, lo único que a mi perrita le cuesta acostumbrarse ...
Bernhard H..
-
(Recklinghausen, Germany)
Tolle Hilfe für die Gelenke meiner Husky/Malamut Hündin
Maria del ..
-
(Montequinto, Dos hermanas, Spain)
Rosa Maria..
-
(Puigverd de Lleida, Spain)
Se la estoy combinando con la ferula de carpo, porque la adaptación le está costando, no apoya la pata en el suelo, el producto bién
Montse Mon
-
(Barcelona, Spain)
Todo genial,tanto el envio como el producto, estoy muy contenta sin duda si vuelvo a necesitar algo repetire.
Francisco ..
-
(Navalcarnero, Spain)
Servicio rápido y muñequera de buena calidad y precio
José María..
-
(San fernando, Spain)
Súper útil para mi chihuahua! Medida perfecta y mi perro encantado!
Lorena Her..
-
(Hospitalet del Llobregat, Spain)
Ya la habia probado y le va genial, en un gran producto
Eleonora C..
-
(CASTELLUCCHIO, Italy)
Buongiorno ho acquistato due tutori carpo e mi sono trovata benissimo
Isidro Fer..
-
(Algete, Spain)
Pedí el producto por error y tuve que hacer una devolución, todo perfecto. En cuanto lo recibieron me reembolsaron el dinero. Muy contenta
Purificaci..
-
(Rentería, Spain)
Producto de gran calidad y a mi perra le ha venido muy bien.
Laura Gome..
-
(Griñón, Spain)
Son geniales! Mi chica anda perfectamente y no fuerza a la hora de sus necesidades.
Melanie He..
-
(Giebelstadt, Germany)
Bei uns hält die Bandage super, kein verrutschen o. ä.
Corinne Bär
-
(Mettmenstetten, Switzerland)
Rasche und einwandfreie Lieferung - super Service! Bandage gem. Massangaben passend.
Monica Ale..
-
(Castellon, Spain)
El producto perfecto y de muy buena calidad, ahora solo falta que mi perrita se acostumbre a llevarla.
Luis Arrib..
-
(Boadilla del Monte, Spain)
Quiero dar las gracias a Erika y Tesa por el trato recibido con dos muñequeras que compramos, salieron defectuosas y nos mandaron dos nuevas de un material espléndido y fantástico.
Martha Bea..
-
(Madrid, Spain)
Zélia Mateus
-
(Coimbra, Portugal)
Ótimo auxilio às articulações do meu animal. Excelente prestação de serviço
Steffen Th..
-
(Delitzsch, Germany)
passt prima und die klettverschlüsse halten auch gut. ich nutze sie bei meinem junghund zur unterstützung bei leichtem wachstumsdurchtritt.
Angela Sch..
-
(Köln, Germany)
Cristina H..
-
(Valencia, Spain)
Llego muy rápido. La calidad es muy buena
Nadia Emil..
-
(Bagnacavallo, Italy)
Ho trovato il vostro personale molto gentile e preparato per cui mi hanno saputo consigliare al meglio e il prodotto ricevuto soddisfa pienamente le mie aspettative
Michaela M..
-
(Finsing, Germany)
Ich habe zur Auswahl zwei Größen bestellt, meine Hündin Mickey braucht die L - die kleinere bekommt eine Freundin. Leider hat unsere Mickey seit 8 Jahren Arthrose im Ellbogen, immer im Winter wird es kältebedingt schlechter. Nun stolpert sie - damit ich sie hier unterstützen kann, bestellte ich zum Gassigehen und um das untere Gelenk zu entlasten diese Karpalbandage. Diese Bandage sitzt perfekt, z
Susana Del..
-
(Sigüenza, Spain)
Se ajusta perfectamente y se pone facilmente.
GERMAN RAB..
-
(Alicante, Spain)
Producto fantástico!! Soy Instructor Canino y desempeño varias disciplinas de trabajo entre ellas el Discdog . Y la verdad que van genial para perros con alto rendimiento !
Pedro Mart..
-
(Algeciras, Spain)
La verdad que muy pero que muy bien mi perro anda super mas seguro,y lo mas importante que le proteje mas y que le aguanta bastante la rotura del hueso
Giovanni D..
-
(BRUINO, Italy)
José Romer..
-
(Velilla de San Antonio, Spain)
Muy bien se le ajusta perfectamente. Saludos.
Carmen Gar..
-
(Sant Feliu de Guíxols, Spain)
Buen trato y mejores productos. Gracias.
mauricio s..
-
(viña del mar, Chile)
Muy bueno el producto. Sirvió plenamente con lo planificado. Excelente producto
Diana De M..
-
(La concha De Villaescusa, Spain)
Maria del ..
-
(Estepona, Spain)
La muñequera parece estar funcionando muy bien, la adquirir porque presenta displasia en muñeca izquierda. En ocasiones se la tengo que volver a colocar porque se le desplaza hacia abajo tras grandes carreras, supongo que la tendré que apretar más de lo que lo hago para los paseos. En definitiva, muy contenta, cojea menos tras el ejercicio y parece más animada a jugar con otros perros
eileen mid..
-
(Oria, Spain)
This product is very good. Delivery excellent received it day after I ordered it. I am a satisfied customer.
HILDE De W..
-
(Wechelderzande, Belgium)
2 in 1. De maat is perfect en de spalkstokjes zijn simpel eruit te halen zodat je het kan gebruiken voor spalk of ondersteuning indien nodig. Ik ben heel tevreden.
Jarkko Pen..
-
(Vanttauskoski, Finland)
Very good quality!! Strong recommendation!!
Nancy Rodr..
-
(El Algar Cartagena, Spain)
Recibido correctamente, gracias por el premio, a mi perro le encantó. Ahora sólo me queda esperar a que se recupere lo antes posible de su lesión en el carpo.
Carmen Mar..
-
(Puerto Real, Spain)
Llegó muy rápido el pedido y a mi perro no me está costando nada adaptarse a las muñequeras. Gracias por el detallito de la chuches.
ELENA Espi..
-
(Nules, Spain)
Fácil de poner y muy cómoda para el animal.
Juan Manue..
-
(EL PUERTO DE SANTA MARIA, Spain)
Muy rapido y era que esperaba, a mi perra le esta sintiendo perfecto, muchas gracias y contará con ustedes para todo lo que necesite
Emiliano S..
-
(Alcalá de henares, Spain)
muy cómoda y realiza perfectamente su función
Erika Pell..
-
(Elda, Spain)
Gracias a ortocanis mi american estanford Troya se a curado de su rotura de ligamentos después de meses con la férula,, ahora vamos a pobar la muñequera para el final del camino Muchas gracias
Agustin Ab..
-
(Boecillo, Spain)
Muy contento con las muñequeas 1
NURIA PALO..
-
(las lagunas mijas costa, Spain)
Hice una consulta a traves de la web y en menos de 24 hrs tenia la respuesta a mis dudas, por supuesto lo compre y todo a tiempo y en perfectas condiciones. Le ha venido genial las muñequeras a mi perra, una abuela de 14 años con artritis, 100% recomendable
michael be..
-
(Sheffield, United Kingdom)
Bought this with the brace, used the brace for a few days then used this carpal wrap. sizing fine although it seems strange that the brace and wrap are sized differently? Only suggestion would be to ergonomically cut the front to allow the foot to move more naturally and still maintain support to prevent foot drag. He only wore the wrap for a week or so and now walks much more confidently.
Agustin Ab..
-
(Boecillo, Spain)
Manuela Es..
-
(Los Narejos, Spain)
Lo habéis hecho Geniallll.!! Odín es un Pastor Alemán de 5 años. Hace dos haciendo lo que más le gusta ,saltar y correr, se cortó con un azulejo el tendón de la pata delantera derecha. Quedó después de mucho tiempo de fédulas y demás bien, pero cojeaba y no apoyaba bien la pata. Le pusimos la muñequera el mismo día que llegó y desde entonces no cojea después de hacer ejercicio y apoya muy bien
Joana Rodr..
-
(Brion, Spain)
El producto tal cual esperaba y recibido en el tiempo dicho. Ahora a probarla y que a mi pequeña le ayude con tu patita. Un saludo 100% recomendable
anja schre..
-
(niedenstein, Germany)
sehr gute qualität,past genau.und sehr schnelle lieferung nach deutschland bin sehr zufrieden mit dem produkt.
JUAN MERCA..
-
(MAO, Spain)
recibí correctamente la muñequera solicitada gracias
Gabriela R..
-
(Molteno, Italy)
Si la consegna è stata effettuata mi aspettavo dei supporti più rigidi . Penso che ordinerò anche l'altro tutore
MARIA EDUA..
-
(AVINTES, Portugal)
Excelente produto, a entrega foi rápida, o meu cão Oscar agradece!!!
Isabel Bla..
-
(PONFERRADA, Spain)
Las 2 muñequeras ,PERFECTAS, espero vieran a Luna en las fotos de google.Un abrazo.
Edmundo Fa..
-
(Acoruña, Spain)
El pedido ha llegado esta tarde, puntual como me habíais dicho Espero que la muñequera ayude a Dona con su problema de ligamentos. Muchas gracias por el detalle de la chuchería, estoy seguro que ella lo agradecerá mucho también. Un saludo.
Paula Epis..
-
(Lleida, Spain)
Servicio muy bueno! Rápidos y eficaces! da gusto trabajar así!
Olga Marsa..
-
(Balaguer, Spain)
Buenas tardes, Me acaba de llegar el pedido de las dos muñequeras, realmente he quedado muy satisfecha de la rapidez y buena gestìón. Mi perrita tiene 2 años y a los 9 meses ya le detectaron artrosis, toma condoprotectores y al hablarme de las muñequeras decidí provarlo, de momento hoy muy bien y se siente bien con ellas, no le molesta ni nada, como si no llevara nada.
Sally Webs..
-
(Bruxelles, Belgium)
Silvia Gra..
-
(Caceres, Spain)
Carmen Gon..
-
(A Guarda, Spain)
Pedro Alca..
-
(Santa coloma de gramanet, Spain)
Esta es la segunda que compramos, para reponer la otra que ha usado por largo tiempo
Pedro Alca..
-
(Santa coloma de gramanet, Spain)
Hemos usado por largo tiempo la muñequera con excelentes resultados
Cristobal ..
-
(Zaragoza, Spain)
Ivan Jimenez
-
(Barcelona, Spain)
Es un producto más bien apropiado para raza pequeña. En caso de actividad física media/alta del animal, mejor el soporte de carpo largo.
Marisa Gar..
-
(Barcelona, Spain)
Marisa Gar..
-
(Barcelona, Spain)
Maria Isab..
-
(Madrid, Spain)
Ester Fern..
-
(Terrassa, Spain)
Buena calidad Rapidísimo y buena calidad
Lidia Fern..
-
(Getafe, Spain)
Genial! Todo genial! Muy contenta
Jaione De ..
-
(La Cuesta, Spain)
Fantástico! Muy rápida la entrega! Le vienen muy bien las muñequeras!!!
dolores BA..
-
(Premià de Mar, Spain)
Muy bien Artículo según lo esperado. Entrega rápida
Belen Gon..
-
(Tarrasa, Puerto Rico)
muy bien Nos atendieron muy bien y nos aconsejaron profesionalmente.Gracias.
Anita Plume
-
(Riga, Latvia)
Really great The service was really great and very personal-everything worked out very well,the stuff is very helpfull and attentative.
Natalia Ca..
-
(Andorra la Vella, Andorra)
Encantada Estoy encantada con vosotros!! La muñequera de mi perra ha venido incluso con un regalito para ella!!
Diego Maffei
-
(la plata, Argentina)
Perfecto! Eficaz y confiable!
Loli Avila..
-
(Córdoba , Spain)
Gran calidad Han sido muy rápidos enla entrega y la muñequera se ve de gran calidad. Compre la talla S pero como mi perrita es de tamaño pequeño, le queda un poco alta....ya veremos que tal se adapta
Dana Gamur..
-
(Arganda del Rey, Spain)
Muy contenta, gracias! Las muñequeras que he pedido para mi Bruni operado de ligamentos en las dos patas le vienen perfecto y han llegado super rapido,muy contenta gracias
Anthony Cu..
-
(Vilafranca del penedes, Spain)
Excelente Excelente, entrega inmediata
Irene More..
-
(Alaró, Spain)
Genial! He comprado unas muñequeras para mi perro y le van genial, parece que le son cómodas. El serivicio muy rápido, lo único un poco caros me han parecido los gastos de envío. Por lo demás genial
Juan Jose ..
-
(Seseña Nuevo, Spain)
El producto bien! El producto corresponde con lo que ofrecen y en ese sentido,bien. El problema ha sido con la empresa de mensajería,que si yo he pagado para que me lo traigan en 24 horas,no ha sido así.si no del doble,2 días.
MONTSE MOL..
-
(BARCELONA, Spain)
Bien! Muy bien la atención un poco lejos.
Eugenie AL..
-
(GAILLAC, France)
Très satisfaite Produits de qualité. Très bien emballés. La taille M correspond bien aux mesures prises. Très satisfaite, je recommanderai votre site.
Maria PAYA..
-
(COLMENAR DEL ARROYO (MADRID), Spain)
Excelente experiencia. Entrega rapida y sin problemas. El producto llego en perfecto estado. Viene con instrucciones muy utiles y sencillas sobre como usar el producto. Excelente experiencia.
Maxi Chere..
-
(MADRID, Spain)
Very good service I\\'m quite satisfied
David Allen
-
(Gillingham, United Kingdom)
Thanks! Hi, just to let you know that my order was delivered today, Monday 8th August. Thank you for the delivery, I have been waiting anxiously for the wrap as I have an sweet old dog that really needs some help in supporting her carpal wrist, so ,yes, you have help both my dog and myself a great deal. Take care. With kind regards. David.
BRCANARIAS..
-
(PUERTO DEL ROSARIO, Spain)
Marta Forn..
-
(Rubí, Spain)
Muy recomendable! Muy buena atención!
iñigo San ..
-
(Barásoain, Spain)
facilita el andar a mi abuelita de 14 años le cogimos un protector de carpo para ayudarla con su artrosis y aunque le cuesta acostumbrarse a llevarlo, le facilita el andar mejor y mantiene su articulación más caliente
remedios v..
-
(malaga, France)
Bien Buen trato y servicio
JOSE ANTON..
-
(Castellón, Spain)
Valoración muy positiva! Muy buena atención y asesoramiento por teléfono y envío rápido. Valoración muy positiva.
Robert Rui..
-
(Sabadell, Spain)
Muy bien! Llegó en el tiempo acordado y encima con un mini obsequio, muy bien.
Rosa Maria..
-
(Oris, Spain)
Perfecte!!! Rapidesa i eficiència. Perfecte!!!
iñigo San ..
-
(Barásoain, Spain)
Muchas gracias La verdad es que he quedado gratamente satisfecho. Me ha parecido un gran producto aunque a mi abuelita aún le cuesta un poquito adaptarse al protector de carpo. Pero estoy encantado con los resultados y la rapidez de entrega. De un día para otro! Muchas gracias. Lo recomiendo en mi empresa
Veronica s..
-
(getxo, Spain)
Srta. Buenos dias; Ya siento el retraso, pero me ha sido imposible escribiros antes. Solo queria agradeceros todo lo que habeis hecho por mi y por mi perrita, el protector de carpo le viene genial y aunque todavia le cuesta hacerse a ello y apoyar la pierna, le esta ayudando a no seguir torciendo la articulacion. Sin otro particular, os saluda atentamente: Verónica Santamaría
Customers who bought this product also bought: