 
Carpal Wrap
Ideal for dogs with arthrosis, arthritis, and injuries in ligaments, tendons and muscles.
Made with dynamic, highly resistant neoprene and a special plush lining that speeds up the healing and recovery process while protecting the joint.
Scroll down to the description to see how to select your size and visit our FAQ section for any other questions about usage, instructions, shipping, payment methods, return policies or exchanges.
New model april 2022 titanium elastane and reflective logo.
Ratings and comments from our customers
Dog Carpal Wrap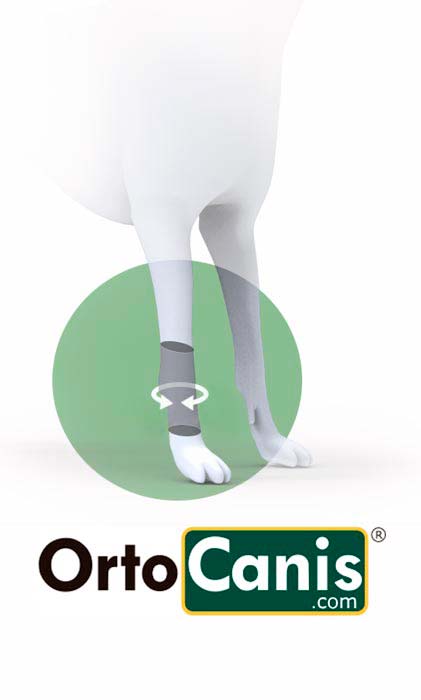 The carpal wrap is ideal for dogs with weak wrist joints following an operation or due to arthritis or injuries in the tendons and ligaments, or as a preventative treatment for injuries.
Made from 2 mm thick dynamic, highly resistant neoprene with a "plush" interior finishing for greater thermal insulation.
The heat increases blood circulation in the tissues which in turn helps to relieve muscle tension and improves performance. One important property is the injury prevention effect.
The most important uses are for injury prevention when the protector is used for training and competition, injury relief, which speeds up the healing process, and muscle warming-up exercises, which prevent fibrillar damages.
The carpal wrap does not restrict movement. It enables the dog to move the carpus while limiting excessive movement. Its function is similar to that of human wrist bandages.
Ortocanis has another product - the carpal brace - that provides stricter immobilization with two rigid splints.
Sizes and Measurements:
1. Take a sewing tape, or a tape measure and string.
2. Measure the contour of the leg at the height of the carpus (if in doubt, check the indications in the product images).
3. Look at the size chart for the size that corresponds to the measurement taken.
4. If in doubt between two sizes, choose the larger one.
| | | |
| --- | --- | --- |
| Size | Circumference | Height |
| XXS | 5-8 cm | 7 cm |
| XS | 9 -11 cm | 7 cm |
| S | 12-13 cm | 10 cm |
| M | 14-16 cm | 11,5 cm |
| L | 17-19 cm | 14 cm |
| XL | 20-22 cm | 15 cm |



Instructions and care:
The body then has the opportunity to familiarize itself with the effects of the neoprene.
The product can be machine washed at 30ºC (86ºF) in a gentle program with normal detergent without bleach or fabric softener. Air dry, do not tumble dry.

Additional information: 
Price for one unit (the price in the web page is for one unit). Colour gray or black depending on availability.
Paloma Góm..
-
(Valencia, Spain)
Estoy muy contenta ☺️, mi perrita lleva las muñequeras muy a gusto y he visto la mejoría en sus patas en un par de días. La talla perfecta.
ADPCA ADPCA
-
(Zaragoza, Spain)
El pedido ha llegado perfecto y más rápido imposible. Un 10.
jimena Luc..
-
(Sitges, Spain)
El producto es muy bueno! Y la entrega fue inmediata. Muy contenta. gracias! Me lo recomendaron en la veterinaria de mi perro y genial.
Teresa Moore
-
(Winchester, United Kingdom)
Received order very quickly, just delayed by a day. My toy poodle has worn them just once and loves them, certainly helps his front legs
Lucille Ch..
-
(Es Castell, Spain)
Excellent service, and the muscle wrap is just perfect, it is really making such a difference to my dog, thank you
Gadea Gall..
-
(Tres Cantos, Spain)
Me encanta, sujeta muy bien la pata para que vayan seguros, en mi caso para mi perra con artrosis, le da seguridad al caminar
Maria Sole..
-
(BARBASTRO, Spain)
Bien, no obstante habria que describir ademas de las tallas en funcion del diametro, la condicion de que tiene un amplio margen de anchurs
Stéphanie ..
-
(Cournon d'Auvergne, France)
Article conforme à la description et facile à mettre. Semble de bonne qualité. A voir à l'usage (reçu récemment). Bon suivi de la commande.
Cristina C..
-
(Torrejón de Ardoz, Spain)
Mi perro es un abuelete que se tropieza muchísimo. Se daba malos gestos y cojeaba. Ahora va con los carpos protegidos y no se hace daño.
LUIS MONTO..
-
(Alicante (Alacant), Spain)
Producto con buena calidad y envio rápido.
Roser Suñe..
-
(VILADAMAT, Spain)
Sembla que camina més còmode i no va tan coix. Gràcies
Ana Montoya
-
(Almeria, Spain)
Muy buena calidad de producto. Entrega muy rápida, detalle importante en caso de una emergencia. Muchísimas gracias
ADPCA ADPCA
-
(Zaragoza, Spain)
Perfecto! El servicio extraordinario y el producto excelente.
José Luis ..
-
(Chiclana de la frontera, Spain)
Sarah Howson
-
(Motherwell, United Kingdom)
Received quickly. Wraps do what they are supposed to. So far very happy with them.
Nicola Hoy
-
(San Miguel de Abona, Spain)
Fantastic product, soft material and supportive. Has been easy to put on and take off, hasn't bothered the dog at all.
MARIA DEL ..
-
(LA POBLA DE VALLBONA, Spain)
monika san..
-
(lasarte, Spain)
El material es de calidad y la medida ok, siguiendo las instrucciones de la web.
Sylvie Duv..
-
(Saint Ouen Sur Morin, France)
Ces guêtres me paraissent très bien . Facile à mettre et très bien tolérées par ma chienne. Reste à voir l'effet thérapeutique avec le temps
Eleonora M..
-
(Brescia, Italy)
Contentissima del mio acquisto. Spedizione veloce e misure corrette
Jose Avile..
-
(Sant Miquel se Balenya-Seva, Spain)
Hola, todo correcto y el prducto se ve de muy buena calidad , el servicio rapido y eficaz
Macarena F..
-
(Estepona, Spain)
Muy bien , perfecto de tamaño
Brigitte S..
-
(Betera, Spain)
Un producto muy adecuado para la artrosis que sufre mi perrita en sus patas. Solo que cuando lo pedí, no me di cuenta que era una pieza.
Agle Oissar
-
(Lääne-Harju vald, Estonia)
Thank you! I'm very satisfied!
Isa Gomez
-
(Valencia, Spain)
Perfecto aunque ya es la segunda cosa que compró y una talla menos le hubiera estado más ajustada que es un pelin grande
agnes hadoux
-
(senlis, France)
Viens juste de recevoir le produit, a voir dans le temps.
Asunción B..
-
(La Línea, Spain)
Hemos empezado a ponérsela al salir a pasear para adaptarlo. En la casa, cojea pero en cuanto pisa la calle, anda con normalidad.
Juan Carlo..
-
(Madrid, Spain)
Se ajustan bien y el perro anda cómodamente
Jesus Lara..
-
(Elche, Spain)
El producto buenísimo de excelente calidad y a mi perrita le a servido de gran ayuda
Emilia Agu..
-
(astillero, Spain)
Frédérique..
-
(Aubagne, France)
Super produit , tient bien léger et souple
Antonio Ja..
-
(Madrid, Spain)
Perfecto. Mi Malamute tiene artrosis y aunque hoy ha sido su primer día con las muñequeras levanta más las manos y no tropieza y anda más.
Angela Mar..
-
(El Romeral, Spain)
Muy cómoda y con cierre muy seguro. Mi perra se ha adaptado muy rápidamente, estamos muy satisfechos.
Carmen Álv..
-
(Santander, Spain)
Las muñequeras quedan perfectas y no le impiden correr o saltar. Al principio tiene un andar raro ? pero en segundos vuelve a la normalidad
Moisés Gaj..
-
(Jerez de la Frontera, Spain)
He notado un cambio brutal en Mi perra. Malamute de 50kilos ,con artrosis en pata delantera.Ha vuelto a correr y a disfrutar de los paseos.
Moisés Gaj..
-
(Jerez de la Frontera, Spain)
En teoría, me llegaba el Pedido el Miércoles. Ha llegado dos días antes y tiene una calidad muy muy buena. De momento todo Ok. Muxas gracias
Gloria Pon..
-
(sevilla, Spain)
Samuel Lop..
-
(Langreo Asturias, Spain)
Eva María ..
-
(San Agustín del Guadalix, Spain)
Es la primera vez que pido algo, ha ido todo muy bien y mi perro ha aceptado la muñequera muy bien
Eva María ..
-
(San Agustín del Guadalix, Spain)
Le va fenomenal a mi perro
Elsa Casim..
-
(Cova da Piedade, Portugal)
Produto de boa qualidade!
Jose Anton..
-
(Mollet del valles, Spain)
La verdad no me esperaba que funcionase, me equivocaba va muy bien
Olga Gabar..
-
(Quart, Spain)
Le va perfecta, el metodo de cierre me gusta, es lo que esperaba.
Luz Maria ..
-
(Culleredo, Spain)
A mi perra le falta una pata delantera y esto nos ayuda a proteger la otra. Se adapta muy bien y parece resistente. Contenta
Miguel Áng..
-
(Pasaia, Spain)
Ha llegado en perfectas condiciones y en el plazo acordado. Buena calidad precio.
Ana Maria ..
-
(Lisboa, Portugal)
O produto é o que esperava e acho que o vai ajudar muito.
Isabel Cas..
-
(Madrid, Spain)
Angeles Go..
-
(Madrid, Spain)
A mi perrita para la artrosis le ha venido bien al principio no se movía , ahora ya sé adaptado y como si no llevara nada.
BERGOI OLA..
-
(Vertavillo, Spain)
Buen material.Recomendable.